Curtis Stone's seared barramundi with corn salad
Try Curtis Stone's seared barramundi served with a corn salad for dinner this week. This vibrant dish is a great midweek seafood option.
Hey everyone, Curtis here. It's that time of year again, when we're all trying to live a little healthier. Well, Coles is making it easy, with loads of great recipes, tips and ideas. And that's why I'm here today, to show you how to cook my delicious and healthy seared barramundi with fresh corn salad. This is how you start, grab your grill pan, turn it on. Now if you're lucky enough to be outside and you're cooking on the barbie, that's even better. So with your onions, just sort of cut them into strips, just like that. And then if your capsicums are nice and long like mine, you might want to cut them in half and then cut them about the same sort of thickness as the onions. Now while you're doing your veg prep, you can actually grab your corn, if you wanted to, drop it onto the barbie or into your grill pan and start grilling that corn. We're actually going to get a little bit of a char on the corn. Give it a little drizzle with olive oil, you want that little bit of char, so just keep on turning them as it's cooking. And then you can just keep prepping your capsicums. Next, we've got some spring onions, I'm going to go ahead, cut the greens off. We'll keep those for later. And then these, we're going to put on the grill with the onions and the capsicum and then I'm literally, just on a little bias, going to slice through those.
Now the reason I separate the greens from the whites is because the greens are very light in flavour, right. But the whites are very strong. They're almost like eating a raw onion. So I like to cook the whites and I like to keep the greens as the garnish. So it probably takes about 10 minutes to get that nice char on your corn. You don't want to fully cook the corn because you still want it to be beautiful and sweet. But you do want to get some of that nice char that'll depend on how hot your barbie or your grill is, of course, but I think we're pretty good. Just like that. I take the corn off. Using the same hot grill, I then throw the rest of my veggies in there. Start off with your spring onions, then your Spanish onion, and your capsicum. Before we cook our fish, we're going to score the skin. Bring it over the cutting board, just kind of pinch it on either end like this, and just cut a couple of little slits into the skin. And that's going to help it get ultra crispy. Now lots of recipes will tell you to put it into a hot pan. I hate to say it, but I totally disagree with that notion, you've got to put it into a cold pan, and then increase the heat. Alright, so here's what you do, you start off with a little bit of olive oil, you season your fish with salt skin-side down, and then pick your fish up and pop it straight in, move it around, make sure that you get all the oil covering the pan. And we're going to do 1, 2, 3 and 4. And now we increase the temperature, but just nicer slowly. So we're going to start off, this goes up to a nine I'm going to start on a three. Now is a good time to season your vegetables. So they've been cooking for a couple of minutes, get yourself a little bit of salt, a little bit of fresh ground black pepper. Now that it's been in there for a couple of minutes, you can probably afford to turn it up, I'm going to turn mine up to a five. So that's halfway, alright. So you're still at a very moderate heat, we're going to cook it like that for a couple of minutes. And again, let that skin relax into the pan. And then we're going to crank it and turn it up really high. So the sauce here is very, very simple. I'm just using lemon zest and lime zest. And then of course we'll add the juice too. So the best way to get the juice out of your lemon and lime, you stick it on your board, give it a little roll on the table. And that'll just soften up the inside of the fruit so it'll make it easier to juice. And you squeeze that in. Now with the fish, you want to just grab yourself a turner and just gently push down on that fish, making sure that you're getting a good contact with the bottom of that pan. And now I'm going to turn the temperature up. And this time we're going to increase it to a seven. And then into your lemon and lime juice, you grab your extra virgin olive oil and you just whisk and pour about one part juice to four parts oil. Season with some salt and a little bit of fresh pepper. Okay, our vegetables are almost done. So I'm just going to turn those down and keep them nice and warm. I'll turn that right down to like a three, and then it is time to remove the corn kernels from the corn cobs. Grab your knife, stand it up like that. Just go straight on through and cut that corn off. So now what we do is we season this side of the fish before we turn it, a little bit of salt. Alright, let me turn it. Just give your pan just a little bit of a shake. I'm cooking in a non-stick pan, I suggest you do the same. If you cook it in stainless steel, there's more chance of it sticking so non-stick is definitely the way to go. Okay, so let's come back over here to our corn. You'll see some of this is still in big pieces. That's okay with me. I don't mind if it sort of sticks together. I think it looks pretty cool. Actually. I just give it a little bit of a toss around and then I get the rest of my veggies. Bring those over, all those beautiful onions and capsicums. Did you know what I was going to cut those spring onions up, but I might just leave them whole. I think they look pretty nice just the way they are. Give that a good o'l mix.
The fish is done. I'm going to go ahead and turn it off. The golden question. How do I know when my fish is cooked? What I have here is a little cake tester. I always have one of these in my back pocket in the restaurant, because when it comes to fish, if you push that cake tester in and it comes out without any resistance, your fish is done. These are perfect. They're ready to go straight over the top. I finished this with just a little bit of salt, and then we get that beautiful dressing that we made. Now you work so hard to keep that skin nice and crisp, so don't pour too much sauce over the top of the fish. Lastly, you grab those fresh herbs I was talking about, some of that beautiful spring onion, beautiful parsley. And I just sort of sprinkle that all the way around the top, even that mint, it gives such a lovely freshness to fresh seafood. Now you know how to cook perfect crispy skin fish. What are you waiting for? Cooking healthy is actually really easy. Enjoy.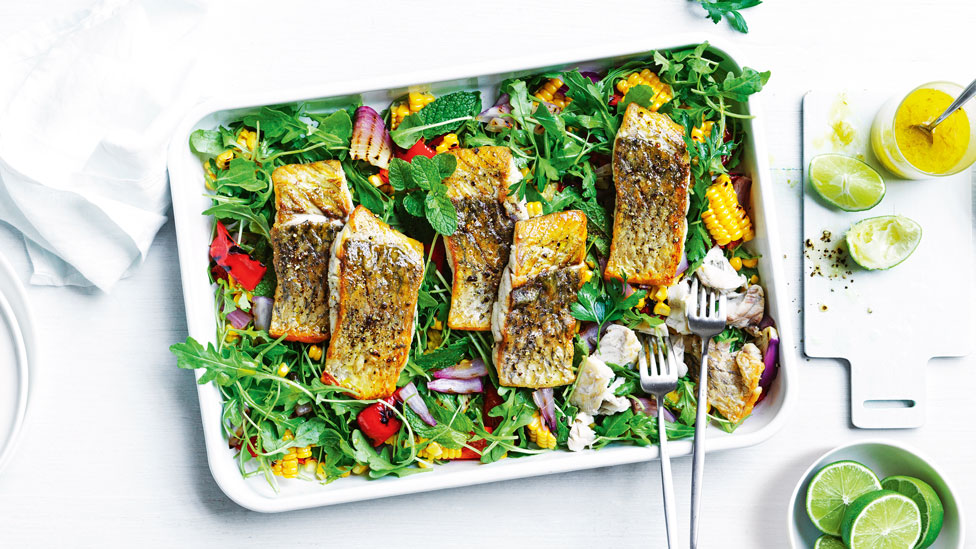 Ingredients
6 corn cobs, husks and silk removed
2 red capsicums, seeded, cut into wide strips
1 red onion, thickly sliced
90ml olive oil
1 lemon, rind finely grated, juiced
1 lime, rind finely grated, juiced
4 spring onions, thinly sliced
1/4 cup chopped flat-leaf parsley
1/4 cup chopped mint
6 (about 100g each) Coles Australian Ocean Barramundi Skin On Fillets
Method
STEP 1
Heat a barbecue grill or chargrill on medium-high. Place corn, capsicum, onion and 1 tbs oil in a bowl and toss to coat. Season with salt and pepper. Cook, turning occasionally, for 10 mins or until the vegetables are lightly charred.
STEP 2
Meanwhile, in a small bowl, whisk lemon rind, lemon juice, lime rind, 1 tbs lime juice and 2 tbs oil. Season with salt and pepper.
STEP 3
Use a small serrated knife to cut down the side of the corn to remove the kernels. Place in a large bowl. Coarsely chop the capsicum and onion and add to the bowl with the corn kernels. Stir in the lemon juice mixture. Add spring onion, parsley and mint. Season with salt and pepper. Stir to combine.
STEP 4
Pat barramundi dry with paper towel. Use a small sharp knife to score the skin side of the barramundi. Season with salt. Heat a large non-stick frying pan over medium-high heat. Add 2 tsp oil and 2 barramundi fillets, skin-side down. Cook, pressing down on the barramundi during the first 2 mins of cooking time, for 3-4 mins or until the skin is crisp and golden-brown. Turn and cook for a further 2 mins or until cooked to your liking. Transfer to a plate and cover to keep warm. Repeat with the remaining barramundi and oil in 2 more batches. 
STEP 5
Divide fish among serving plates, skin-side up, and serve with the corn salad.
Check ingredient labels to make sure they meet your specific dietary requirements and always consult a health professional before changing your diet. View dietary information here.