One-pan chicken with bocconcini
This one-pan chicken dish is ready to plate up in just 20 minutes. Made with bocconcini, olives and herbs, it's a weeknight winner.
Chicken is so popular and it should be on everybody's shopping list. It's easy to cook and it tastes great. Today we're going to make One-Pot Chicken. It takes 15 minutes and it's made with really simple ingredients. It's our One-Pot Chicken with Bocconcini and Olives, so let's get started.
We're going to cut the chicken in half horizontally to make four thin slices.
This will make the chicken cook much more quickly and evenly. We're going to season the chicken and sprinkle it with dried oregano. The oregano gives it a nice Italian flavour and the seasoning gives it a bit more of a depth of flavour.
Now I'm going to heat some oil in the pan. It's over a high heat, just a little bit of oil. And then we're going to add our chicken. We're going to cook the chicken for two minutes each side until it's golden brown. It cooks much more quickly because we've cut it in half, so it's a much quicker way of cooking chicken.
Once the chicken is golden brown, we'll transfer it to a plate and then we'll get started with our sauce, using the same pan of course. We're going to add a little bit more oil to the pan. and then we're going to cook our onion and garlic. We've just got one onion, thinly sliced, and thinly sliced garlic. We're just going to cook that for one minute or until the onion is soft.
So now that the onion has softened, we're going to add one can of cherry tomatoes and one can of diced tomatoes and bring that to the boil. Then we're going to return the chicken to the pan. Then we add the olives. We're just adding the bocconcini and we're tearing it in half. So reduce the heat to medium-high, and we cook the chicken for eight minutes or until it's cooked through and the sauce has thickened slightly.
Now all we have to do is drizzle with some basil pesto and sprinkle with some basil leaves. And then we're done. And there you have it. One-pan chicken that's done in just 15 minutes. Now you can serve it with ciabatta or steamed rice.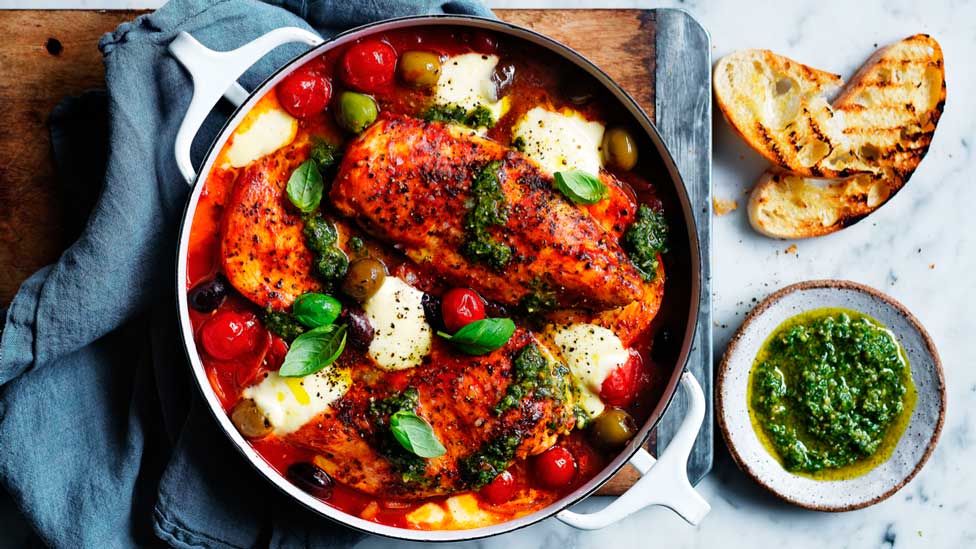 Ingredients
2 large Coles RSPCA Approved Australian Chicken Breast Fillets
2 tsp dried oregano
1 tbs olive oil
1 brown onion, thinly sliced
2 garlic cloves, thinly sliced
400g can cherry tomatoes
400g can diced tomatoes
1 cup (120g) pitted mixed olives
180g bocconcini, coarsely torn
1/3 cup (90g) basil pesto
Method
STEP 1
Cut each piece of chicken in half horizontally. Sprinkle the chicken with oregano. Season. Heat half the oil in a large frying pan over high heat. Cook the chicken for 2 mins each side or until golden brown. Transfer to a large heatproof plate.
STEP 2
Heat remaining oil in the pan. Add the onion and garlic. Cook for 1 min or until onion softens. Add cherry tomato and diced tomato and bring to the boil.
STEP 3
Return the chicken to the pan with the olives and bocconcini. Reduce heat to medium-high and cook for 8 mins or until the chicken is cooked through and the sauce thickens slightly. Serve drizzled with pesto.
Serve with basil leaves and steamed rice or Coles Bakery Stone Baked by Laurent Ciabatta*
*Selected stores only.
Check ingredient labels to make sure they meet your specific dietary requirements and always consult a health professional before changing your diet. View dietary information here.