Cheat's chickpea korma curry
Take a few shortcuts and still plate up an impressive Indian-inspired dish thanks to this recipe. Packed with chickpeas, basmati rice and veggies, it's a hearty meat-free option.
Hi everyone, Courtney Roulston here, now the same question comes up day after day in our house and that's what's for dinner?
Now it can be tricky thinking of new recipes but Coles has you sorted with over 80 quick and easy dinner ideas to choose from. Over the next few weeks every Wednesday night, I'm going to bring you one of the feature What's for Dinner recipes. These recipes are 5 ingredients or less and ready in under 30 minutes.
On tonight's menu is cheap chickpea korma curry, so let's get cooking.
I'm starting with a bag of the Coles roasting vegetables, so they're already cut up and I've got a great mixture here, carrots, sweet potatoes, onions and zucchini.
So I'm just going to roughly cut up the vegetables. These can all go into my pan that's on a medium heat. Just season that with a touch of salt. I'm now going in with our chickpeas, so this is a 400g can of chickpeas and I've just drained them.
To make a curry from scratch you could need over 12-15 ingredients, it can take a long time, if you want to get dinner to the table really quick without any stress, you can grab one of these. So this has already got spices, coconuts and cashews in there, and I'm going to pour our korma simmer sauce over our veg and chickpeas and give that a toss around.
Alright, just to keep our curry nice and wet as it's cooking, I'm going with half a cup of water. While that curry's been blipping away I've just heated up a couple of bags of the coles basmati microwave rice, done in a flash, really simple and ready to go with our curry.
So our veggies are nice and tender in the curry, our rice he's nice and hot and ready to go.
It's time to plate some of this up. Alright I've my piping hot basmati rice, our korma curry that's been blipping away over here. Alright look at that, loaded with vegetabes and soft chickpeas. Alright, and I've just got some coriander to go over the top, something nice and fresh just to garnish it up.
The cheat's chickpea korma curry, soft fluffy rice, beautiful tender veggies in that really nice mild curry sauce. Coles have also made meal planning for the week really easy, pick up a copy of the July coles magazine for a month's worth of delicious and simple recipe inspiration.
For this recipe and many more, visit coles.com.au or sign up to the coles digital catalogue for new recipes every week. Now that is a curry in a hurry!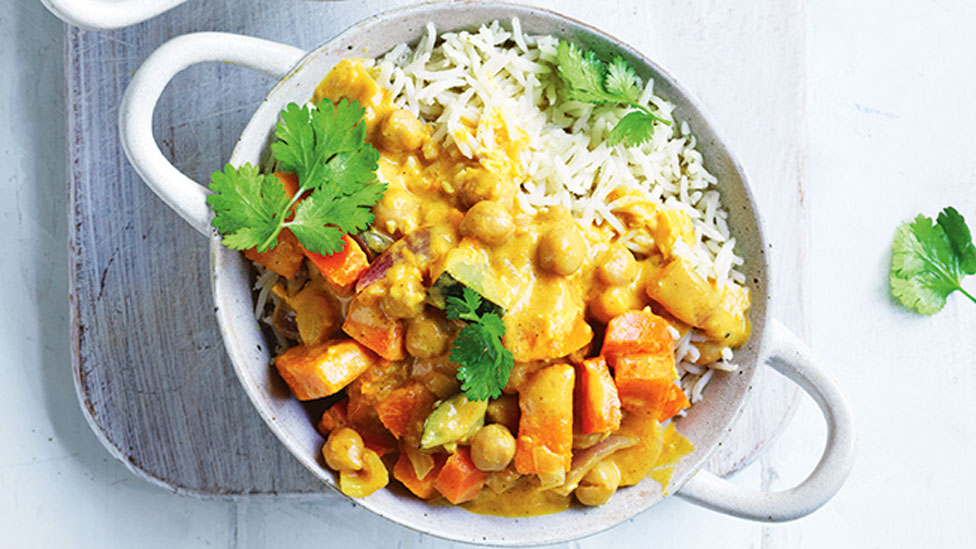 Ingredients
500g pkt Coles Roasting Vegetables with Garlic & Rosemary
400g can Coles Chickpeas, rinsed, drained
375g pkt creamy korma simmer sauce
2 x 250g Coles Microwave Basmati Rice Pouches
1/3 cup coriander sprigs
Method
STEP 1
Chop the vegetables and garlic from the roasting kit into 2cm pieces. (Reserve rosemary for another use.) Heat a large non-stick frying pan over medium heat. Add the vegetable mixture and chickpeas and cook, stirring, for 5 mins or until the onion softens.
STEP 2 
Add the korma sauce and 1/2 cup (125ml) water to the vegetable mixture in the pan. Bring to the boil. Reduce heat to low. Cover and cook, stirring, for 5 mins. Uncover. Cook, stirring, for a further 5 mins or until the vegetables are tender and the sauce thickens slightly.
STEP 3 
Meanwhile, cook the rice following packet directions.
STEP 4 
Divide the rice and vegetable mixture among serving bowls. Sprinkle with coriander to serve.
Check ingredient labels to make sure they meet your specific dietary requirements and always consult a health professional before changing your diet. View dietary information here.