coles&co
The home of recipes, tips, tricks, drinks and news from our community. 
Daily feed
Today's top recipes, news and specials to bring you value around the clock.
Recipes
Whether you want dinner in a hurry or are entertaining family and friends, we've got you covered.
Tips, tricks and drinks
We're here to help with food and drinks inspiration, and tips on keeping it delicious and stress-free.
200+ Specials
View hundreds of half-price specials and save with our weekly deals.
Community
We work closely with thousands of farmers, producers, charities and other partners. Keep up to date with their news and more.
Sign up to coles&co
It all begins at coles&co, your go-to for specials, delicious recipe inspiration, cooking tips and tricks and the latest news from our communities around Australia.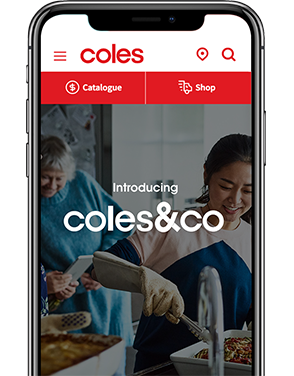 Exclusive brands
Hundreds of quality products affordable prices only at Coles.