Curtis Stone's crispy-skin salmon with snap peas and chimichurri
Try Curtis Stone's' crispy-skin salmon with snap peas and chimichurri for an easy dinner that's on the table in under 30 minutes.
Hey guys, Curtis here. I wanted to bring you a beautiful seafood recipe. This is done with salmon - crispy skin - very, very easy to make but really delicious. You ready? Come with me.
First of all, you have to prepare some peas, slice a couple of carrots and then just slice up a couple of pieces of bacon. Now we're gonna make a sauce. I've got three cloves of garlic, straight into your little food processor. A big old handful of coriander and a handful of tarragon. I've got some tomato vinegar here. The truth is, red wine vinegar would work really well, and sherry vinegar would be delicious. But this little tomato vinegar, acidic but just a touch of sweetness. Balsamic could even work really nicely.
A good old splash of your extra virgin olive oil and then you just wanna hit it really quickly. It's still a bit coarse, right, so what we're gonna do is add a little pinch of salt, a little bit of pepper and a bit more oil. And that is effectively the sauce. That packs some flavour. Wonderful. That's it, our sauce is done. Now come over and learn how to do the perfect crispy-skin salmon. Here's the secret, right? Everyone's gonna think, "Oh, you need a nice hot pan." Actually, the opposite. You want a cold pan to begin, right, but then you turn it up on full. A tiny bit of oil. The truth is you might not even need it. I've got a good non-stick pan. But if you do wanna use a little oil, just use it sparingly because salmon has natural oils and they will render out, just like a piece of steak will.
We're going to season it up with a little salt. Be generous with your seasoning. Flip those over, just like that. The reason you put it into a cold pan is if you put it into a hot pan, imagine this is the hot pan, imagine this is the salmon, it goes like this - "Tss!" - the second it hits the pan, so then you've got all this piece of skin that's not coming into contact with the pan. So it's really important that your pan's not super hot to begin. See how it's not sizzling? You don't want it to sizzle; you want it to be nice and cold to start. Then you crank that heat as aggressively as your pan will let you and that's how you get that crispy skin.
Next, we get the bacon, bring that over and drop that into your other pan. No need for any oil because the fat in the bacon's actually gonna render down and it's gonna get crispy in its own fat. Now, you'll notice I haven't done anything. Just put the salmon in the pan, alright? It was cold to start. It's slowly coming up to heat. I'm not turning them. Just leave it. What we're trying to do is get that nice skin contact. We're trying to get that crispiness on the underside. And I promise you it will happen, but you do have to be patient. If you just can't help yourself, here's the best way to turn it.
Get yourself a pair of tongs and have a little peek. See? Still not crispy. Needs another minute. Told ya. So you can see how perfectly crisp that bacon's getting. What I'm gonna do is I'm gonna take that crispy bacon, get yourself just some kitchen paper towel like that, stick it on a plate and then just, whoop, stick it out there, right? Leave a little bit of the bacon fat still in the pan. We'll come back to this bacon in just a moment. And we go ahead and toss those in. Just like that, gently.
Alright, now it's time to have a look at the salmon. It's been, like, three or four minutes. Beautiful crispy skin already. You finish it with that little knob of butter that I was talking about. Just like that. You get just a slurp of white wine. This is a little bit of leftover rosé. But I'll go ahead and put just a tablespoon or two of that. And we get our lid, we capture the steam.
Alright, you pick up that pan, you tilt it down towards yourself and then all that brown butter that's coming down there, you're gonna spoon that directly over the fish. We throw in our peas; toss your bacon back in, a little bit of seasoning. Guys, it's dinner in 20 minutes. Have a look at this, when I break into that salmon. You can hear that crispy skin. But look at how succulent and just unctuous that gorgeous salmon's gonna be. The pop of the pea, the sweetness of the carrot. It's really good.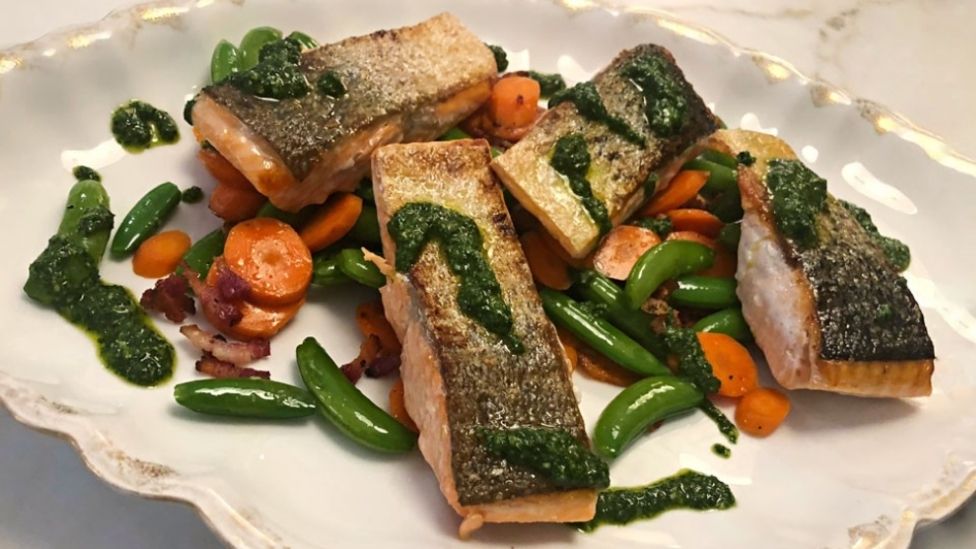 Ingredients
1/3 cup (80ml) extra virgin olive oil
1/2 cup chopped coriander
2 large tarragon sprigs, leaves chopped
3 garlic cloves, finely chopped
2 tbs red wine vinegar
4 x 160g Coles Australian Salmon Skin-On Portions
2 tsp extra virgin olive oil, extra
2 streaky bacon rashers, thinly sliced
2 carrots, peeled, thinly sliced diagonally 200g sugar snap peas, trimmed
200g sugar snap peas, trimmed
Method
STEP 1
In a medium bowl, mix the oil, coriander, tarragon, garlic, vinegar, 3/4 tsp salt and 1/4 tsp pepper. Set chimichurri sauce aside. 
STEP 2
Season salmon with salt. In a large nonstick frying pan over medium heat, add the extra oil and then salmon, skin-side down. Cook for 5 mins or until the skin is crisp. Turn salmon over and cook for 2-3 mins or until it is mostly opaque with a rosy centre. 
STEP 3
Meanwhile, in another large non-stick frying pan over medium-high heat, add the bacon and cook, stirring, for 4 mins or until crisp. Using a slotted spoon, transfer bacon to a plate. Add the carrots and sugar snap peas to the pan. Season with salt and sauté for 2 mins or until vegetables are crisp-tender. Return the bacon to the pan and stir to combine. Season to taste with salt. 
STEP 4
Spoon vegetable mixture over platter. Top with salmon. Spoon chimichurri over salmon and serve.
Check ingredient labels to make sure they meet your specific dietary requirements and always consult a health professional before changing your diet. View dietary information here.