Curtis Stone's mum's scones
A timeless classic, Curtis Stone's mum's scone recipe is definitely one to try. Ready in just 30 minutes, they're perfect for morning or afternoon tea with your favourite cuppa.
Hey, Mum.
Hi, darling. How are you?
I'm good. How are you? 
I'm good, thank you. All the better now that you've called me.
Listen, I know I'm not going to be with you this Mother's Day but I wanted to give you a quick call to, first of all, say happy Mother's Day.
More importantly, I'm going to take one of your recipes that I loved as a kid and share it with the whole country. Is that alright?
Oh, thank you. Of course it's OK. That's lovely.
What did Luke and I used to do for you for Mother's Day?
Oh, you used to bring in a breakfast tray with breakfast for me.
Well, you know what? My boys, Hudson and Emerson, do the exact same thing for their mum because I taught them so.
That's lovely. The tradition lives on.
Well, I love you, Mama. 
Love you too, darling.
Thank you so much for ringing. See you soon, darling. 
Bye, honey.
Bye. Love you. Bye.
Alright, Mum, this one's for you. It's your scone recipe.
I've made a tiny little tweak to it, but happy Mother's Day. You're going to love it anyway. I didn't have cream, so I've used buttermilk instead. I think it's actually going to give it a really nice tiny bit of acidity. Alright, let's make it. You take three cups of flour, you toss that into a big bowl. Now, I'm going to take my baking powder and just sprinkle it pretty evenly.
If you don't have a sifter, I don't stress out about it. Just give it a good mix
with your hand, just like that. Then you add a little bit of salt,
just a pinch. Once we add our liquid, there's going to be minimal mixing. OK, you take your buttermilk and you take your milk, pour them in together. See how I made just a little well in the centre there?
Now, my mum's recipe tells you to mix it with a butterknife. I'm going to break the rules, Mum, but I will use the handle instead of the spatula. The detail is you don't want to overwork the flour, alright. You go in and you just very, very carefully mix this. Tip it all out onto your countertop. We're going to bring this together with as little kneading as possible. That looks pretty good to me. OK, once this comes together in this kind of little ball, all you do is grab yourself a rolling pin and just gently roll it out. You might want to just flour your pin. OK, once you're happy with the thickness - and you're looking for 2cm or 3cm - grab yourself a circular cutter, dip it in just a little flour and you're going to cut your scones out. Alright. We're used to greasing pans, aren't we? But you don't have to. With this recipe, you just grab a tiny bit of flour and dust that over the bottom of your pan, just like that.
Pick up your scones, drop them on. If you want to brush them with
a little egg wash or some milk, that'll give you a really nice glaze, but my mum didn't, so I'm not going to either. What you're going to do is stick them in an oven. About 180 to 200 for about 10 to 12 minutes. After 15 minutes - 10 to 15 minutes, actually - you want just the tiniest little tinge of brown colour. These scones are ready to go. Pull them out of the oven. I'm going to go ahead and drop them down here.
Now, this is something my mum used to do and she said, "Well, I do that
because my mum used to do it." So, I do it because my mum did it
and my nan did it and this is what I do. I take my scones, I pop them onto a tea towel, wrap it up like that and then you keep them until you're ready to serve them. I actually like the idea of serving them in a tea towel just like this.
Now, have them however you want. I like it with a little bit of butter and then my mum actually makes delicious lemon butter, so this is in her honour. A little bit of beautiful butter, little bit of that gorgeous lemon curd.
Or if you're more of a traditionalist and you want to take a little bit of jam and finish it with some beautiful clotted cream or whipped cream, be my guest. And that is what my mum used to make for me when I was a boy.
And I'll tell you what, it still tastes just as good. Mmm.
Happy Mother's Day to all of the beautiful mums in the world.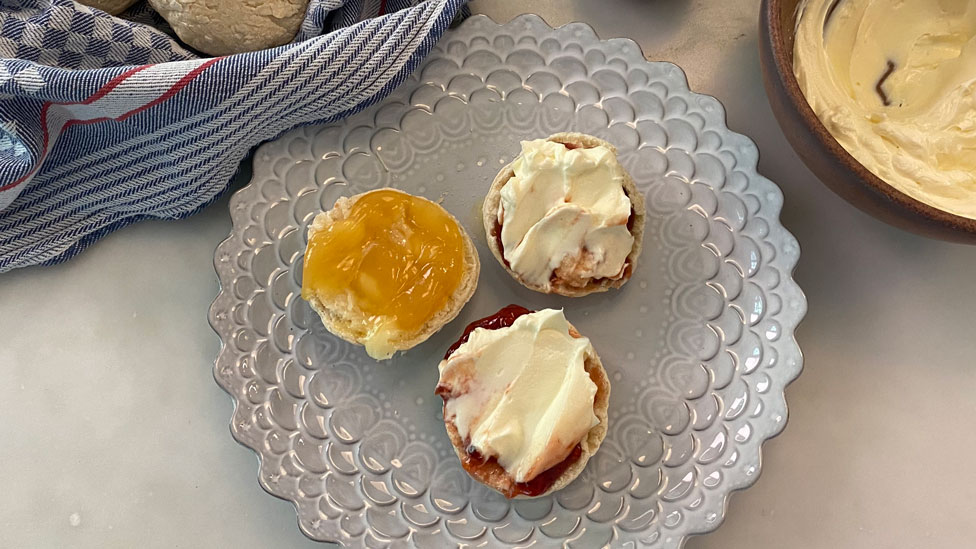 Ingredients
Plain flour, for dusting
3 cups self-rising flour
3/4 tsp baking powder
Pinch of salt
1/2 cup cold full-cream milk
1/2 cup cold thickening cream
Serve with: butter, jam, lemon butter, clotted cream
Method
STEP 1
Preheat oven to 200°C (180°C fan-forced). Lightly dust a large baking tray with plain flour.
STEP 2
Sift self-rising flour, baking powder and salt together into a large bowl to blend. 
STEP 3
Add the milk and cream. Using a butter knife, gently stir liquids into flour mixture just until a dough begins to form. Do not overwork or overmix the dough.
STEP 4
Turn dough out onto a clean work surface and very gently knead to gather dough together. Lightly flour rolling pin and roll out dough to about a 2- to 3-cm-thick disc. 
STEP 5
Using a 6cm-diameter biscuit cutter, cut out scones, flouring the cutter between each cut. Transfer scones to the prepared baking tray, arranging them about 2.5 cm apart. 
STEP 6
Bake scones for 10 to 15 mins, or until pale golden. Transfer scones to a clean tea towel and loosely wrap them up to keep them warm.
STEP 7
Serve scones warm with butter, jam, lemon butter and clotted cream.
Check ingredient labels to make sure they meet your specific dietary requirements and always consult a health professional before changing your diet. View dietary information here.