Hasselback pumpkin with sage and walnuts
This eye-catching hasselback pumpkin has flavours of maple syrup and sage, with walnuts for added crunch. It's the perfect addition to any main.
Hasselback pumpkin is a fun twist on the classic potato dish. You've got all those cuts in the pumpkin, and you can pack the flavour in. I'm going to show you a few tricks, so let's get started. First up, preheat the oven to 200 degrees. Now grab your butternut pumpkin. We're going to cut the pumpkin in half lengthways through the stem. Make sure you apply some pressure, and make sure you have a very sharp knife. So, now we're just going to remove the seeds from the pumpkin. Just use a spoon to do this.
To keep the natural line of the pumpkin, use a vegetable peeler to peel, not a knife. You don't want to take too much flesh off. And also, peelers are like knives. You want to make sure that they're sharp, because they do go blunt quite easily. I've got some chopsticks here, and this will just help with not cutting all the way through the pumpkin. So, we're just placing them on either side of the half. Use a sharp knife to thinly slice each pumpkin, going down to the level of the chopsticks. When you reach the chopsticks, you know when to stop. Make the cuts about 3mm to 5mm apart. And with chopsticks, sometimes you get some and the ends are thinner than the other end. You can just move them up as you go along so that you get even slices through the pumpkin. Now we're going to place the pumpkin onto a lined oven tray. I've just used some baking paper. We're going to pop them on. I'm going to tuck in some sage leaves. You don't need to add leaves to every cut. Just do this randomly all the way along. Just get your fingers in there and slightly separate the pumpkin. If you didn't want to use sage, you could use rosemary or thyme. Look at that. It looks impressive already. Press it back together, ready for baking. To make the glaze, have melted butter and add maple syrup, brown sugar, mustard, and a little bit of nutmeg. Give it a good stir, and then I'm going to season it with some salt and pepper. And then, using a pastry brush, brush half the glaze evenly over the pumpkins. Then into the oven. Bake for about 50 minutes. Look how beautiful that looks. That's halfway through cooking. Keep brushing, probably three to four times during the baking. The glaze is going to give an amazing flavour and it's going to get right into the cuts. I'm going to pop that back into the oven. Look at that. They're nice and golden brown and they're tender. Transfer the pumpkin halves to a large serving dish.
Be careful. It's quite delicate. So, I'm just using a couple of egg flips or spatulas. Then all you have to do is sprinkle with some chopped walnuts, and they're ready to serve. And there you have the hasselback pumpkins. Great as a side dish or as a vegetarian main. You can try doing this with other vegetables like potatoes or sweet potatoes. Try it with different flavours instead of butter. Use a mixture of olive oil, crushed garlic, thyme or rosemary.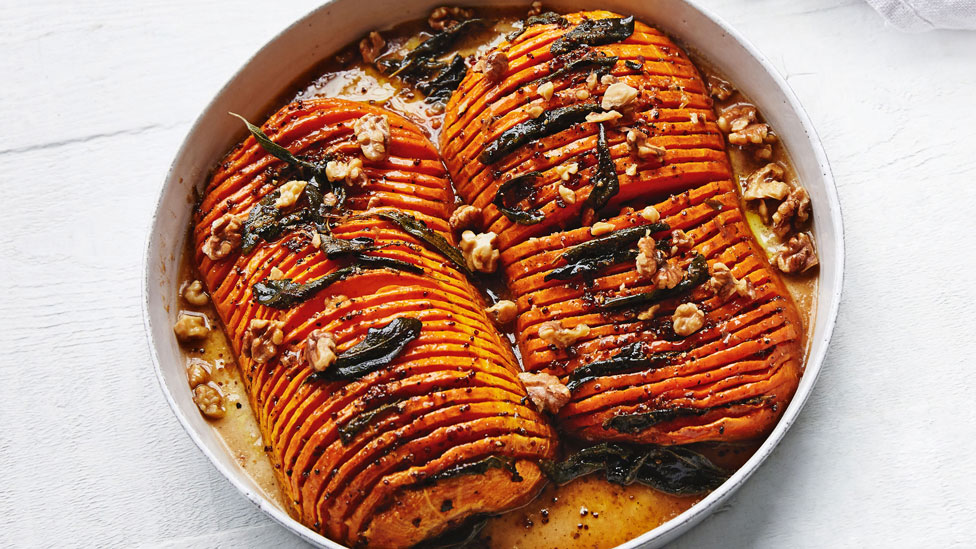 Ingredients
1 medium butternut pumpkin, halved lengthways, seeded
1 bunch sage, leaves picked
50g butter, melted
1/3 cup (80ml) maple syrup
2 tbs brown sugar
1 tbs wholegrain mustard
1/2 tsp ground nutmeg
1/2 cup (50g) walnuts, toasted, coarsely chopped
Method
STEP 1
Preheat oven to 200°C. Line a large baking tray with baking paper. 
STEP 2
Use a vegetable peeler to peel each pumpkin half. Place 1 pumpkin half on a clean work surface. Place a chopstick along either side of the pumpkin half. Use a large sharp knife to thinly slice the pumpkin half down to the level of the chopsticks (this stops you from cutting all the way through). Place on the lined tray. Insert half the sage leaves randomly into the cuts. Repeat with the remaining pumpkin half and sage. 
STEP 3
Combine the butter, maple syrup, sugar, mustard and nutmeg in a small bowl. Season well. Brush half the butter mixture evenly over the pumpkin halves.
STEP 4
Bake, basting occasionally with remaining butter mixture, for 50 mins or until pumpkin is golden brown and tender. Transfer to a large serving dish. Sprinkle with walnut. Serve immediately.
Check ingredient labels to make sure they meet your specific dietary requirements and always consult a health professional before changing your diet. View dietary information here.