15-minute chicken, broccoli and cashew stir-fry
After an easy weeknight dinner? We've got you sorted with this flavoursome chicken, broccoli and cashew stir-fry that's on the table in just 15 minutes.
Cover Hokkien noodles with boiling water and soak for about three minutes, separating the noodles with a fork. Drain well. For the chicken, heat oil in a wok over high heat. If you don't have a wok, use a large frying pan. Stir-fry the chicken for two minutes or until golden-brown and cooked through.
Do this in batches so that you don't overcrowd the wok and the chicken browns evenly. Put the chicken back into the wok, then add onion, garlic, ginger and broccoli. Stir-fry for about four minutesor until the broccoli is just tender.
To finish off the stir-fry, pour in oyster sauce and water and throw in some cashews. Stir-fry for another two minutes until heated through. To serve up, put the noodles in bowls, top with the stir-fry and you're done. Make sure you get all that delicious sauce.
It's as easy as that to whip up a tasty chicken stir-fry with broccoli and cashews and all you need is 15 minutes. For the full recipe, see the description below. For more easy dinner ideas, head to our Best Ever Chicken playlist here.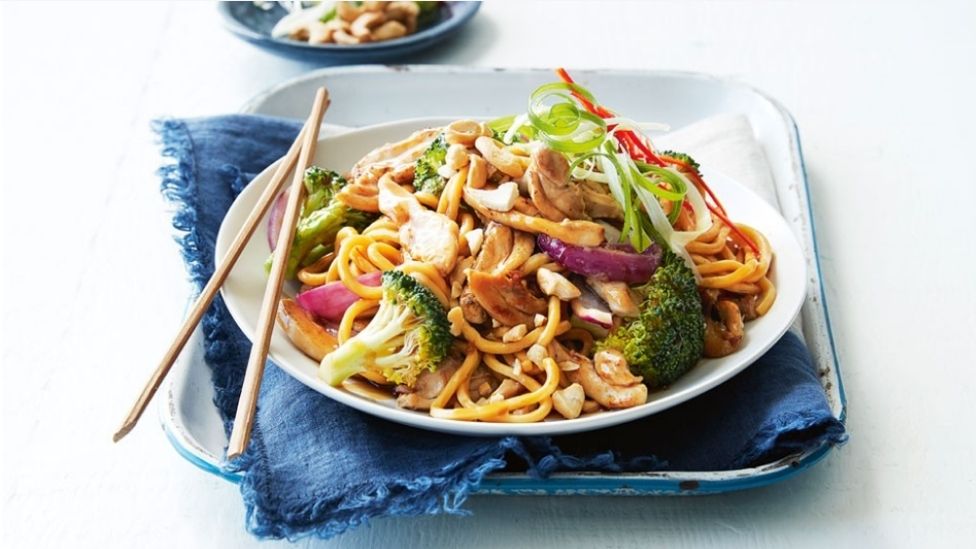 Ingredients
450g pkt hokkien noodles
1 tbs peanut oil
500g Coles RSPCA Approved Australian Chicken Thigh Fillets, thinly sliced
1 large red onion, cut into wedges
2 tsp minced garlic
2 tsp crushed ginger
1 head broccoli, cut into florets, stem halved lengthways and thinly sliced
1/3 cup (80ml) oyster sauce
1/2 cup (75g) unsalted cashews, toasted
Method
STEP 1
Cook the noodles following packet directions. Drain well.
STEP 2
Meanwhile, heat the oil in a wok or large frying pan over high heat. Stir-fry the chicken, in 2 batches, for 2 mins or until golden brown and cooked through, transferring to a plate between batches.
STEP 3
Combine the chicken, onion, garlic, ginger and broccoli florets and stems in the wok or pan. Stir-fry for 4 mins or until broccoli is tender.
STEP 4
Add the oyster sauce with 1/4 cup (60ml) water and cashews. Stir-fry for 2 mins or until heated through.
STEP 5
Divide noodles and stir-fry among serving bowls. Serve immediately.
Serve with red chilli matchsticks and spring onion matchsticks.
Stir-fry swap
Thigh fillets are great in stir-fries – they stay tender and juicy and add lots of flavour – but for even faster prep, use chicken breast stir-fry strips.
Check ingredient labels to make sure they meet your specific dietary requirements and always consult a health professional before changing your diet. View dietary information here.