15-minute turkey san choy bow
Dinner is effortless thanks to this 5-ingredient recipe, ready in just 15 minutes. This turkey san choy bow is crunchy, flavoursome and fresh.
Hi everybody, Courtney Roulston here, it's Wednesday which means I'm back to share one of the Coles feature What's for Dinner recipes.
There's over 80 quick and easy dinner ideas to choose from. Tonight I'll be making the 15 minute turkey san choy bow, and it only requires 5 ingredients. It couldn't be simpler, it's a fast, fresh and fun recipe that'll be a winner with the whole family.
Step number one is we need to cook out turkey mince. Alright, I've got a pan on a nice kind of medium high heat, I'm just going to add a little bit of extra virgin olive oil and I'm going in with our 500 grams and turkey mince.
I'm just going to season the turkey mince with a little bit of sea salt. Break up the mince with the back of a spoon for around 4 or 5 minutes. I'll just run you through our other ingredients while that turkey mince is cooking.
I've got a 250 gram Coles Black Rice Microwave pouch, that I've warmed through and i've got that ready to go.
So you need 8 lettuce leaves for this recipe I'm just going to drain these off and I've got a carrot that's going on to the top of our san choy bow, so a nice little crunchy sweet element.
Turkey mince is great value, cooks really quickly and it makes a really lean alternative to traditional san choy bow.
Now that our mince is cooked off, I'm going in with our 250 gram coles microwave black rice pouch. It's a great bit of colour to our mince and it's a nice way of getting something filling into our san choy bow.
A little short cut with the dressing, I've got a thai style chili lime dressing from Coles. We need 80 mls for the whole recipe, I'm going in with 40 now, so this is going to add a bit of zing and zip into our san choy bow.
Alright, you all know how san choy bow work, we've got to fill up these lettuce cups. Just going with a little more of our thai dressing, just over the top and something nice and bright and sweet to go with that nutty fragrant turkey mince is our little carrot noodles that we've done.
That is my 15 minute turkey san choy bow. For this and lots more dinner inspiration, head on over to Coles.com.au or you can sign up to the digital catalogue for new recipes every week.
Now remember guys, same place, same time next Wednesday, I'll be back with another quick and delicious What's for Dinner recipe from Coles. That is my dinner sorted, cheeky little chefs treat to have on the way to the table!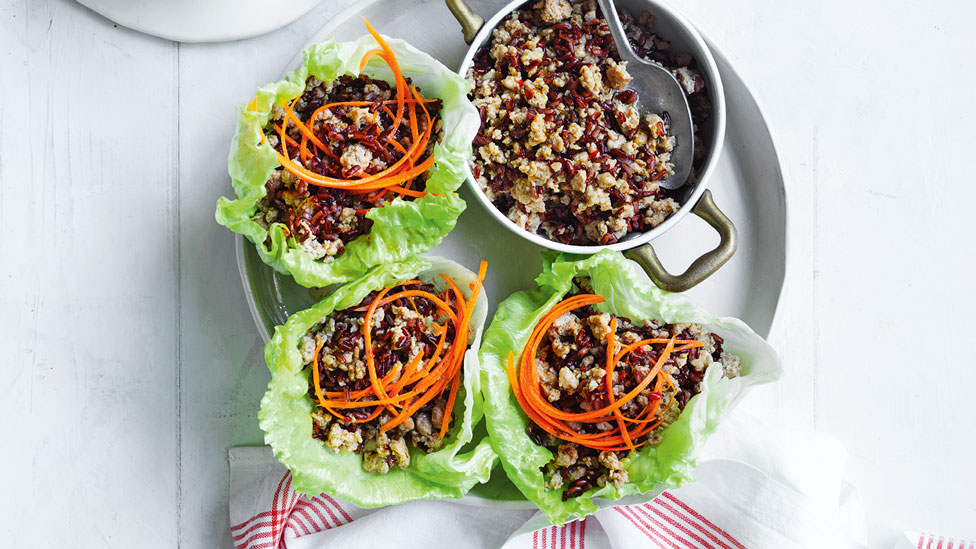 Ingredients
500g Steggles Turkey Mince
250g pkt Coles Microwavable Black Rice
8 iceberg lettuce leaves, trimmed
1/3 cup (80ml) Coles Thai Style lime & Chilli Dressing
1 carrot, peeled, cut into long matchsticks
Method
STEP 1 
Heat a non-stick frying pan over high heat. Add the mince. Cook, stirring, for 5 mins or until the mince changes colour and is cooked through.
STEP 2 
Meanwhile, heat the rice following packet directions. 
STEP 3 
Add the rice and half the dressing to the mince mixture in the pan. Stir until combined and heated through. 
STEP 4 
Divide the lettuce leaves among serving plates. Spoon the mince mixture into the lettuce leaves. Season. Top with carrot and drizzle with the remaining dressing to serve. 
Check ingredient labels to make sure they meet your specific dietary requirements and always consult a health professional before changing your diet. View dietary information here.