Easy bacon and leek frittata
Need some weeknight dinner inspiration? This fuss-free frittata comes to the rescue for a flavour-packed meal the family will love.
Hey everyone Courtney Roulston here. Now that age old question just keeps coming up in our house every day and that's 'What's for Dinner?'
If you're after quick, easy and delicious recipes, then you'll love the Coles What's For Dinner range. There's over 80 recipes to choose from. All are ready in under 30 minutes and only require ingredients or less. On tonight's menu we're cooking the Easy Leek and Bacon Frittata.So let's get on with the cooking.
Ok the 5 ingredients you'll need is. Some rindless bacon. I've got a beautiful fresh leek. We need about ¾ cup of cream. We've got some beautiful cherry tomatoes. Still on the vine. Nice and sweet and you'll need 10 eggs. 
Alright first job just heat up some extra virgin olive oil in a non stick frying pan. Now with our leek we just need to slice this. I'll just pop that leek into a pan that's on a nice medium heat. Add in a touch of sea salt and a bit of black pepper. 
Alright the next job is just to slice up our bacon. So I'll just slice this in to battons. Alright that bacon can go in with the leeks and we just need to cook this for a couple of minutes. 
So I've got 10 Coles Free Range Eggs here. I'm just going to crack them into a bowl. We're going in with about ¾ cup of cream. Eggs love a little bit of salt so season them with some sea salt and a little bit more cracked pepper. Give them a whisk up with a fork. Now all we need to do is to pour our egg over the leek and the bacon mixture. Alright we can give that a little mix. Just cover that with a lid or a tray and give that about 8-10 minutes keep it cooking and then we'll come back to check on it. Alright let's have a look under our little lid here. Can see our frittata has still got a little bit of a wobble in it. So I'm going to finish this in under the grill in the oven. And while I'm doing that I'm going to pop these sweet, bursty tomatoes on a tray and these can go under the grill with the frittata. Alright dinner in an absolute flash. There we have it our frittata has set it's become beautiful and golden check that out. I'm going to pop this on to a serving plate. Cut ourselves a nice, generous, piece of frittata. Alright our blistered tomatoes they just go on top. 
If you like the look of this recipe you can find this plus many more Coles What's For Dinner recipes over at coles.com.au. Or why not sign up to the Coles digital catalogue with new recipes every week. 
Dinner does not need to be stressful but it certainly can be delicious. I'll see you next Wednesday.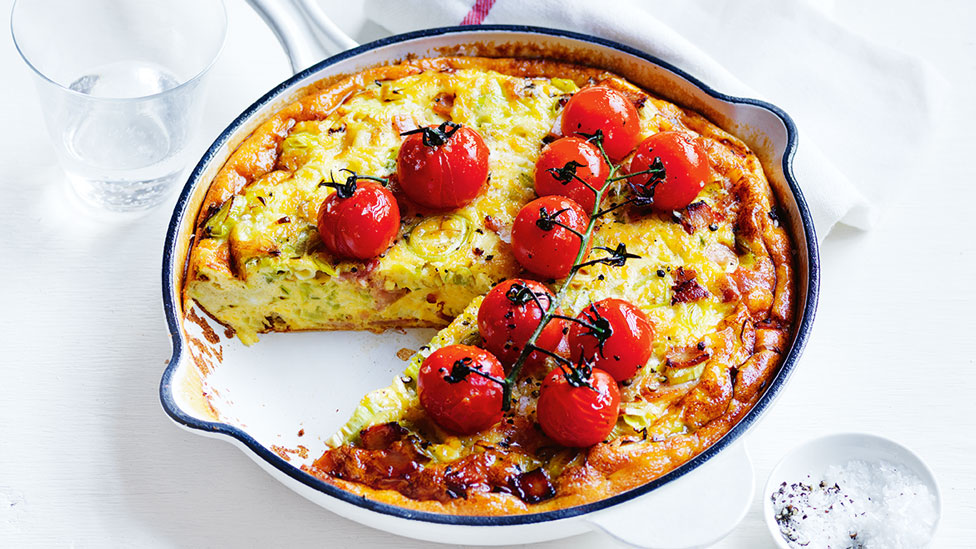 Ingredients
6 rashers Coles Short Cut Rindless Bacon, chopped
1 leek, thinly sliced
10 Coles Australian Free Range Eggs
3/4 cup (185ml) Coles Thickened Cream
250g vine-ripened cherry tomatoes
Method
STEP 1 
Place a greased 20cm (base measurement) ovenproof frying pan over medium heat. Add the bacon and leek. Cook, stirring, for 5 mins or until the bacon is browned and the leek softens.
STEP 2 
Preheat grill on high. Whisk the eggs and cream in a bowl. Pour the egg mixture over the bacon mixture in the pan. Reduce heat to low. Cook for 7 mins or until the egg is almost set. Cook under the grill for 5 mins or until golden and set. 
STEP 3 
Place the tomatoes on a lined baking tray. Cook under the grill for 2 mins or until the skins start to split. Top the frittata with the tomatoes. Season. Cut the frittata into wedges to serve.
Check ingredient labels to make sure they meet your specific dietary requirements and always consult a health professional before changing your diet. View dietary information here.