Andrea Scardamaglia's strawberry trifle
Try this classic dessert this festive season. Andrea Scardamaglia's crowd-pleasing strawberry trifle is the perfect way to end your feast.
Note: + 4 hours chilling time
Ingredients
1 1/2 x 400g pkts Coles Jam Sponge Rolls, cut into 2cm-thick slices
2 tbs brandy or orange juice
2 x 85g pkts raspberry-flavoured jelly crystals
2 cups (500ml) boiling water
1kg thick vanilla custard
300ml Coles Thickened Cream
1 tbs icing sugar mixture
250g strawberries, halved
Method
STEP 1
Arrange sponge slices around side and over base of a 19cm x 21cm trifle bowl. Drizzle with brandy or orange juice.
STEP 2
Prepare the jelly following packet directions using the boiling water and 2 cups (500ml) cold water. Pour the jelly mixture over the sponge slices in the dish. Place in the fridge for 4 hours or overnight or until set.
STEP 3
Pour the custard over the jelly layer. Use an electric mixer to beat the cream and icing sugar in a large bowl until soft peaks form. Spoon the cream mixture over the custard in the dish. Decorate with strawberry to serve.
Mini Trifles: Don't have a big trifle bowl? Make this easy dessert in individual serving glasses. You'll save time, too, as the jelly only needs 2 hours to set instead of 4 hours. 

Christmas with Coles grower Tony Scardamaglia
"Everyone comes in and asks the same thing: 'Did Andrea make the strawberry trifle?'"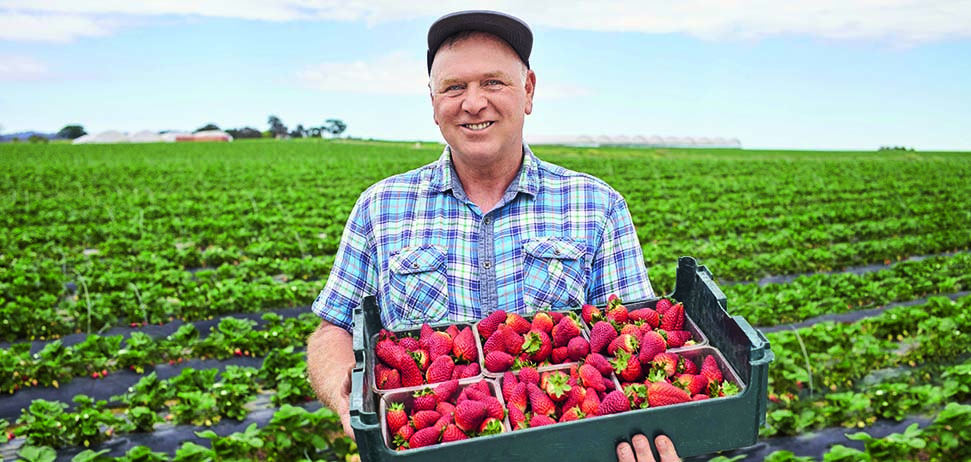 Strawberry grower, Tony Scardamaglia supplies Coles with the freshest in-season strawberries grown on his family's farm.
There's one question Coles strawberry producer Tony Scardamaglia has come to expect when he sees his family on Christmas morning. "Everyone comes in and asks the same thing: 'Did Andrea make the strawberry trifle?'," says Tony. His wife, Andrea, has been making the Christmas classic for the past 20 years. "It's always a hit," says Tony.
It should come as no surprise that the trifle is topped with a generous amount of strawberries. They're always freshly picked from the farm Tony's father, Fortunato (known as Fred), bought in 1969, originally an hour's drive from the family's Melbourne home at the time. "It was more of an orchard farm back then, with cherries, peaches and apples," recalls Tony, who moved to the farm permanently with his parents and three brothers when he was about six.
In the mid-1970s, Fred began experimenting with strawberry plants on a quarter-acre block, and today Strawberries R Us sits on 300 acres with Fred and Tony's mum, Pasqualina (known as Lina), still in the farmhouse where Tony grew up. It's here that Christmas is still celebrated each year. "Dad's 84 and still working and my mum's in her late seventies," says Tony of his Italian-born parents. "They just love the business. It would be too boring for them to retire." Tony, Andrea and their two children now live nearby on another farm.
With the lead-up to Christmas being the busiest time of year on the farm, it's likely Tony will be working for at least part of Christmas Day. But he'll be sure to take a few hours off to enjoy the company of his family and the lasagne, parmigiana and deep-fried rice balls his mother is famous for. "Everyone looks forward to the rice balls," he says. "They're crispy and delicious."
Check ingredient labels to make sure they meet your specific dietary requirements and always consult a health professional before changing your diet. View dietary information here.