Baked brie
Ready in just 20 minutes, this quick and easy baked brie recipe is the perfect party starter.
Ingredients
3 x 125g Coles Brie
1 1/2 tbs honey
6 rosemary sprigs
6 thyme sprigs
Method
STEP 1
Preheat oven to 180°C. Place each brie in a 1-cup (250ml) capacity mini cocotte. Use a small sharp knife to cut a cross or diamond pattern on the top of each brie. Drizzle evenly with honey and sprinkle with rosemary and thyme. Season.
STEP 2
Place on a baking tray. Cover and bake for 10 mins. Uncover and bake for a further 5 mins or until the brie melts.
STEP 3
Place mini cocottes with baked brie on a serving platter. Serve immediately.
Serve with grilled sliced Coles Bakery Sesame French Stick
Collect KitchenAid Ovenware
Like the look of the Ovenware used in this recipe? Visit the link below to find out how you can collect your own KitchenAid Ovenware at Coles.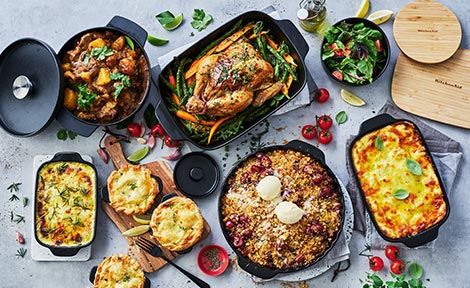 Check ingredient labels to make sure they meet your specific dietary requirements and always consult a health professional before changing your diet. View dietary information here.