Curtis Stone's braised beef with roasted potatoes and broccoli
Try whipping up Curtis Stone's hearty braised beef for a filling meal the family will love.
Braised beef with roast winter vegetables.
Absolutely delicious dish and perfect for those colder months. What you need is a little bit of chuck steak and I've got some right here. I'm going to pop it on the board and cut it into four pieces. So literally cut it straight down the centre, turn it around and cut it in half. And then I'm going to braise those four pieces and it's going to make a delicious meal.

So we need a little bit of salt. A little bit of fresh-ground black pepper. And we're ready to go.

You want a nice hot pan so I've got a big deep pan because this is what we're going to braise it in. A little bit of oil. Not too much. And then you go ahead and pick up these pieces of beef. You want to get a nice sear on them so make sure you have your pan nice and hot.

While that's happening, I'm going to show you how we prepare our vegies, which we're going to do a little later on. I've got a pan here, some sweet potato that I've already cut, little florets of broccoli and some potatoes, like so. A little bit of salt, a little bit of pepper.

And a little bit of olive oil. OK, I'm going to sit that to one side, and have a look at our beef. Oh, delicious! Have a look at the colour on this. Fantastic.

You want to get that nice golden colour on your steak.Once you have that beautiful golden colour on the beef - it doesn't have to be cooked - you're going to take it out and it's going to go back and braise in just a moment.

But first of all, take that out. And then get your onions. Into that same hot pan. A little bit of oil. And then we're going to add the carrots and the garlic. Grab a little bit of thyme. I've got some fresh thyme there. I throw that in.

I've got a little bit of vinegar that I'm going to deglaze the pan with. We then have a full cup of beef stock. You add that in. Give that a stir. Take your beef and you can place that back into the pan. And then you might need a couple of cups of water just to sort of bring that level up so you can braise the beef nice and slow.

And if a little bit of that reduces, it's not the end of the world. Here's my favourite part. The lid goes on. You pop it in the oven. So that's 180 degrees, or 160 if you're using a fan-forced oven. Two hours, and we'll be back.

So I've got my vegies with a little bit of olive oil, salt and pepper, ready to go in the oven. My beef's been in there braising for about an hour and a half, so it's got 30 minutes to go, which is exactly how long these will take to cook.

So I'm going to pop them in now so it's all ready at the same time. So it's been a couple of hours. The beef should be beautiful and tender. The vegies should be roasted and looking delicious. A little bit of colour on them. Let's have a look.

Ooh-hoo-hoo! Very good.

OK, so I'm going to take my pan, pop it straight over there. Oh, look at that. Beautiful crispy veg. I love these little florets of broccoli. Mmm! They go all crispy and delicious. It's such a nice way to serve broccoli.

OK, now, you'll notice I've put this onto the heat. It's still steaming away from being in the oven. Using this pan, I'm just going to remove those big chunks of beef and the carrots and I'm going to reduce the sauce a little.

So you leave it uncovered, nice and high. Let it boil just for a few minutes. It's going to reduce down and get this beautiful viscosity to the sauce. So I'm just going to layer this up. A few potatoes, a few of those sweet potatoes.

It looks absolutely delicious. Look at that. Sauce needs just another minute. And get a nice big chunk of that beautiful braised beef.

Plenty of those vegies. So once your sauce or your braising liquid has had just a few minutes to reduce, it turns into a beautiful, luscious sauce.
Look at this. Oh, so good. And it turns it into this delicious sort of stewed dish that you and your family are going to absolutely love.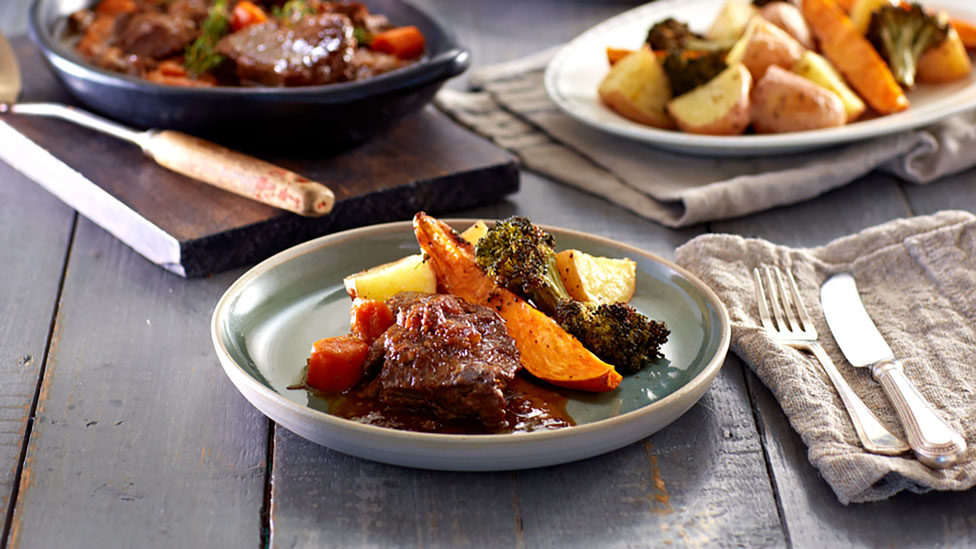 Ingredients
1 tbs olive oil
500g Coles Beef Chuck Steak, cut into 4 equal pieces
1 medium brown onion
2 small carrots, peeled, cut into 2.5cm pieces
2 cloves garlic, crushed
1 tbs Coles Brand Red Wine Vinegar
1 cup Coles Brand Real Beef Stock
2 large sprigs fresh thyme
200g gold sweet potatoes, peeled and quartered
3 medium (450g) red washed potatoes, quartered
150g broccoli florets
Method
STEP 1 
To braise the beef, position the rack in the centre of the oven and preheat the oven to 180°C (160°C fan forced).
STEP 2 
Heat a large, heavy-based deep saucepan over medium-high heat. Add the oil and heat it for 1 min. Season the beef with salt and pepper. Add the beef to the pan and cook until browned all over, about 2 mins per side. Transfer the beef to a bowl and set aside.
STEP 3 
Add the onion and carrots to the pan and cook for 2 mins, or until the vegetables have started to develop some colour. Add the garlic and stir for 30 secs, or until fragrant. Add the vinegar and cook, stirring to scrape up the brown bits on the bottom of the pan, for 1 min, or until the vinegar reduces by half. Return the beef and its juices to the pan.
STEP 4 
Add the stock and thyme, then add enough water to almost cover the meat (about 2 1/2 cups). Bring the liquid to a simmer, then cover the pan and transfer it to the oven. Braise the beef mixture for 2 hrs, or until beef is tender.
STEP 5 
Using a slotted spoon, transfer the braised beef and vegetables to a large bowl and cover with foil to keep warm. Simmer the braising liquid over medium-high heat for about 5 mins, or until reduced to 1 cup. Return the beef and vegetables to the braising liquid and season to taste with salt and pepper.
STEP 6
Meanwhile, to roast the vegetables, position the rack in the centre of the oven and preheat the oven to 180°C or 160°C fan. In a large bowl, toss the sweet potato, potato and broccoli with the olive oil to coat. Season with salt and pepper. Transfer vegetables to a heavy, large baking tray, spacing them evenly apart. Roast vegetables without turning them, for 30 mins, or until they are tender and beginning to brown. Stand for 2 mins before serving.
STEP 7 
Divide the roasted vegetables between 4 plates. Place a piece of beef alongside the vegetables on each plate. Divide the carrots and onions among the plates. Spoon the braising liquid over the beef and serve.
Check ingredient labels to make sure they meet your specific dietary requirements and always consult a health professional before changing your diet. View dietary information here.