Carrot, zucchini and ricotta muffins
Have a batch of these veggie-packed muffins on hand for the perfect recess or after-school snack.
Muffins are great to pop into lunch boxes for a morning or afternoon snack.
These carrot, zucchini and ricotta muffins are fluffy and sweet with a hint of spice and they're really simple to make. Start by preheating the oven to 180 degrees Celsius then line your muffin pans with paper cases. If you're using a silicone muffin pan, you can leave the cases out and just spray it with a bit of oil and the muffins will pop out easily.
The trick to making muffins is to mix your dry ingredients and wet ingredients separately before you mix them together. Put self-raising flour in a large bowl. I'm using a mixture of half plain and half wholemeal for a nuttier texture.
Mix them together with some brown sugar, carrot, zucchini and some mixed spice. Stir until combined. Whatever you're adding to your muffins, it could be grated veggies like these or it could be fresh or dried fruit, it's best to add it to the dry ingredients so it's distributed evenly through the mixture.
Now for the wet ingredients, take a jug and add an egg, oil, buttermilk and ricotta. Whisk until they're well combined. Pour this into the flour mixture and give it a stir. Remember, for light and fluffy muffins you should only stir until the batter is just combined. It's fine if it looks a little bit lumpy, just make sure you don't over mix it.
Spoon the muffin mixture evenly among the paper cases, then pop into the oven to bake for 25 to 30 minutes. To test, insert a skewer in the centre. It should come out clean.
Muffins are less delicate than cakes and cupcakes so you don't need to cool them in the pan first. Just get them straight out onto a wire rack to cool. If you don't, the heat in the pan will keep cooking the muffin and they'll start to sweat and it'll make the paper cases peel off.
These carrot, zucchini and ricotta muffins are delicious warm, so dive straight in. Plus, they make the perfect lunch-box treat.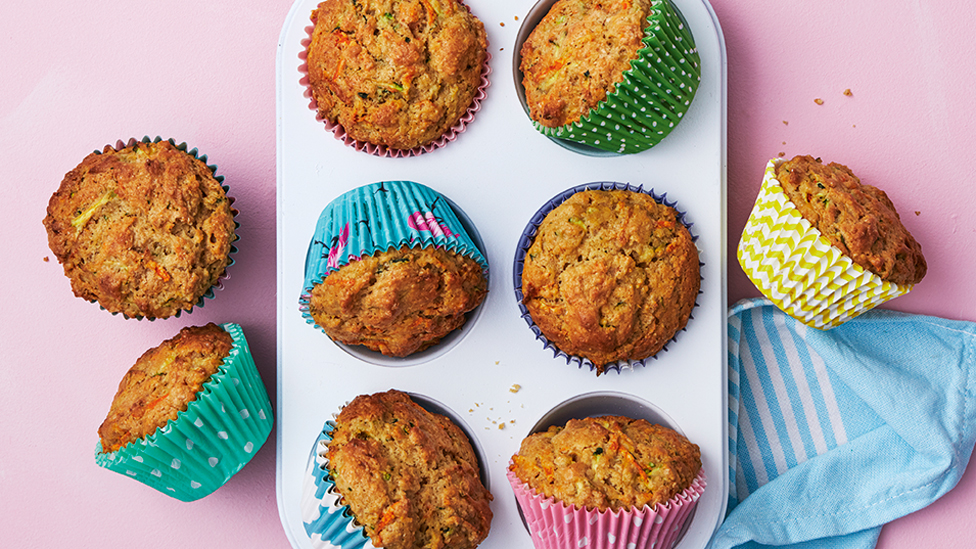 Ingredients
1 cup (160g) wholemeal self-raising flour
1 cup (150g) self-raising flour
3/4 cup (165g) brown sugar
1 carrot, peeled, coarsely grated
1 zucchini, coarsely grated
1 tsp mixed spice
1 Coles Australian Free Range Egg
1/2 cup (125ml) canola oil
1/2 cup (125ml) buttermilk
1/3 cup (80g) ricotta
Method
STEP 1 
Preheat oven to 180°C. Line a 12-hole, 1/3-cup (80ml) muffin pan with paper cases.
STEP 2 
Place the combined flour, sugar, carrot, zucchini and mixed spice in a large bowl. Stir to combine.
STEP 3 
Whisk the egg, oil, buttermilk and ricotta in a jug. Add to flour mixture and stir until just combined (don't overmix).
STEP 4 
Spoon the mixture evenly among paper cases. Bake for 25-30 mins or until a skewer inserted in centres comes out clean. Transfer to a wire rack to cool. Serve warm or at room temperature.
Check ingredient labels to make sure they meet your specific dietary requirements and always consult a health professional before changing your diet. View dietary information here.