Cheesy onion pull-apart
This pull-apart loaf makes the perfect lunch-box filler or after-school snack. Packed with cheesy goodness, it will be the kids' new favourite.
I have James with me. Hey, James. What are we going to cook today?
I think we're going to cook some bread today.
That's it. We're going to cook some Cheesy Onion Pull-Apart loaf. Now, bread does take some time and patience, but it's so worth the wait.
-Definitely, it is.
-Do you want to get started?
For sure. We've decided to use a pre-packaged bread mix 'cause that just makes it quicker. You don't have to measure all those ingredients. So, it's two teaspoons of yeast. Can you add that into the mix?
Good work. So, make a well in the centre. Yep, that's it. And then add the water in. -And just mix that around.
-OK.
Now do you want to get your hands in there and really give it a good mix? OK, now try and get in and give it a good swish around.
JAMES: OK.
We'll just knead in that extra flour. You can do this in an electric mixer if you like. So, now we're going to knead it. So, when you knead, you just use the palm...
JAMES: Mm-hmm.
..and you push and pull and move it around in a little circle. -Alright. -It's looking really good. Can you see how it's getting a bit more elastic?
-Yes.
-OK. -Now if you bring it into a ball...
-Yeah.
EMMA: Nice and soft. And press the top, does it spring back?
JAMES: Yeah, it does.
OK, now that that's kneaded and it's ready to go, we're going to spray a bowl with some oil spray. So, we'll put some cling wrap over. It needs to be in a warm, draught-free place.
-Near the oven.
-Yeah, over near the oven. And when your oven's on, the heat from the oven will help prove the dough. So, we're going to leave that for 40 minutes and then come back to it and see what it looks like.
So, while the dough's proving, we're going to get on and make the filling. So, what we've got is a pan over medium heat. We're going to add a tablespoon of olive oil, some red onions and some garlic. We're just going to cook the onions for five minutes, just so they're translucent. We don't really want to get any colour on them. That looks great. We're just going to let that cool for about 20 minutes.
-You ready?
-Whoa!
Yeah. Are you going to punch it down? Yeah.
-EMMA: And what happened then?
-JAMES: It just deflated.
EMMA: It did, didn't it? So, all the air's come out. Might need a little bit of flour. We don't want to knead it like we did before. Yeah. We just want to bring the dough together. And are you going to roll it out for me?
JAMES: Sure.
-We can turn it...
-OK. ..like that, and you can stretch it.
-See how stretchy it is?
-Yeah.
And then keep going. So, we want a rectangle, so we want to bring these side pieces out.
-JAMES: OK.
-EMMA: What do you reckon?
-Do you think that's big enough?
-JAMES: Yeah.
First, do you want to brush it all with butter so all the ingredients stick? -Now sprinkle all over...
-OK.
..with the onion. OK, and now some cheese. We've got some tasty cheddar.
JAMES: Delicious.
OK, James, we're going to get a pizza cutter and we need to cut this into 20 pieces. And I'm just greasing the pan while you do that. So, we're going to turn the tin up on its side and this will help us layer the dough in the tin. We just pick them up and pop them in the centre, just on top of each other. And just for the final piece... -I'll do this one, OK?
-OK.
We're going to turn it upside down on top. And then we're going to tip the tin up. We can just move them and stretch them out. So, we're going to cover that again with some plastic wrap and put that in a warm spot for another 40 minutes and then it's ready to go in the oven.
So, while the bread's proving, James, can you preheat the oven to 220 degrees for me, please?
JAMES: Sure.
-Second reveal. Are you ready?
-Yes.
JAMES: Whoa!
-See how it's all filled the pan? -Mm.
EMMA: So, that's ready to go in the oven and it's going to cook for about 25 minutes.
-Can you smell that?
-(INHALES DEEPLY) Oh, it smells so good.
-Let's see if it's ready.
-OK.
-Wow. Look at that!
-Mmm! Now, do you know how to tell if bread's cooked? You tap it. Give it a tap. What does it sound like?
-It sounds a bit hollow.
-It does. It sounds hollow and that's how you know that the bread's cooked. You tap it and it's hollow. OK, let's turn it out of the pan. We might have to give it a bit of a jiggle. Let's turn that out. Let's rest it for about 20 minutes, just so we don't burn ourselves on the steam. OK. James, do you want to do the honours and break into it?
Of course.
Well, that's how you make Cheesy Onion Pull-Apart bread. -Wasn't it worth the wait, James?
-Mm-hmm!
EMMA: For more kids recipes, head over to our kids cooking playlist here. And to make sure you don't miss out on any of our videos, click here to subscribe.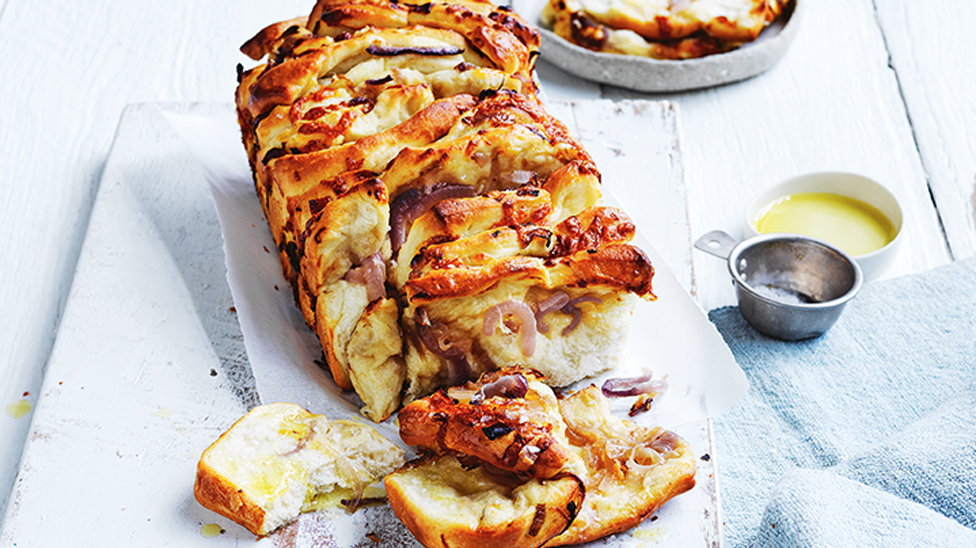 Ingredients
2.4kg Laucke Crusty White Bread Mix
1 tbs olive oil
3 red onions, thinly sliced
2 garlic cloves, crushed
10g butter, melted
1 cup (120g) grated tasty cheddar
Method
STEP 1 
Prepare one-quarter of the bread mix following packet directions. Set aside to prove.
STEP 2 
Meanwhile, heat the oil in a frying pan over medium heat. Add the onion and garlic and cook, stirring, for 5 mins or until the onion softens.
STEP 3 
Grease an 11cm x 24cm loaf pan. Punch down the dough. Roll out on a lightly floured surface to a 38cm x 40cm rectangle. Brush with melted butter. Top with the onion mixture and cheese. Cut into 20 rectangles. Layer sideways in the prepared pan. Cover with plastic wrap. Set aside in a warm draught-free place for 40 mins or until doubled in size.
STEP 4 
Preheat oven to 220°C. Bake pull-apart for 25 mins or until it sounds hollow when tapped. Transfer to a wire rack. Serve warm or at room temperature.
Check ingredient labels to make sure they meet your specific dietary requirements and always consult a health professional before changing your diet. View dietary information here.