Brent Draper's chicken and sweet potato quesadillas
If you're after a tasty lunch idea for the kids, have a go at Brent Draper's Mexican-inspired quesadillas. They're loaded with spiced sweet potato, gooey cheese and shredded chicken - what a combo!
G'day guys, I'm Brent Draper.
Today I'm going to show you my kids' lunchtime recipe, chicken sweet potato quesadillas.
You know, the favourite thing I love about this is everything's interchangeable, so you can swap and trade all these different ingredients to suit your kids.
So, sweet potato, just want to chop the ends off, and then with the peeler, peel the skins.
So what you want to do is you want to nice and carefully chop it into about half centimetre discs.
So next you want to chuck these guys in a bowl.
Now you're going to drizzle a little bit of olive oil over the top.
This is the three amigos, so it's half a teaspoon of paprika, half a teaspoon of ground cumin, and half a teaspoon of ground coriander.
You're simply just going to sprinkle that in over the top. A little bit of salt and pepper for seasoning.
So you just want to really mix it up. Once they've fully covered we're gonna whack them onto this tray and we want to put them into the oven 200 degrees for about 25 minutes. They're gonna, you know, caramelise go golden brown.
Alright, so time to build them. We got the Coles wholemeal flatbreads, which work absolutely perfect. It's all about the cheese. Coles Pizza Blend is perfect. Sprinkle a little layer on first. All right now we got our Coles shredded chicken. Nice and easy. Just want to shred it up into little pieces.
So next, sweet potato, you just want to put them on like a pizza. So now we're gonna go to Coles Mexican Sauce. We just want to drizzle it all over.
Now here's the trick of cooking a good quesadilla. We've got a nice, low to medium heat pan, and we just want to whack that straight on like that. And then once that cheese starts to melt, we're gonna fold him over, squash it down. And that's how you get that beautiful quesadilla shape. Whoa, look at that beautiful quesadilla!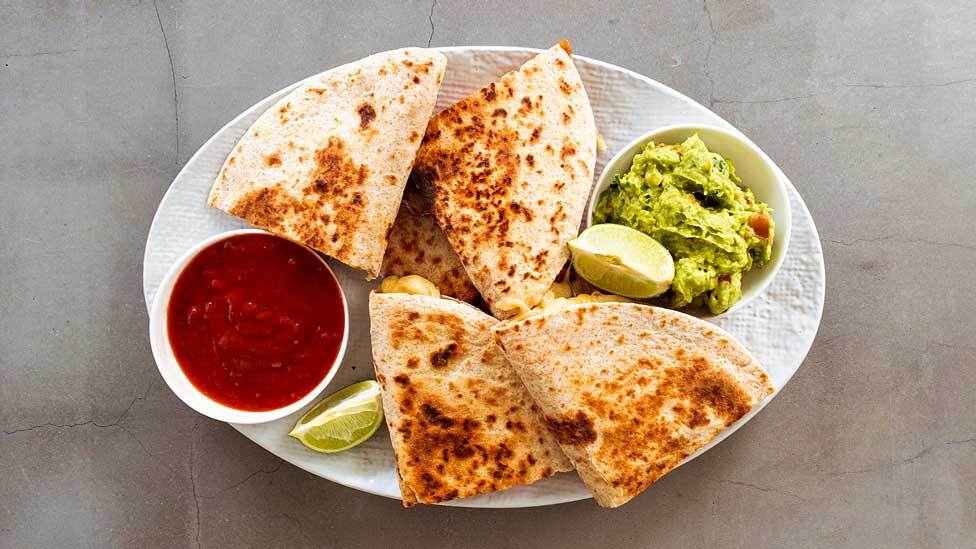 Ingredients
1 medium sweet potato, peeled, cut into 5mm-thick slices
1 tbs olive oil
1/2 tsp ground cumin
1/2 tsp ground paprika
1/2 tsp ground coriander
4 Coles Wholemeal Wraps
1 1/2 cups (150g) Coles Australian Pizza Blend Shredded Cheese
350g shredded chicken
240g jar Coles Mexican Sauce Mild
Method
STEP 1
Preheat oven to 200°C. Line a baking tray with baking paper. Place the sweet potato in a bowl with oil, cumin, paprika and coriander. Season. Toss until well combined. Arrange the sweet potato in a single layer on the lined tray. Bake for 20 mins or until golden brown.
STEP 2
Place 1 wrap on a clean work surface. Top with one-quarter of the cheese, chicken, and sweet potato and drizzle with some of the Mexican sauce.
STEP 3
Heat a large greased frying pan over low heat. Arrange the topped wrap in the pan and cook for 3-4 mins or until the cheese begins to melt. Carefully fold in half and use a spatula to press down on the wrap to hold its shape. (Alternatively, cook the quesadillas in a sandwich press, folded, for 3-4 mins or until cheese melts.) Repeat with the remaining wraps, cheese, chicken, sweet potato and Mexican sauce to make 4 quesadillas. Cut the quesadillas in half to serve.
Tips
● Cook the sweet potato up to 3 days ahead. Cover and store in the fridge, so when it comes to lunch time you're all prepped and ready to go!
● Instead of buying shredded chicken from the deli, you can buy a whole roast chicken and shred it yourself. Save the legs and wings for snacks for the kids, and place the shredded chicken in a container in the fridge to use for the quesadilla.
● This dish is super quick and easy to make, and one that you can get the kids involved with. Place all the ingredients in separate bowls and let the kids layer their own quesadillas. Plus, it's super versatile – add whatever ingredients you like, such as spinach, black beans, sour cream or avocado.
Check ingredient labels to make sure they meet your specific dietary requirements and always consult a health professional before changing your diet. View dietary information here.