Sri Lankan Style Jaffna Chicken & Vegetable Curry
Look for a tasty dinner idea? This aromatic chicken curry is loaded with veggies and aromatic spices.
Hey guys, it's Dani Venn here and I'm so excited that you have in your hot little hand a jar of my very own Sri Lankan-style Jaffna curry. Now I'm going to show you two different ways that you can cook this curry sauce. We're going to start with a fish curry.
To get started, all you really need is some nice white firm fish. I've got a pan on the heat, and I've added a little bit of coconut oil into my pan. Now this is really simple. All you do is pop the fish straight into our pan, sear it on both sides until it's par cooked, you don't want to overcook it.
Alright, so I'm going to add in a jar of my Sri Lankan-style Jaffna curry straight into my fry pan. We just want to simmer the sauce for a few minutes, just to reduce it slightly before we pop the fish back into the sauce to finish off cooking. Put our fish back into the sauce now. Just going to let that simmer for a few minutes, just so that fish is really slowly and gently cooking in a lower heat.
Okay, this fish looks beautiful and tender, and our curry has reduced slightly. And I always love finishing with some beautiful coriander too. So the next curry I would love to share with you is a vegetarian version of the Jaffna curry, and quite simply I've roasted some pumpkin in the oven until it's nice and golden and caramelised and quite tender. Popped in about a tablespoon of coconut oil into my pan, and I'm just going to add straight into my pan a jar of my Sri Lankan-style simmer sauce.
So after a few minutes of simmering the sauce, I'm going to add the roast pumpkin straight in and I'm always looking for ways to add in some extra greens so I'm going to pop in as well a few handfuls of spinach, and give that a good stir. So I'm going to pop my pumpkin and spinach curry onto my serving plate. I've got some brown rice and quinoa here. I've got some beautiful pappadums here and to finish off with some extra coriander.
Hope you've picked up some tips and tricks on how to make a really simple but very, very delicious curry at home. Thanks.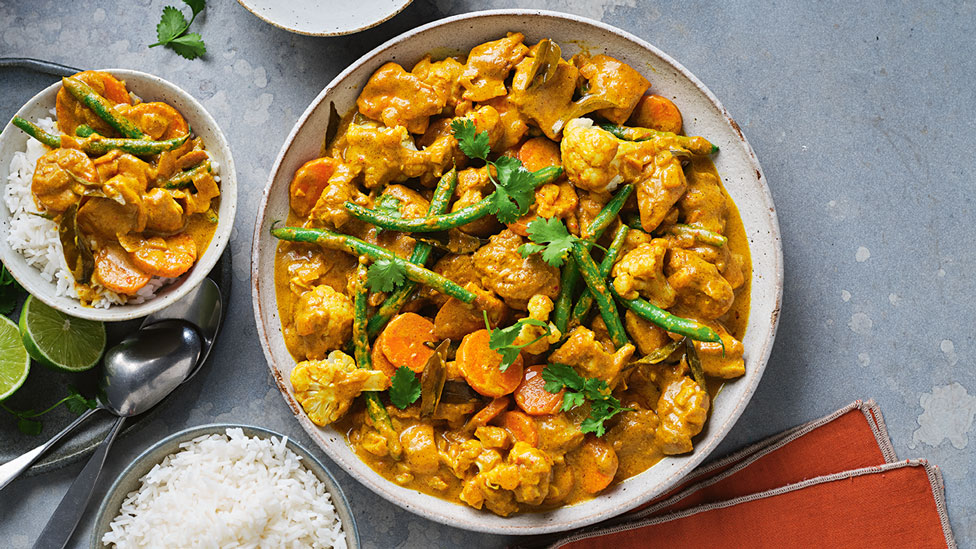 Ingredients
1 tbs coconut oil
500g Coles RSPCA Approved Australian Chicken Thigh Fillets, coarsely chopped
150g pkt Coles Kitchen Australian Cauliflower Florets
150g pkt Coles Kitchen Australian Carrot & Green Beans
500g jar Coles Sri Lankan Style Jaffna Curry by Dani Venn
Steamed basmati rice, to serve
Coriander leaves, to serve
Lime halves, to serve
Method
STEP 1
Heat the oil in a large deep frying pan over high heat. Cook the chicken, in 3 batches, stirring, for 5 mins or until golden brown. Transfer to a plate.
STEP 2
Reduce heat to low. Return the chicken to the pan with the cauliflower, carrot and beans and curry sauce. Cook, stirring occasionally, for 5-10 mins or until the vegetables are tender and the chicken is cooked through.
STEP 3
Serve curry with rice, coriander and lime halves.
Check ingredient labels to make sure they meet your specific dietary requirements and always consult a health professional before changing your diet. View dietary information here.