Chocolate soufflés
Always dreamed about making a soufflé? It's easier than you think. Give our mini chocolate soufflés a go for deliciously light and fluffy mouthfuls.
Note: + 5 mins cooling time
Ingredients
Melted butter, to grease
Caster sugar, to dust
60g butter, extra, chopped
120g dark chocolate, chopped
1 tbs Frangelico or hazelnut-flavoured liqueur (optional)
3 Coles Australian Free Range Eggs, separated
1/3 cup (75g) caster sugar, extra
Cocoa powder, to dust
Whipped cream, to serve
Chocolate sauce
1/4 cup (60ml) thickened cream
1 tbs Frangelico or hazelnut-flavoured liqueur (optional)
75g dark chocolate, chopped
1 tbs brown sugar
Method
STEP 1
Preheat oven to 200°C. Preheat a baking tray. Brush four 1-cup (250ml) mini cocottes with the melted butter. Dust evenly with sugar, then turn over and tap to remove excess sugar.
STEP 2
Combine extra butter and chocolate in a heatproof bowl over a saucepan of simmering water (make sure the bowl doesn't touch the water). Cook, stirring with a metal spoon, for 5 mins or until chocolate melts and mixture is smooth. Set aside for 5 mins to cool slightly. Stir in the liqueur, if using, and egg yolks.
STEP 3
Use an electric mixer to whisk egg whites in a clean, dry bowl until soft peaks form. Gradually add extra sugar, 1 tbs at a time, whisking until thick.
STEP 4
Add half the egg white mixture to the chocolate mixture and gently fold until just combined. Add the remaining egg white and fold to combine
STEP 5
Spoon the mixture evenly among prepared dishes and use your finger to wipe around the rim of the mixture, 1cm deep. Place on the tray. Bake for 15 mins or until the soufflés rise but wobble slightly when gently.
STEP 6 
Meanwhile, to make the chocolate sauce, combine the chocolate, cream, sugar, and liqueur, if using, in a small saucepan over medium-low heat. Cook for 2-3 mins or until the chocolate melts and the mixture is smooth.
STEP 7 
Sprinkle soufflés with cocoa powder. Serve with whipped cream and drizzle with a little chocolate sauce. 
Collect KitchenAid Ovenware
Like the look of the Ovenware used in this recipe? Visit the link below to find out how you can collect your own KitchenAid Ovenware at Coles.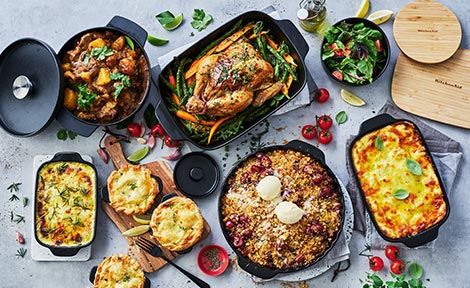 Check ingredient labels to make sure they meet your specific dietary requirements and always consult a health professional before changing your diet. View dietary information here.