Christmas fruitcake
A fruitcake is the perfect centrepiece to any Christmas feast. The secret to getting a rich taste and moist texture? Make it ahead of time to let the flavours develop! Get started with our best-ever traditional fruitcake.
One of the best things you can do to get ready for Christmas is to make your Christmas cake. There are big rewards for ticking this off your to-do list early. The longer the cake has to mature, the better the flavour. But don't worry if you're doing this last-minute - it still tastes great. I'm going to show you how to make a delicious fruitcake for your family and friends, so let's get started.
This type of cake that I'm making is a boiled fruitcake, because we actually boil the fruit instead of soaking it. This helps all the flavours come together and makes a really moist cake. To start this cake, I'm adding a kilo of mixed dried fruit to the saucepan, a can of crushed pineapple, adding butter, dark brown sugar, golden syrup and rum. The rum complements the sweetness of the pineapple. Keep stirring until the butter melts and the sugar dissolves. Then turn up the heat and bring it to the boil.
After the mixture has been boiling for about two minutes, you'll see that the fruit has plumped up and the syrup has thickened. So, now we're going to turn the stove off and let that settle for a moment, and then we're going to transfer it to the bowl to cool completely. The fruit needs to set aside for at least two hours,or until it's completely cool.
 First we need to preheat the oven to 150 degrees and then we're going to line the tin. Lining a pan for a fruitcake is different from making, say, a butter cake. So, grease your cake pan, then line it with three layers of baking paper. Because we're cooking the cake for such a long time, baking paper helps protect the sides of the cake so it doesn't overbrown. The sides of the baking paper are a good 5cm over the top of the tin. This is because it is a really big cake and it can actually cook a little bit over the top of the pan, and this will keep it all nice and neat.
Now we're back to the fruit mixture now that it's cooled completely, and we're going to add slivered almonds, chopped walnuts, orange rind, and some mixed spice.The orange zest and the mixed spice really add that Christmassy flavour. Now we're adding the eggs. There are four eggs that have been lightly whisked. Stir that thoroughly before you add the flour. Now I'm going to spoon the mixture into the pan. And now we're just smoothing the surface with a little palette knife. Now we're going to tap the pan on the bench three times. This will help settle the mixture right down to the bottom and really get into the corners of the pan. And then we'll take it away to the oven.
Once the cake has cooked for three hours, give it a test just to make sure it's cooked all the way through. Get a skewer and insert it into the centre of the cake right down to the bottom, and pull it out. If there's any raw cake mix still on the skewer, it will be quite obvious, and put it back in the oven, for another 15 minutes, or until it's cooked through. Now we're going to brush the hot cake with the remaining rum.It soaks much more easily when the cake is hot. It also gives a rich flavour and helps preserve the cake.
Now we're going to cover the warm cake with foil. By putting the foil on, it traps the heat and keeps the cake moist. For a really nice flat cake, we're going to turn the cake upside down to cool completely. And then we just set this aside until it's completely cooled. Now it's completely cooled, now we're going to show you how to store the cake.
First we need to take it out of its tin and unwrap it. Actually, I can turn it over. Then we're going to wrap it in two layers of plastic wrap. And then one layer of foil. Store it in an airtight container in a cool, dark place for about three months, or you can put it in the freezer for six months. And now we're ready to serve the cake, and here's how to make it look extra special.
I'm going to put a stencil on top of the cake and then lightly dust with a little bit of icing sugar. Then carefully lift the stencil, and there you go. And that's how to make a delicious Christmas cake. For more great Christmas recipes, head to our Christmas baking playlist here. And to make sure you don't miss out on any of our videos, click here to subscribe. And make sure you hit the bell icon so you get notified when there's a new video ready for you.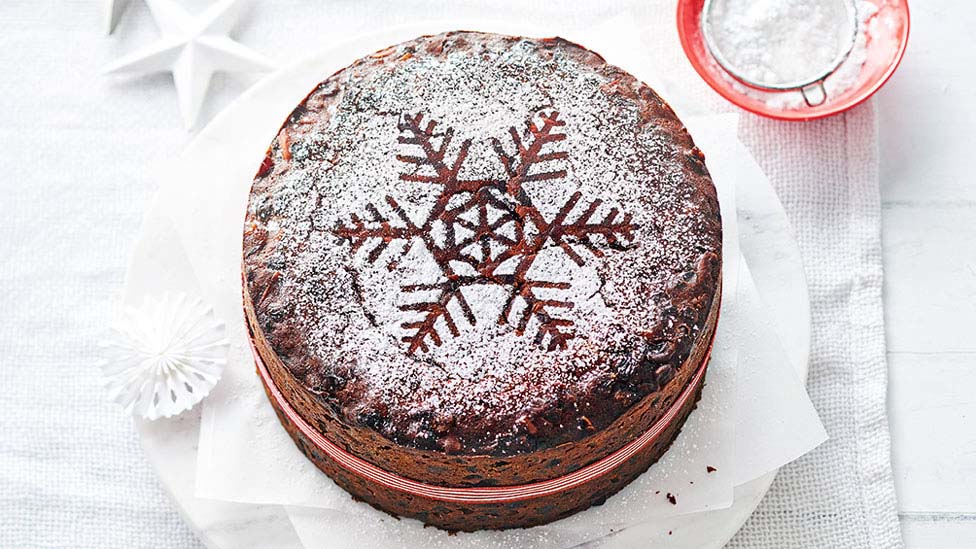 Ingredients
1kg dried mixed fruit
440g can crushed pineapple in juice
250g butter, chopped
1 1/4 cups (275g) dark brown sugar
2 tbs golden syrup
1 cup (250ml) dark rum
1/2 cup (70g) slivered almonds
1/4 cup (30g) chopped walnuts
1 tbs finely grated orange rind
2 tsp mixed spice
4 Coles Australian Free Range Eggs, lightly whisked
1 1/2 cups (225g) plain flour
1/2 cup (75g) self-raising flour
Method
STEP 1
Place fruit, pineapple, butter, sugar, golden syrup and 3/4 cup (185ml) of rum in a saucepan over medium heat. Cook, stirring, for 10 mins or until butter melts and sugar dissolves. Increase heat to high. Bring to the boil. Cook for 2 mins or until the fruit is plump and syrup thickens slightly. Transfer to a heatproof bowl. Set aside for 2 hours or until mixture cools completely.
STEP 2
Preheat oven to 150°C. Grease a 20cm (base measurement) round cake pan and line with 3 layers of baking paper, allowing the paper to extend 5cm over the top of the pan.
STEP 3
Add the almond, walnut, orange rind and mixed spice to the fruit mixture in the bowl. Stir to combine. Add the egg. Stir to combine. Stir in the combined flour. Spoon into prepared pan and smooth the surface. Tap the pan on a work surface 3 times to settle the mixture.
STEP 4
Bake for 3 hours or until a skewer inserted in the centre comes out clean. Remove from oven and brush the top of the cake with the remaining rum. Cover pan tightly with foil and invert cake, still in the pan, onto a clean work surface. Set aside overnight to cool completely.
Serve with icing sugar
Check ingredient labels to make sure they meet your specific dietary requirements and always consult a health professional before changing your diet. View dietary information here.