Classic butter cake
Whip up a timeless favourite with this fluffy cake topped with buttercream frosting. It's guaranteed to be your new go-to.
This channel is the right place to come if you're looking for the basics, and one of the key skills for any home cook is knowing how to make a butter cake. So we're going to show you how to make a light and fluffy cake that's evenly cooked. So let's go. Before you start, preheat your oven to 180 degrees. I'm going to use two eighteen centimetre pans. I'm just going to grease and line the base and sides with baking paper. The other thing to do at this point is to make sure your ingredients like the butter, eggs and milk are at room temperature. If they're too cold, the mixture can split and the ingredients won't combine evenly. I'm going to beat the butter, sugar and vanilla for about five minutes or until the mixture is very pale and creamy. For a fluffy cake it's best to use an electric mixer, as it's going to help aerate the mixture. The eggs are next. If it does split, don't worry. It should come back together once the flour is added.
So we're just going to add the flour and stir with a wooden spoon in alternating batches with the milk. Next you need to divide the cake batter evenly between the two cake pans. We're just going to smooth the surface with the back of a spatula or a spoon, just to make them even. Some people like to bang the pans to make them even but it's not a great idea because it just bangs out all the air. Get both cakes into the oven and bake them for thirty minutes. To check if the cake is ready, just test it with a skewer. If the skewer comes out clean then it's ready. If there's a few crumbs it doesn't matter, but if there is any wet mixture on the skewer put the cake back in the oven for another five minutes and start the process all over again. To cool the cakes, set them aside on the bench for five minutes before you put them on the wire rack to cool. It means that when you put them on the wire rack they won't fall apart. To make the buttercream I'm going to beat the butter until it's really pale and then gradually add the icing sugar. You need to beat the butter so it's as pale as you can possibly get it before you start adding the icing sugar, and then add the icing sugar just in batches. And make sure you beat well between each batch.
To make the icing even lighter we're going to add a little bit of milk, and then for flavour we're going to add some vanilla. Now we're going to tint the buttercream, and my little tip for doing that is to pour the colouring into the lid and then gradually add a little drop at a time, because you don't want to add too much because you can't take the coloring out once it's in there.
Once you've made your buttercream and the cakes have cooled completely, then you're ready to ice them. Now I'm going to trim the top of the cake with a serrated knife to level it. Spread with about one-third of the buttercream. Now for the second cake. Spread the rest of the icing over the top and side. Then all you have to do is decorate with sprinkles. 
This is your go-to basic cake for birthdays, afternoon tea or any kind of celebration. You can decorate it any way you like. Make sure you don't miss out on any of our videos. Click here to subscribe, and make sure you hit the bell icon so you get notified when there's a new video ready for you.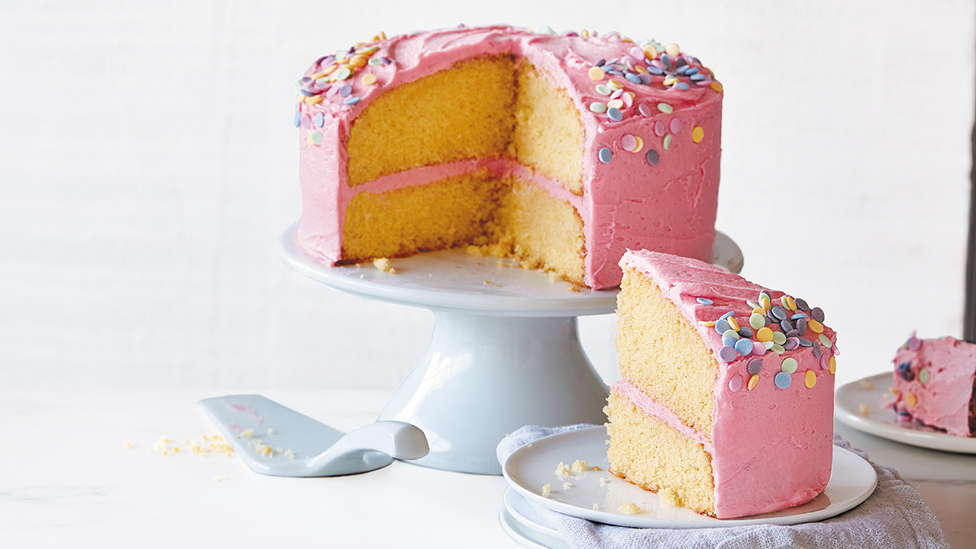 Note: + 5 mins cooling time
Ingredients
250g butter, softened, chopped
1 cup (220g) caster sugar
1 teaspoon vanilla bean paste
3 Coles Australian Free Range Eggs, at room temperature
2 cups (300g) self-raising flour
1/2 cup (125ml) milk
Coles Rainbow Confetti sprinkles, to decorate
VANILLA BUTTERCREAM
190g butter, softened
2 & 1/4 cups (360g) icing sugar mixture
2 tablespoons milk
1 teaspoon vanilla bean paste
Pink liquid food colouring
Method
STEP 1
Preheat oven to 180°C. Grease two 18cm (base measurement) round cake pans and line the base and side of each pan with baking paper.
STEP 2
Use an electric mixer to beat the butter, sugar and vanilla in a bowl until pale and creamy. Add the eggs, 1 at a time, beating well after each addition. Add the flour and milk, in alternating batches, stirring until just combined. Divide between the prepared pans. Smooth the surface.
STEP 3
Bake for 30 mins or until a skewer inserted into the centres comes out clean. Cool in pans for 5 mins before turning onto a wire rack to cool completely.
STEP 4
To make the vanilla buttercream, use an electric mixer to beat the butter in a bowl until very pale. Add the icing sugar in batches, beating well after each addition. Add the milk and vanilla. Beat until combined. Tint pink with food colouring.
STEP 5
Trim the top of 1 cake and place on a serving plate. Spread with one-third of the buttercream. Top with the remaining cake. Spread the top and side with the remaining buttercream. Decorate with sprinkles.
Check ingredient labels to make sure they meet your specific dietary requirements and always consult a health professional before changing your diet. View dietary information here.