Colin Fassnidge's chicken bread
After some cosy comfort food for the family? This chicken bread will be a new favourite in your winter cooking repertoire.
Colin: Hi I'm Colin Fassnidge. 
Maeve: Hi I'm Maeve 
Lily: and I'm Lily
Maeve: And this is cooking with Maeve 
Lily: And Lily
Colin: And sometimes Dad. 
Colin: What are we cooking today guys? 
Maeve: Some Chicken Bread
Colin: So today guys we're cooking a family favourite of ours. Chicken thighs. Skin on bone in and what we're going to do is we're going to cook it on some bread. 
Colin: ok so we've got the bread on top of the potato. Splash of water in there so the fat doesn't burn. What do we do with the bread now? 
Maeve: Some Olive oil. 
Colin: Little splash of Olive Oil. A drizzle don't be shy. 
Maeve: Then you want to grab some herbs we have Sage and Basil. 
Colin: Yeah and if you haven't got fresh Sage and Basil you can just used mixed herbs. Put a bit of mixed herbs on there as well Maeve. 
Colin: It's like an Irish pizza. 
Maeve: Salt. Make it crispy and salty. 
Colin: Put some Garlic on there. There you go. 
Colin: Little bit of butter. Just pinch it with your hands. Few lumps. You don't have to have butter. So all this soaks into the bread.
Colin: So we're going to do 5 chicken thighs. Bone in skin on. Works great with a whole chicken as well. 
Colin: So in here we've got our chicken thighs, we've got garlic, we've got salt, pepper, Sage, Basil and smoked paprika yeah and olive oil. And all we do now is. 
Lily: Mix it. 
Colin: Give it a good mix a good season. 
Colin: So what we do now we cover the bread with all the chicken. All of that juice gets locked into that bread. So now the chickens on the bread ready to go in the oven at what temperature? 
Lily: 220
Colin: for? 
Lily: 10 minutes. 
Colin: 220. 10 minutes. You start to get a little bit of crispness and then we lower the oven down to 160 for how many minutes? 
Lily: 30 
Colin: So here we go the famous chicken bread. 
Colin: So how's the chicken?
Maeve: Nice and crispy.
Colin: And how's the bread? 
Lily: Nice and gooey. 
Colin: Gooey in the middle and hard on the outside look at that. You want that crunch on the outside and nice and soft in the middle. 
Colin: Chicken. Bread. Chicken bread. 

Colin: This was cooking with Colin
Maeve: Maeve
Lily: And Lily
Colin: What would you mark that out of 10? 
Maeve: 10
Lily: 10
Colin: No one ever gets a 10 but I'm giving it a 10.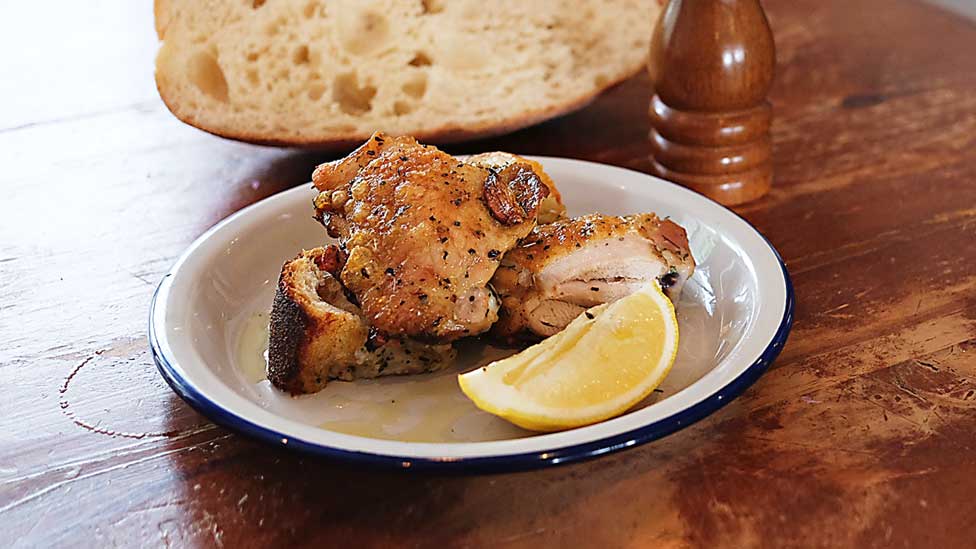 Ingredients
1 potato, sliced
½ sourdough loaf (split lengthways)
100ml olive oil
2 tsp dried Italian herbs
½ bunch basil, leaves picked
6-8 sage leaves
2 garlic cloves, thinly sliced
20g butter, chopped
5 chicken thigh cutlets, skin on
2 tsp olive oil, extra
1 tsp smoked paprika
2 garlic cloves, extra, thinly sliced
1 lemon, halved
Method
STEP 1
Preheat oven to 220°C. Arrange the potato on the bottom of a roasting pan. Drizzle with a splash of water. Place the sourdough over the potato. Drizzle with the oil. Sprinkle with the Italian herbs and half the sage and basil leaves. Season with salt and pepper. Sprinkle with the sliced garlic and butter.
STEP 2
Place the chicken in a large bowl. Drizzle with the extra oil. Season. Add the paprika, extra garlic and the remaining sage and basil leaves. Toss to combine. 
STEP 3
Arrange the chicken thighs over the sourdough. Roast for 10 mins or until the chicken skin starts to crisp. Reduce oven temperature to 160°C and roast for a further 30 mins or until the chicken is cooked through.
STEP 4
Divide the sourdough and chicken among serving plates. Squeeze over the lemon to serve.
Check ingredient labels to make sure they meet your specific dietary requirements and always consult a health professional before changing your diet. View dietary information here.