Colin Fassnidge's beef mince turnover
Liven up your midweek menu with this delicious beef mince turnover. It's a hearty, feel-good meal with loads of flavour.
Colin: Hi, I'm Colin Fassnidge, 
May: I'm May 
Lily: and I'm Lily 
Colin: and today we're cooking beef mince turnover.
Lily: Under the cost of $5 per person.
Colin: so to prep our dish we're going to fry of our mince, but before that we'll prep our vegetables. So what we do with onion? 
Lily: Cut them into thinly sliced pieces.
Colin: Right carrot. We've got our onions, our carrot, what else are we going to slice?
May: Garlic and then put rosemary.
Colin: Why don't you do the garlic. So now were going to fry our mince, the secret to this is a very hot pan you put the mince in. You don't stir the meat so you get a nice brown colour, it's going to give a nice flavour. Get some salt and pepper in there.
Colin: Now, we've caramelised the meat we're just gently going to turn it. Now we'll add our vegetables. We'll cook this down for 4-5 minutes, until the veg gets nice and soft. We can add our spice now. A little bit of cayenne, teaspoon of ground coriander, teaspoon smoked paprika, teaspoon curry powder. Do you know what that is?
Lily: what?
Colin: flavour.
Colin: so next we're going to add our chicken stock, then we're going to add our chickpeas.
Lily: and the frozen peas.
Colin: so now we're going to bring this to the boil, so it's got all those beautiful flavours, the chicken stocks going to reduce untill it's nearly nothing. Then we're going to cool in the fridge so we can wrap it up in pastry. Right little bit of flour. Right Lilly, put your mixture in the middle. Do you know why it's called the turnover?
May: why?
Lily: because you turn it over.
Colin: here May, look turnover. Seal it in. That's good May, very good Lily. Go tighter, tighter, that locks it in. What you do now is, we're going to bake it in the oven. Got to add a little bit of olive oil, just a splash. Going to rub that on, give me some salt and pepper on their please. We're now going to bake it in the oven for?
May: 30 to 35 minutes.
Lily: 180 degrees until golden.
Colin: do the honours May, cut it down the middle. Oh, look at the steam, look at that.
Lily: can I have that bit?
Colin: It's crispy, meaty, spicy, and all for under $5 per person. Nice!
Colin: try it tonight that's a spiced mince and veg turnover.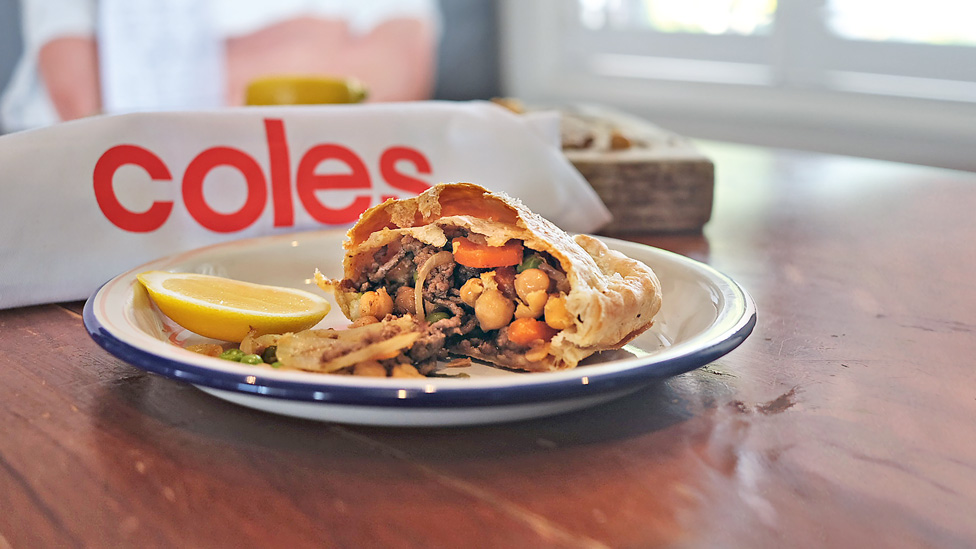 Note: + 1 hour chilling time
Ingredients
300g beef mince
1 carrot, quartered lengthways, thinly sliced
1 brown onion, thinly sliced
3 garlic cloves, thinly sliced
1 rosemary sprig, chopped
1 tsp smoked paprika
1 tsp curry powder
1/2-1 tsp ground coriander
1/2 tsp cayenne pepper (optional)
1 cup (250ml) chicken stock
400g can chickpeas, rinsed, drained
1 cup (120g) frozen peas
2 sheets frozen puff pastry, just thawed
Olive oil, to brush
Lemon cheeks, to serve
Method
STEP 1 
Preheat oven to 200˚C (180˚C fan-forced). Line a large baking tray with baking paper. Heat a non-stick saucepan over high heat. Cook the mince, without stirring, for 2-3 mins or until the base of the mince caramelises. Season with salt and pepper. Cook, stirring with a wooden spoon to break up lumps, for a further 2-3 mins or until the mince changes colour. 
STEP 2 
Add the carrot, onion, garlic and rosemary and cook, stirring, for 4-5 mins or until the onion softens. Add the paprika, curry powder, ground coriander and cayenne pepper, if using. Cook, stirring, for 1-2 mins or until aromatic. Add the stock, chickpeas and peas. Bring to the boil. Cook, stirring occasionally, for 8-10 mins or until the liquid reduces by half.
STEP 3 
Transfer the beef mixture to a bowl. Cover and place in the fridge for 1 hour to cool.
STEP 4 
Place 1 pastry sheet on a lightly floured work surface. Spoon half the mince mixture into the centre of the pastry. Fold over the pastry sheet to enclose the mince mixture and seal the edges tightly by pressing, folding and crimping with your fingers. Repeat with the remaining pastry sheet and mince mixture.
STEP 5 
Place turnovers on the lined tray. Brush with oil and season with salt and pepper. Bake for 30-35 mins or until golden brown. 
STEP 6 
Divide the turnovers among serving plates and serve with lemon cheeks.
Check ingredient labels to make sure they meet your specific dietary requirements and always consult a health professional before changing your diet. View dietary information here.