Colin Fassnidge's chicken and vegetable soup
Add this warming dish to your midweek menu. This chicken and veggie soup is a hearty, feel-good meal with loads of flavour.
Hi guys I'm Colin Fassnidge. 
I'm Maeve.
And I'm Lily. 
And today we are making one of the most simplest and most hearty
Chicken Soups for under $5 a portion. 
So today we're using a whole chicken so we're going to get all the flavour from the bones and then we're going to use the meat in the soup so it's a double edged recipe. So what do we need for this recipe Lily?
Garlic, onion, carrot and celery with Apple Cider Vinger and Soy Sauce. 
What else do we need Maeve? 
Soup mix with Lentils, Split Peas and Barley.
What herbs we going to add to our soup?
We've got thyme, bay leaves and Rosemary. 
What we're going to do is... 
We're going to sweat off our vegetables in a little bit of olive oil. Now you want to stir to sweat it all down. Ok after 5 minutes we're going to add our chicken to the vegetables. Now I'm going to add Rosemary, Bay Leaves and Thyme. Give it a good scattering in there. It's going to give great flavour! Now we're going to add our water enough to cover. So now we're going to add our Soy Sauce. So this gives it a beautiful colour and it also adds a seasoning so a good glug of soy sauce. And then for a bit of acidity we're going to add a splash of vinegar. Any vinegar's fine. I'm using Apple Cider Vinegar. 
So now we're going to bring it to the boil and simmer it for 15 minutes. The Chicken's been cooking for 15 minutes now we're going to add the soup mix in to cook for another 10 minutes. 
Ok so we've removed our chicken from this beautiful broth and soup now all we've got to do now is portion it up. Falling off the bone then you're going to add your soup mix. Your barley. Your split peas. Your vegetables.
So this is the easiest but the best soup mix you're going to get. You poach your chicken in your stock with your vegetables. You add your soup mix and the best thing about it. You've got a beautiful broth for the rest of the week. And that stock is to die for. How is it Lily?
Soup-a-licious. 
That's mine! She took my line. 
So that's our whole poached chicken and soup beg with split peas, barley and lentils
You can feed the family for under $5 a portion
Soup-a-licious
(Laughter)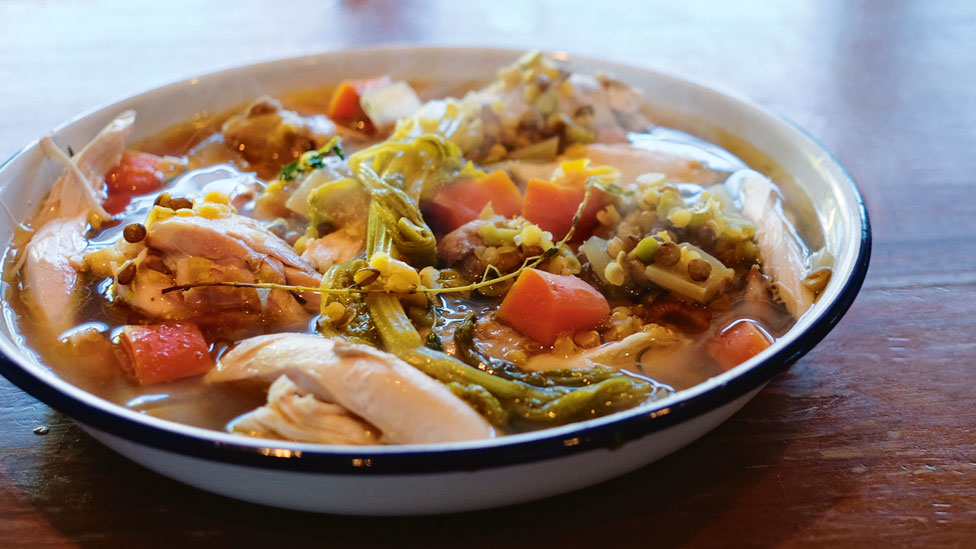 Note: + 20 mins resting time
Ingredients
1 tbs extra virgin olive oil
1 brown onion, coarsely chopped
1 carrot, peeled, coarsely chopped
1 celery stick coarsely chopped
1 garlic bulb, halved crossways
1 small whole chicken
1/2 bunch rosemary
2 dried bay leaves
1/2 bunch thyme
2 tbs soy sauce
1 tbs apple cider vinegar
500g soup mix (dried lentils, split peas and barley)
Method
STEP 1
Heat the oil in a large saucepan over high heat. Add the garlic, onion, carrot and celery and cook, stirring, for 5 mins or until the onion softens.
STEP 2
Add the chicken to the pan with the rosemary, bay leaves and thyme. Add enough cold water to cover the chicken. Add the soy sauce and vinegar. Bring to the boil. Reduce heat to medium and simmer for 35 mins.
STEP 3
Add the soup mix to the chicken mixture and cook for a further 15 mins or until the soup mix is tender and the chicken is cooked through. Set aside for 20 mins to rest. 
STEP 4
Transfer the chicken to a plate. Use 2 forks or tongs to shred the meat. Divide the chicken among serving bowls. Ladle over the vegetable mixture and season to serve.
Check ingredient labels to make sure they meet your specific dietary requirements and always consult a health professional before changing your diet. View dietary information here.