Colin Fassnidge's chicken drumsticks with vegetable tray bake
Tuck into a delicious winter warmer with Colin Fassnidge's chicken drumsticks. It's packed with flavour and served with roasted veggies.
Hi, I'm Colin Fassnidge, no Lily and May today as they're back at school. 
But today, we're cooking a very inexpensive ingredient, chicken legs. So this is going to cost $5 a portion. 
We're going to bake the chicken legs on top of root vegetables and potatoes filled with herbs and cheese. And you know what, this is going to be one of the best family favourites you're going to cook. So what you can do is, a few hours before, your chicken legs, you marinade 'em, you can even do this the night before. 
Our garlic, our paprika, our herbs, just mush them up, so you can smell 'em. You can do this the night before, the day before just let them marinade, a little bit of olive oil. And that goes in the fridge. 
To make the tray bake, it's basically layered flavours and textures full of flavour, so let's go. 
We've got out potato, onion, garlic, carrots that's all roughly the same size. That goes into the bowl. Sweet potato. Into the bowl. Good pinch of salt, we add some pepper. You can use your dry mixed herbs or fresh, just rip 'em, stalks and everything. All this is going to add flavour as it cooks nice and slow. 
Then we're going to add a splash of olive oil, this helps marry it all together. The secret ingredient is an old piece of parmesan, everyone's got an old piece of parmesan or cheese in the fridge, you can use cheddar. So this parmesan will melt into the vegetable bake, keep a little bit of parmesan for on top. 
So now you're just going to mix this all with your hands, get in there and then it goes into your tray. So now what you are you going to do is, you're going to add the chicken stock. So what the chicken stock does is it steams the vegetable as it cooks. I'm just going to add another little bit of parmesan, because this will caramelize on top and give you a beautiful crust. The secret to the dish is you put your chicken legs on top, the juice soaks into the actual bake and it's one of the best bakes you're going to have. 
So that goes in the oven for 35 minutes 200 degrees, until the chicken is cooked. What you do then is you take the chicken off because the bake might take a little bit more cooking. Put the vegetables back in for another 10 to 15 minutes. Let it crisp and caramelize, serve the chicken. 
So finish it off with your leftover parmesan, look at that. That is my roast chicken leg and vegetable bake for under $5 a portion, feed the family, pack full of flavour.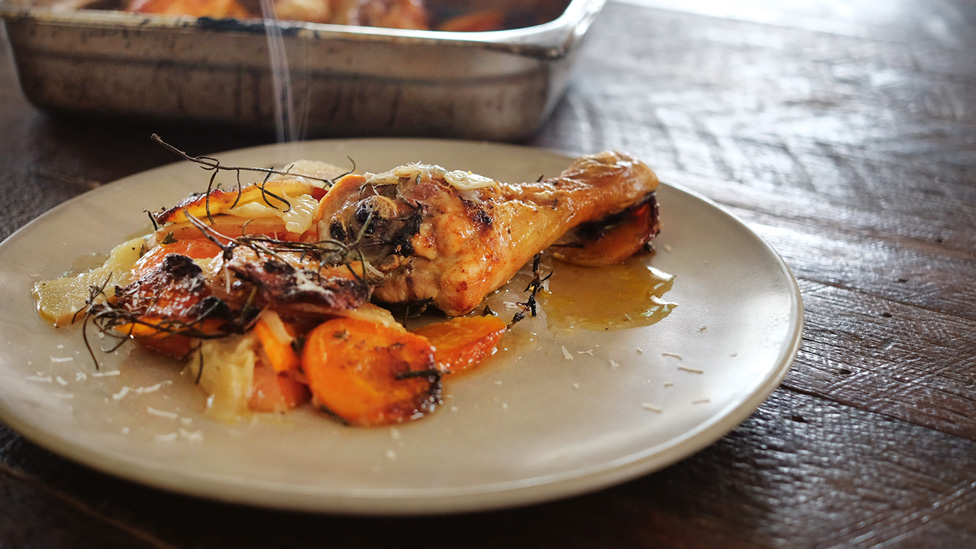 Note: + resting and 1 hour marinating time
Ingredients
4 chicken drumsticks
1 garlic clove, thinly sliced
1 tsp ground paprika
2 tsp dried Italian herbs
Olive oil, to drizzle
2 large Red Royale potatoes, thinly sliced
1 gold sweet potato, thinly sliced
2 carrots, peeled, sliced
1 white onion, thinly sliced
4 garlic cloves, extra, thinly sliced
2 rosemary sprigs, torn
2 thyme sprigs, torn
1/3 cup (25g) grated parmesan
150ml chicken stock or water
Grated parmesan, extra, to serve
Method
STEP 1 
Place the chicken in a bowl with the garlic, paprika, herbs and a drizzle of olive oil. Turn to coat. Place in the fridge for 1 hour to develop the flavours. 
STEP 2 
Preheat oven to 200˚C. Place the potato, sweet potato, carrot, onion and extra garlic in a large bowl. Drizzle with olive oil and season with salt and pepper. Sprinkle with the rosemary, thyme and parmesan. Toss to combine.
STEP 3 
Arrange the vegetable mixture in a roasting pan. Add the stock to the pan. Sprinkle with a little extra parmesan. Place the chicken on top of the vegetables. Roast for 35 mins or until the chicken is golden and cooked through.
STEP 4 
Transfer the chicken to a plate and set aside to rest. Roast the vegetables for a further 10-15 mins or until the vegetables are golden and tender. 
STEP 5
Divide the chicken and vegetables among serving plates. Sprinkle with extra parmesan to serve.
Check ingredient labels to make sure they meet your specific dietary requirements and always consult a health professional before changing your diet. View dietary information here.