Colin Fassnidge's sausage and bean bake
After a hearty family meal? Try this easy sausage and bean bake, bursting with flavour.
Colin: Hi I'm Colin Fassnidge and this is …
(Laughter)

Maeve: Sorry I messed up. I messed up Colin.

Colin: Ok you forgot your name. 
Maeve: Cooking with Maeve. 
Lily: And Lilly                                                                   
Colin: And today we're still in lockdown and it's still tough for everyone so we've got a great recipe using pork sausages and bacon that everyone's got in their fridge. And some tin beans. 
So what's the recipe Maeve?

Maeve: Sausage and Bean Bake 
Colin: Talk me through it what do we need. 
Maeve: You will need pasta sauce, olive oil, bacon, some sausage we've got pork sausages you can use whatever you want, onion, garlic.
Lily: Capsicum, carrot, zucchini, beans, herbs and cheese.

Colin: Okay step one in our sausage bean bake what do we do? 
Maeve: So we need to cut up some bacon. 
Colin: You can use any type of bacon. 
Maeve: and sausages
Colin: So the bacon's going to add a beautiful smokey flavour. Go a bit bigger. 

Lily: Step two you want to colour your sausages and bacon.
Maeve: Step three you want to get your onion and garlic. 

Lily: Capsicum, carrot
Maeve: And sweat them down with your bacon and sausage. 

Colin: Step 4 add our tomato sauce, passata whatever you've got. 

Colin: And our zucchini. We're gonna bring that to the boil and then we're gonna add our beans.
Colin: Next step we've got all our ingredients in except the herbs so we're going to add some fresh rosemary, we're going to add some basil and we're going to add add some flat leaf parsley or you can add the italian herb mix if you haven't got that. It's going to just give it a little freshness.
Because it's a bake we're gonna transfer it into a tray, a little roasting tray. Now all we need is the cheese. Ok Lily, make it rain.

Colin: We've got our bake ready to go in the oven it goes in the oven for...

Maeve: 40 minutes
Colin: At... 
Lily: 200
Colin: Okay guys so that's our very easy sausage bacon and bean bake.

Colin: Hope you enjoy. 

Colin: And that is cooking with Colin...

Maeve: And Maeve
Lily: And Lily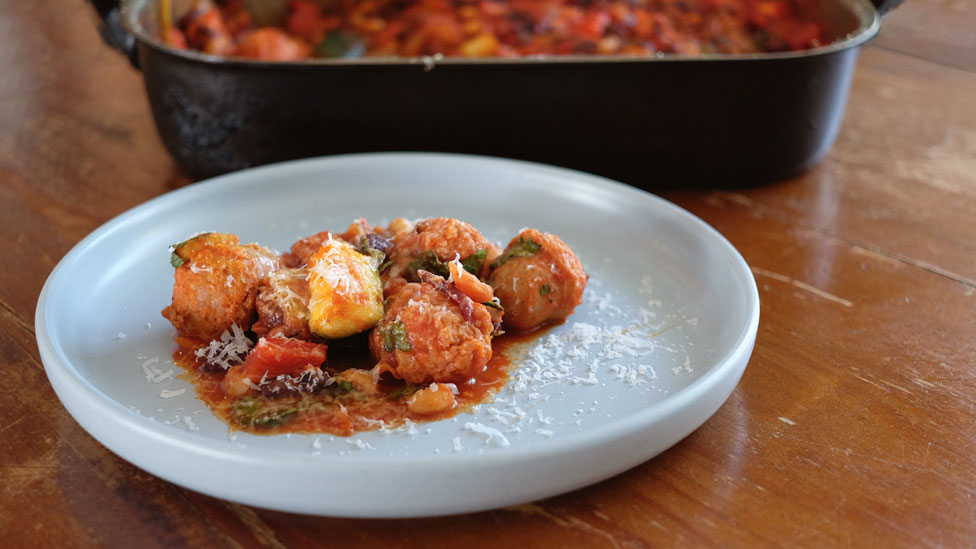 Ingredients
100ml olive oil
6 sausages (we used pork, but you can use beef or lamb), sliced
3 streaky bacon rashers, sliced
1 onion, roughly chopped
4 garlic cloves, peeled, roughly sliced
1 capsicum, seeded, roughly chopped
1 zucchini, roughly chopped
1 carrot, peeled, roughly chopped
700ml tomato passata
3 cans of beans or peas (we used black-eyed peas, kidney beans and white beans, but you can use whatever you have in the pantry)
1/2 bunch basil, roughly chopped
1/2 bunch flat-leaf parsley, roughly chopped
4 rosemary sprigs, roughly chopped
Whole piece of parmesan or mozzarella, to serve
Method
STEP 1
Preheat oven to 200°C. 
STEP 2 
On stove, heat a large pot with olive oil. Cook the sausages and bacon until golden brown. Add the onion, garlic, capsicum, zucchini and carrot and cook for 5 minutes. Add the passata and bring to the boil. Add beans or peas, basil, parsley and rosemary.
STEP 3
Bring to the boil. Pour into a baking dish. Grate a generous amount of parmesan or mozzarella over the sausage mixture in the dish.
STEP 4
Bake for 40 minutes until the cheese is crisp and golden. 
Serve with salad.

Check ingredient labels to make sure they meet your specific dietary requirements and always consult a health professional before changing your diet. View dietary information here.