Colin Fassnidge's tomato and zucchini tart
For a flavoursome family meal, whip up this tomato and zucchini tart. It pairs crispy puff pastry with fresh produce and herbs.
Colin: Hi I'm Colin Fassnidge and this is... 
May: May
Colin: and this is...
Lili: Lili
May: And I'm gonna say and I'm May.
Colin: Hi I'm Colin Fassnidge
May: I'm May
Lili: and I'm Lili
Colin: We're happy to be supporting Coles and the Stephanie Alexander Kitchen Garden Foundation. So what have we got on the menu today?
May: A tomato and zucchini tart.
Colin: So tomato and zucchini tart, what do we need? Number one, we've got some puff pastry we've cut into a square, it's on a non-stick mat, you can put it on a non-stick pan. I'm just gonna cut a little border around the side. So what you do is put your tart inside the border. So this helps rise around the tart. What's next May?
May: You want to get your tomato sauce, we added some olive oil with it.
Colin: Yeah, keep it inside the square. That's good, what next Lili?
Lili: You add tomato and zucchini…
Colin: Yeah what do with that?
Lili:  You pour it in…
Colin: …to a bowl, we add in a little splash of olive oil. What else do we add?
Lili: your salt.
Colin: and pepper. Give that a good season. Mix that up, I'll mix it, because you don't want to get your hands dirty do you? Mix it up, then what we do is, we lay the tomatoes along the border of the tart, because what's going to happen is the pastry is going to bubble up around the tart. And then you add your zucchini in and out of your tomato. Look at that, so you've got the zucchini and tomato inside the border and on top of passata or tomato sauce. How we going to make it look better May?
May: we're going to get a herb. We got some basil, tarragon, parsley and chard.
Colin: all picked from the garden this morning. It's a really great garden kitchen dish. Fresh, healthy. What's your favourite part?
May: Pastry.
Colin: What's your favourite part?
Lili:  Tomatoes.
Colin: Right give me a bit of pepper on top. Lil pinch of salt. So we're going to cook this for?
May: Twenty to twenty five minutes
Colin: At?
Lili: A hundred and eighty.
Colin: We'll see you then. OK, so our tart has just come out of the oven. Wwe did the little border and the pastry has risen up around the tart. The tomatoes are all soft, the zucchini is nice and juicy. So just at the end, just add a little bit of fresh herbs from the garden. Ready to serve. What a great lunch. Well done from Colin.
May: May
Lili:  and Lili.
Colin, Lili and May: So that's our tomato and zucchini tart.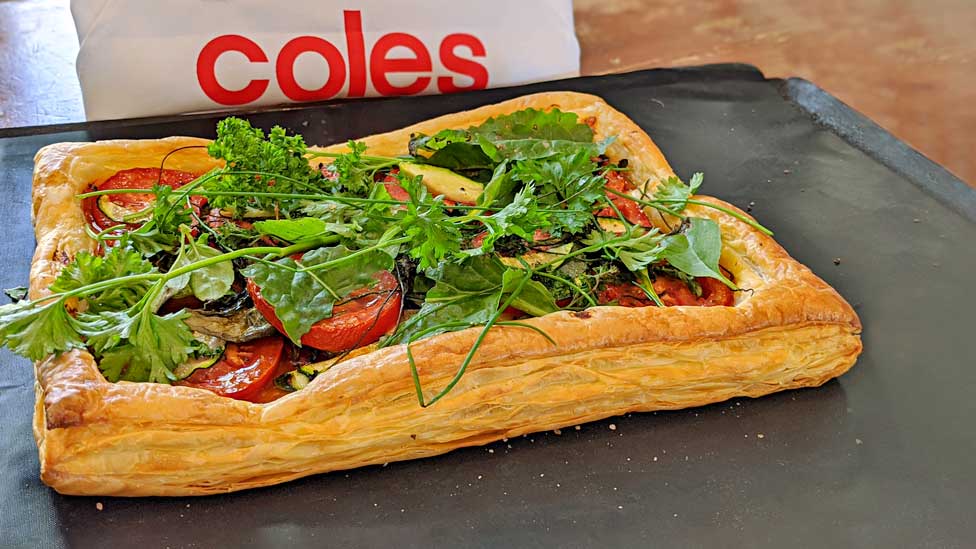 Ingredients
1 sheet frozen puff pastry, just thawed
1 jar tomato passata
5 medium tomatoes, sliced
2 medium zucchini, peeled into ribbons
1 large handful chard or kale, torn into pieces
1 small handful tarragon, thinly sliced
50ml olive oil
Chives, to serve
Curly-leaf parsley, to serve
Method
STEP 1
Preheat oven to 200˚C (180˚C fan-forced). Line a baking tray with baking paper. Place the pastry sheet on the lined tray. Use a small sharp knife to lightly score a ridge around the sides, about 3cm in from the edge. Spoon some of the passata onto the pastry, not going over the ridge and leaving a border to allow it to rise. Arrange the tomato over the passata.
STEP 2
In a large bowl, lightly toss the zucchini, chard or kale, basil, tarragon and oil (reserving some of the herbs to use as a garnish). Season. Arrange the zucchini mixture over the tomato. 
STEP 3
Bake for 20-30 mins or until the pastry is golden and the tart is bubbling. Garnish with the chives, parsley and reserved herbs. Serve.
Check ingredient labels to make sure they meet your specific dietary requirements and always consult a health professional before changing your diet. View dietary information here.