Colin Fassnidge's warming pork and bean stew
When it's cold outside, cosy up with this pork and legumes stew. Packed with fresh ingredients and loads of flavour, it's the ultimate comfort meal.
Colin: Hi, I'm Colin Fassnidge
Maeve: I'm Maeve
Lily: and I'm Lily.
Colin: And today we're cooking a pork shoulder stew, it's full of flavour and it's for under $5 per person.
Colin: Ok Lily what do we need?
Lily: We've got pork shoulder, onion, carrot, garlic, well that's ginger, garlic, bay leaves, star anise. What else do we need Maeve?
Maeva: You need a tin of beans, you can use any beans, water, apple cider vinegar and soy sauce.
Colin: So what we need to do is, we take apart our pork shoulder, nice easy dice. All that beautiful fat is going to give you flavour.
Lily: What's fat?
Colin: Flavour.
Colin: Very good. Step one after we've diced our pork we're going to seal it in a very hot pan with olive oil, we're going to get a really nice colour on it. You want to hear that sizzle. Do not move the pork, we want it to caramelize, you don't want to cool down the pan.
Colin: So now we can turn the pork once you've got a nice caramel on there. That's going to give you the flavour, that's the flavour in the sauce. Now I'm adding the garlic, then bay leaves, and onion and carrot.
Colin: Now we're going to add our ginger, ginger and pork is a match made in heaven. Give it a good mix. Now I'm going to add the water. Next, star anise.
Colin: What's next Maeve?
Maeve: Soy sauce. 
Colin: Season with your soy sauce. Next we're going to add a splash of apple cider vinegar. So now we're going to bring it to the boil and then put it in the oven for 2 hours at 140 degrees. 
Colin: It's been in the oven for 2 hours and the meat is soft so now we're going to add our beans. 
Colin: Now we're going to bring it back to the boil, and we're going to serve. Oh, look at that, so the pork is beautiful and soft. It's a warming stew for the winter. Go to Coles and check out our pork shoulder stew for under $5 per person.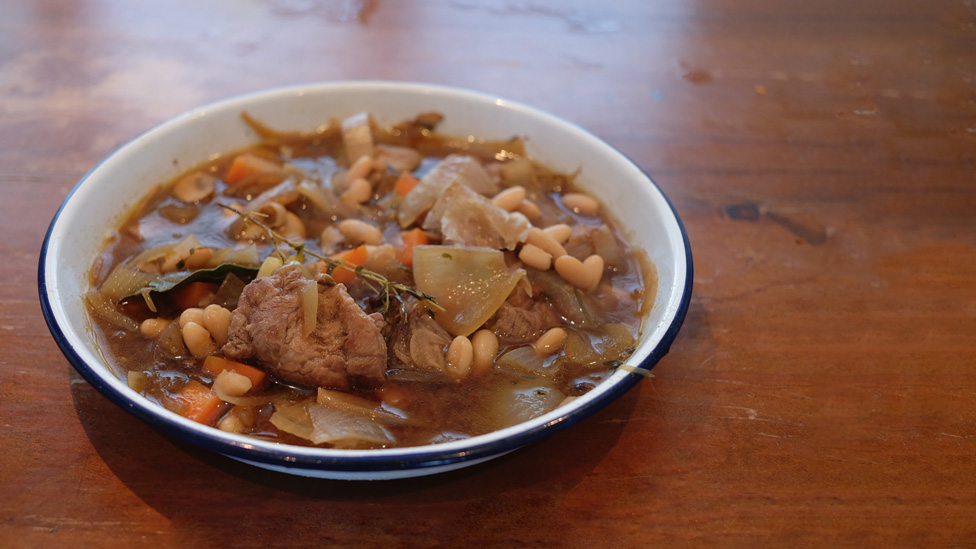 Ingredients
1 tbs olive oil
400g pork shoulder, diced
2 brown onions, coarsely chopped
2 carrots, coarsely chopped
1 garlic bulb, halved horizontally
2 dried bay leaves
100g ginger, finely grated
2 whole star anise
100ml soy sauce
2 tsp apple cider vinegar
400g can cannellini beans, rinsed, drained
Method
STEP 1 
Preheat oven to 140˚C. Heat the oil in a large flameproof casserole pan. Add the pork and cook, turning occasionally, for 10 mins or until golden and caramelised. 
STEP 2 
Add the onion, carrot, garlic and bay leaves and stir to combine. Cook for 5 mins. Add the ginger and stir to combine. Add 4 cups (1L) water, the star anise, soy sauce and vinegar. Bring to the boil. Cover and bake for 2 hours or until the pork is tender.
STEP 3 
Add beans to the pork mixture and stir until combined and heated through. Divide among serving bowls to serve.
Check ingredient labels to make sure they meet your specific dietary requirements and always consult a health professional before changing your diet. View dietary information here.