Courtney Roulston's risi e bisi
After a budget-friendly dinner idea? This Italian rice dish is a cosy classic you'll make over and over again.
Hi everyone, Courtney Roulston again here with this simple delicious and very affordable What's for Dinner solution. Tonight, I'm making Risi E Bisi or Italian rice with peas. 
This is traditionally a spring dish from the northern part of Italy and only requires a handful of basic ingredients, under $5 per serve and you'll have dinner on the table in under 30 minutes. 
So let's go. Ok, first thing I need to do is heat up about a tablespoon extra virgin olive oil into my pan, I've also got 20 grams of butter that's going to go in with that oil. 
One brown onion that I've just diced up and just cook this for a couple of minutes or until it becomes translucent, and the garlic can go in with the onions. Alright, the next ingredient to go in is some pancetta. I got the lovely assistant at the coles deli to cut me a nice thick piece of pancetta and I've cut this into some large batons. 
So I've got 200 grams of the arborio rice and I just want to fry that rice to give it a minute to soak up some of that butter. Now the Italians say when you can hear the rice singing, that's when you can go in with your liquids. Ahhhhhh, it's readyfor our liquid. So I've got a 100 mls of dry white wine, so we just want to cook off that alcohol for a little minute.
Now we can go in with our stocks. So I'm going to go in with about half a cup at a time, just keep stiring that, as soon as the rice has soaked up that half a cup of stock, we can then go in with another half and we keep doing this for around 20 minutes. 
Our frozen peas can go in now, they only need a couple of minutes just to cook through. Now I'm going to keep adding liquid in because we want to keep this nice and loose and soupy. Our other 20 grams of butter can go in now, it's going to add a nice richness to the dish at the end. 
This is just one of those dinners, you make a pot, put it down in the middle of the table everyone can just dive in. 
Finish with a little parmesan cheese over the top. I've got some lemon zest and just some lemon juice. A sprinkling of our parsley and few good grinds of cracked black pepper. The perfect remedy for a cold winter's night and all for under $5 per serve. That's my Risi E Bisi or Italian rice and peas. For this and a bunch more What's for Dinner recipe ideas. Head on over to coles.com.au  It'd be rude not to try some. That is just a big puddle of yum!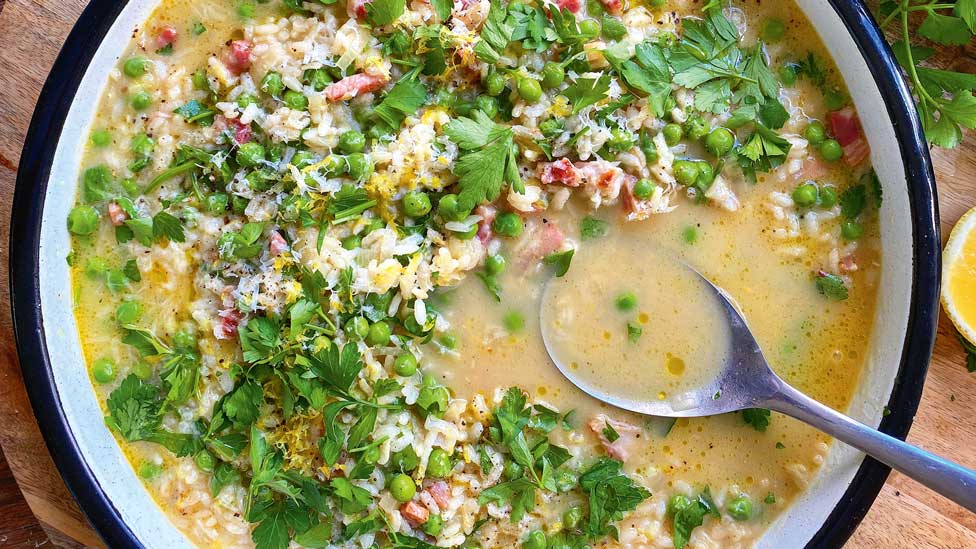 Ingredients
1-2 tbs extra virgin olive oil
40g butter
1 brown onion, finely chopped
2 garlic cloves, finely chopped
100g thickly sliced pancetta, cut into batons
1 cup (200g) arborio rice
100ml dry white wine
4 cups (1L) salt-reduced chicken stock, heated
200g frozen peas, thawed
1 small lemon, rind finely grated, juiced
1/2 cup chopped flat-leaf parsley
40g finely grated parmesan
Method
STEP 1 
Heat the oil and half the butter in a large saucepan over medium-high heat. Add the onion and cook, stirring, for 1-2 mins or until the onion softens. Add the garlic and pancetta. Cook, stirring, for 1-2 mins or until aromatic. Add the rice and cook, stirring, for 2 mins to coat. Add the wine and simmer for 2-3 mins or until the liquid is absorbed. 
STEP 2 
Add the stock, 1/2 cup (125ml) at a time, stirring constantly for 15-20 mins or until the rice is tender. Add the peas and stir until combined and heated through. Add a little extra stock or water, if necessary. Add the remaining butter and stir to combine.
STEP 3 
Remove from heat and stir in the lemon rind, lemon juice, parsley and parmesan. Season with black pepper to serve.
Check ingredient labels to make sure they meet your specific dietary requirements and always consult a health professional before changing your diet. View dietary information here.