Courtney Roulston's salmon tacos
Enjoy a Mexican fiesta at home with these delicious salmon tacos. They're quick and easy to do and bursting with fresh flavours.
Hey everyone, I'm Courtney Roulston again here with my next What's for Dinner recipe. Tonight I'm cooking fast fresh and fabulous salmon tacos using an OLD ELPASO TACO KIT.
It's a Mexicillent family favourite including a mix of hard and soft tacos. So no matter who your cooking for this is going to be a hit. Let's get into it, first thing we need to do is grill some corn and we just want to grill this until we get some beautiful black char marks on the outside of the corn.
Let's look at what's in this box. We've got some soft tacos for those that like soft. We also have some crunchy beautiful corn tortillas so this kind of suits everybody, you've got people who like hard of soft.
There's a salsa sauce which I can empty out now. So this makes life really easy and we've got a spice mix in here as well so this is got lots to different things in here, paprika, cumin, oregano already mixed up and I'm going to do summer tacos today. So I'm going to put this spice mix onto my salmon. Alright super simple, just going to set the salmon aside for now.
I'm going to do a little radish salsa to go with this, so something slightly peppery and gives a really nice crunch to the top of our tacos.
Alright, now our salmon, look at that it's kind of sucked up that spice mix and we can get on with the cooking of this now. So I'm going to cook the skin side down first, we want to get some really nice colour on these.
Alright all that's left to do now is just to warm through our tortillas you can put it in the microwave or the oven, but because I've got my pan here already hot, I'm just going to warm this through in my pans. And our crispy tacos they can just go in the oven at about 180 degrees for about 5 minutes just to warm them up. This is the best thing about taco night. We've got little bits and bobs everywhere.
We've got a hard shells our soft tortillas we've got our tomato salsa from the kit. So I'm going to go hard or am I gonna to go soft? I'm going to go soft today with my tacos. These look pretty inviting to me, this is like the ultimate crowd pleaser, anyone can put their own spin on it.
They are bloomin' delicious that is how you make my salmon tacos, now make some noise, tomorrow night for Taco Tuesday with an OLD ELPASO TACO KIT. For this and loads more What's for dinner Inspiraration, head to Coles.com.au, Arriba!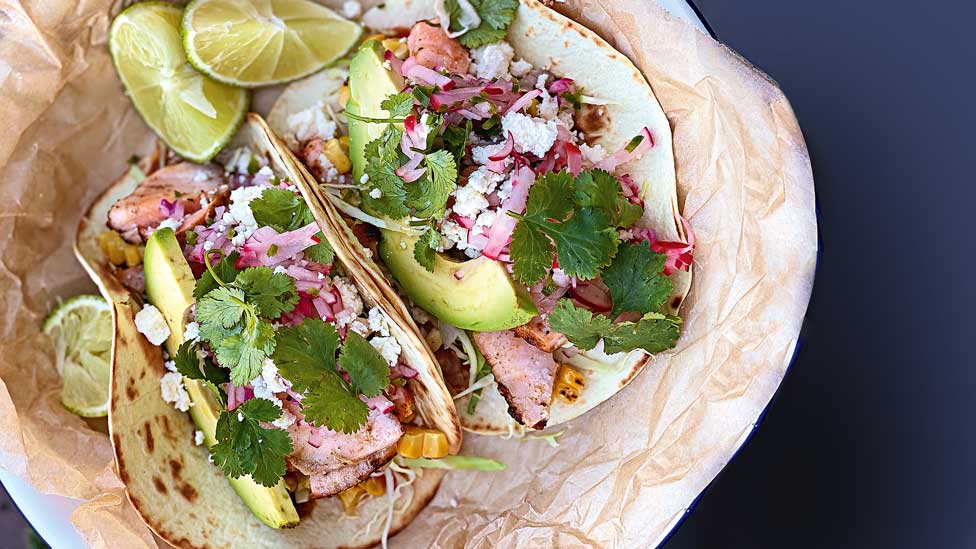 Note: + marinating and cooling time
Ingredients
2 tbs olive oil
2 corn cobs, husks and silk removed
4 x 200g salmon fillets, skin on
350g pkt Old El Paso Hard 'N Soft Taco Kit
2 cups shredded white cabbage
1 avocado, stoned, peeled, sliced
80g paneer or fetta, crumbled
Coriander sprigs, to serve
Lime wedges, to serve
Radish salsa
6 red radishes, cut into matchsticks
1/2 red onion, finely chopped
1 jalapeño chilli, seeded, finely chopped (optional)
1/2 lime, juiced
Method
STEP 1 
Preheat oven to 180°C. Heat half the oil in a non-stick frying pan over medium-high heat. Cook the corn, turning occasionally, for 8 mins or until lightly charred. Transfer to a plate and set aside to cool slightly. Use a small serrated knife to cut down the side of corn to release the kernels. Place in a bowl.
STEP 2 
Place the salmon on a plate and sprinkle over the spice mix from the kit. Set aside for 2-3 mins to develop the flavours. 
STEP 3 
Meanwhile, to make the radish salsa, combine the radish, onion, jalapeño, if using, and lime juice in a bowl. Season. 
STEP 4 
Heat the remaining oil in the pan over medium heat. Cook the salmon for 2 mins each side or until slightly charred with a rosy centre. Transfer the salmon to a plate and set aside to cool slightly. Coarsely flake the salmon. Season. Cover to keep warm. 
STEP 5
Place the hard tacos on a baking tray. Bake in preheated oven for 5 mins or until heated through. Wipe the frying pan clean and place over medium heat. Place 1 soft taco in the pan and cook for 20 secs or until heated through. Transfer to a plate and cover with a clean tea towel to keep warm. Repeat with the remaining soft tacos.
STEP 6 
Place the tomato salsa from the kit in a small bowl. Divide the hard and soft tacos among serving plates. Top with the cabbage, corn, salmon, avocado and paneer or fetta. Spoon over the radish salsa and tomato salsa. Sprinkle with the coriander and serve with the lime wedges.
Check ingredient labels to make sure they meet your specific dietary requirements and always consult a health professional before changing your diet. View dietary information here.