Courtney Roulston's Aussie beef pie
There's nothing better than a hearty meat pie on a cold winter's night. Try Courtney Roulston's Aussie beef pie for one that really hits the spot.
Hi everyone, Courtney Rouston here sharing another one of my favourite recipes with you from my home. Now I've got a spring in my step because this week the footy is back. Now for me one of the best things to enjoy while watching the game is the good old Aussie Beef pie. My delicious pie uses great value, everyday ingredients. This pie will easily feed 8 people and at around $3 per serve it is fantastic value. 
Alright to kick things off we need to heat some extra virgin olive oil in a pan. And I've got a large brown onion that I've just diced up. 3 or 4 carrots that I've just grated up. While the carrots are cooking off I'm just going run some celery through the grater as well. Give that a good season with some salt. 

Alright celery, onion, carrots are all softened down smelling delicious. I'm just going to transfer them into my acutal pie tin here. 

So I've got a couple of packs of Coles beef mince. Great value for a pie. And I'm making a big pie because there's nothing better than left over pie the next day. So I've got a kilo of beef mince.

I'm going to put a good seasoning of black pepper in because I love black pepper in my pie. Give it a little pinch of sea salt. Break up the beef until it's beautiful and browned off. About 3 tablespoons of tomato paste. Now if you're asking what makes this an Aussie pie, we've got a secret little ingredient and that is some vegemite.

Alright a couple of other key ingredients. Some Worcestershire sauce.  We need some corn flour and this is going to kind of thicken it down and give us that beautiful gravy that we love in a pie. 

Alright now going in with about a cup and a half of beef stock. Look at that. Our little filling is blipping away over here. It is smelling so good. So our celery, onion, carrots goes back in with the mince. That's it. All I need to do now is to transfer our mixture into our pie tin and we're going to let it cool slightly before we put on our pastry. Tuck in our corners. So I've just got a beaten up egg and I'm just going to brush this over our pastry. Poke a little hole in the top of the pastry. 

Alright now my oven is set at 200 degrees this is going to take around 25 –30 minutes until you see that beautiful golden crust on the pie. Let's dig in to that pastry. Look at that. I've got some peas just for some greenery. And I've got some home made ketchup. 

You guys are going to love this one I promise. For this and loads more what's for dinner recipes head over to Coles.com.au.

And as always, Go the Swans!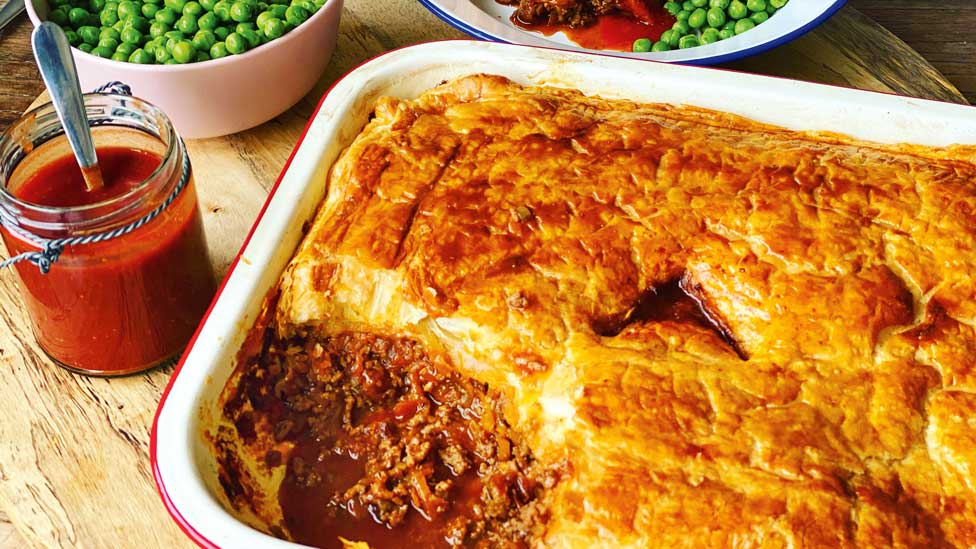 Ingredients
2 tbs extra virgin olive oil
1 large brown onion, diced
3 large carrots, peeled, grated
3 celery stalks, grated
1kg beef mince
1/4 cup (70g) tomato paste
1 tbs Vegemite
1/4 cup (60ml) Worcestershire sauce
2 tbs cornflour
1 1/2 cups (375ml) beef stock
2 sheets frozen puff pastry, thawed
1 egg, lightly whisked
Boiled peas, to serve
Tomato sauce to serve
Method
STEP 1 
Preheat oven to 200˚C. Heat the oil in a large frying pan over a medium-high heat. Add the onion and cook for 2 mins or until the onion softens. Add the carrot and celery. Season. Cook for a further 2-3 mins or until the vegetables are tender. Transfer the vegetable mixture to a heatproof bowl. 
STEP 2 
Return the pan to the heat. Add the mince. Season. Cook, stirring with a wooden spoon to break up lumps, for 5-6 mins, or until the mince changes colour. 
STEP 3 
Add the tomato paste, Vegemite, Worcestershire sauce, cornflour and beef stock to the pan. Stir to combine. Bring the mince mixture to a gentle simmer and cook for 4-5 mins or until the mixture has thickened slightly. 
STEP 4 
Return the vegetable mixture to the pan and stir to combine. Spoon the mixture into a 22cm x 30cm ovenproof dish. Allow the mince mixture to cool slightly. Top with the puff pastry. Brush the pastry with egg. Use a knife to cut a hole in the centre of the pastry to allow steam to escape while the pie is cooking. Bake for 25-30 mins or until the pastry is golden and puffed.
STEP 5 
Divide the pie among serving plates. Serve with peas and tomato sauce.
Check ingredient labels to make sure they meet your specific dietary requirements and always consult a health professional before changing your diet. View dietary information here.