Courtney Roulston's capunti with garlic tomato sauce
This traditional semolina pasta is deceptively easy to make. Serve it with a homemade tomato sauce, and fresh basil for a mouth-watering meal.
Hi I'm Courtney and we hope you've enjoyed this weeks kids recipes. I am so proud to be working with Coles to support the Stephanie Alexander, Kitchen Garden Foundation. Tonight I'll be cooking a handmade semolina pasta, with a fresh tomato and garlic sauce.
So let's get started. The first thing we need to do is chop our tomatoes and you guys want to do your bridge hold of the tomatoes and we just want to slice down. We now need to dice the tomatoes. So you can do your "bear grip" or your "tiger grip". Keep your fingers tucked out of the way.  All of the tomatoes are diced up. So we've got 4 cloves of garlic and you can just use your "rock and chop" to roughly dice these. 

So I've got about 2 tablespoons of olive oil that we're going to pop into our pan. And we can go in with the garlic. Put in our tomatoes. You want a good pinch of salt and we also need a little bit of sugar. The tomato sauce is smelling amazing. You can see it's reduced down a little bit. 

Ok for our hand-made pasta today there's lots of different recipes but this is the easiest of them all. 

All we're using is some water and some semolina flour. And we're using our clean hands to start to work that flour into the water. And you're wanting to get this to a really nice dough consistency and we're going to do what's called kneading. Now this pasta dough has become really nice and soft and smooth. All we need to do now is let this rest. 

Alright our pasta dough has had it's 20 minutes resting and we're going to cut it into 6 portions. So now that that's rolled out we can start to nip pieces of dough and give it a roll. And then using your three middle fingers, press down on the pasta and then roll it towards you. I've got some boiling water here and we need to add some sea salt. And then we can just lower this into the water and it will start to rise up and tell you when it's cooked. 

Look at that beautiful big bowl of hearty pasta. Really simple to make. Really lots of fun as well. 

So I'm just going to top my pasta with this beautiful tomato and garlic sauce. And there you have it handmade semolina pasta with a fresh tomato and garlic sauce. 

We hope this week has inspired you to get in the kitchen with your kids and loads of great ideas for mothers day too. For this and many other fantastic recipes head over to the Stephanie Alexander Kitchen Garden Foundation and Coles websites. 

Happy cooking!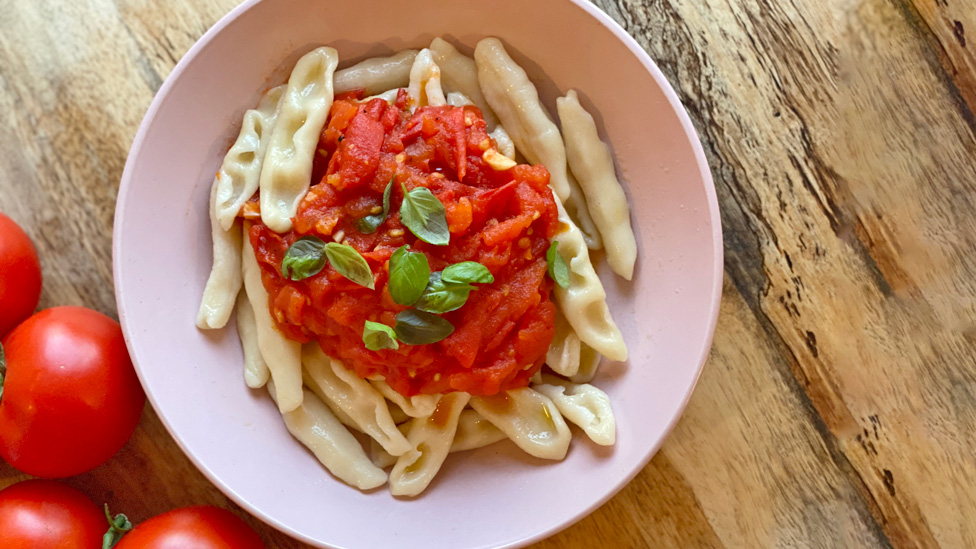 Note: + 20 mins resting time
Ingredients
1kg tomatoes, roughly chopped
4 garlic cloves, finely chopped
1/2 tsp sugar
2 tbs extra virgin olive oil
Basil leaves, to serve
Capunti
400g semolina flour
1 tsp sea salt flakes
200ml water
Method
STEP 1
Place the tomato, garlic, sugar and oil in a large frying pan over medium heat. Season. Cook for 15-20 mins or until the sauce reduces slightly.

STEP 2
To make the capunti, combine the flour and salt in a large bowl. Create a well in the middle of the flour. Gradually add the water and use your hands to combine until the dough clings together and feels springy. If the dough is sticking to your hands, add more flour. If the dough is too dry, add a little more water. Tip the dough onto a clean, dry workbench. Knead the dough for 5-8 mins or until it is smooth and shiny. Wrap the dough in plastic wrap and let it rest for at least 20 mins at room temperature.

STEP 3 
Uncover the dough and cut it into 6 pieces. Keep one piece out and fold the others back in the plastic wrap to stay moist. Place the dough on a clean, dry surface. Roll the dough into a long, thin log about 1cm wide. Cut the log into 2cm-long pieces. Hold one piece of dough in the palms of your hands. Rub your palms together to make a pod shape with pointed ends. Repeat with the remaining dough pieces.

STEP 4 
Lay one piece of shaped dough on the bench. Place the tips of your three middle fingers lengthways along the top of the piece of dough and press down firmly. Pull your fingers back along the bench towards yourself until they release and the dough curls in on itself. The dough should resemble an empty pea pod. Repeat with the rest of the dough, setting the pieces aside without touching so they don't stick together.

STEP 5 
Bring a large saucepan of water to the boil over a high heat. Add a generous pinch of salt. Carefully slip the capunti into the water. Cook for 1-2 mins or until the capunti floats to the top of the pan. Drain well.

STEP 6 
Divide capunti among serving plates. Top with the tomato and garlic sauce and sprinkle with basil leaves to serve.

Check ingredient labels to make sure they meet your specific dietary requirements and always consult a health professional before changing your diet. View dietary information here.