Courtney Roulston's cauliflower steak with carrot hummus
Make cauliflower the star of the show in this hearty vegan dish. Packed with vibrant colours and flavours, it's a must-try combo.
Hi everyone, Courtney Roulston here. I'm very pleased to be sharing with you one of my favourite recipes and it utilises every day, great value ingredients. Cauliflower steaks with carrot hummus and harissa chickpeas. You'll easily feed a family of 4 for under $5 per serve. All you need is a beautiful cauliflower. 
And I'm going to cut it straight down the middle. Measure about 1 inch across and we're going to slice down. Alright our Cauliflower steaks are all cut up. 

I've got 3 large carrots that I've just sliced up. We need to give these a drizzle of extra virgin olive oil and salt. These are roughly going to take the same time in the oven. They'll need about 35 or 40 minutes at 190 degrees just to cook down, and become beautiful and soft. 

Harissa Chickpeas couldn't be simpler. 1 can of Coles chickpeas just drained go into a hot pan. 

Just douse them in a little extra virgin olive oil. Give them a season of sea salt. And I've got here some harissa paste. This is from the International aisle in Coles. Squeeze about a teaspoon in. 
We just want to cook them for around 4 or 5 minutes until they start to crack. And they are just looking rockstar. I'm going to turn them off and just let them sit. 

We've got our carrots and our cauliflower out of the oven. So just let our steaks rest and we can whip up this carrot hummus.
We can go in with our roasted carrots. So our chickpeas with about a quarter of the juice can go in with the carrots. Going in with a clove of garlic. A tsp ground cumin. I've got a tablespoon of tahini paste. Pinch of sea salt. Little dash of extra virgin olive oil. We need a couple of tablespoons of lemon juice. All we need to do now is to give this a blitz with the stick blender until it's nice and smooth. 
So our carrot hummus can go on to the plate. Our cauliflower steak. Some of our harissa chickpeas. Onion rings this is just a sweet french onion. Some of our lemon zest. A few pomegranate jewels. Some of our mint. And a little extra dash of extra virgin olive oil just to finish that off. 

What a stunning plate. Humble ingredients. It's proof you don't need to spend a lot of money to eat exciting meals at home. That is my roasted cauliflower steak, roasted carrot hummus and harissa chickpeas. For this recipe and loads more What's For Dinner recipes, head on over to coles.com.au

Too much talking and not enough eating. That is just so so good. I promise you even the meat eaters are going to love this one.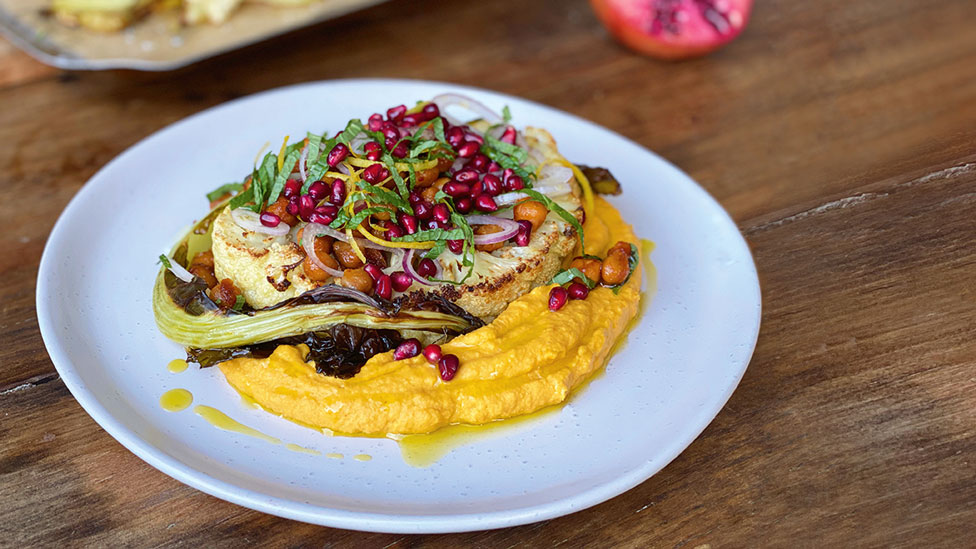 Ingredients
1 large cauliflower
3 large carrots, sliced crossways
1/2 cup (125ml) extra virgin olive oil
2 x 400g cans chickpeas
1 tsp harissa paste
1 garlic clove
1 tsp ground cumin
1 tbs tahini
1 lemon, zested, juiced
1 shallot, very thinly sliced
1/3 cup pomegranate seeds
1/4 bunch mint, thinly sliced
Extra virgin olive oil, extra, to drizzle
Method
STEP 1 
Remove the outer leaves from the cauliflower, leaving the core intact. Cut four 2.5cm-thick steaks from the centre of the cauliflower (reserve the excess florets for another use).
STEP 2 
Preheat oven to 190˚C. Line 2 large baking trays with baking paper. Place the cauliflower steaks and carrot on lined trays. Drizzle with 2 1/2 tbs oil and season with salt and pepper. Roast for 35-40 mins or until the carrots are tender and the cauliflower is lightly golden.
STEP 3 
Meanwhile, rinse 1 can of chickpeas and drain well. Place the drained chickpeas in a frying pan over high heat. Drizzle with 1 1/4 tbs oil. Cook for 2 mins or until slightly cracked. Add the harissa paste and a pinch of salt. Cook for a further 2-3 mins or until fragrant.
STEP 4
Drain the remaining can of chickpeas, reserving 1/4 cup (60ml) of the liquid. Place the drained chickpeas and reserved chickpea liquid in a jug with the roasted carrot, garlic, cumin, tahini, remaining oil, 2 tbs lemon juice and a pinch of salt. Use a stick blender to blend until smooth and creamy.
STEP 5
Spoon the carrot mixture onto serving plates. Top with the cauliflower steaks and harissa chickpeas. Sprinkle with shallot, lemon zest, pomegranate seeds and mint. Drizzle with extra oil to serve. 
Check ingredient labels to make sure they meet your specific dietary requirements and always consult a health professional before changing your diet. View dietary information here.