Courtney Roulston's chicken shish kebabs with green tahini and sumac salad
Here's one to add to your weekly dinner rotation. Courtney Roulston's chicken shish kebabs are easy to make and full of flavour.
Hi all Courtney Roulston here, with another Aussie favourite, Chicken Shish Kebabs. Australia is such an amazing melting pot of cultures and cuisines and we are so lucky that we get to celebrate such diversity with our food, not to mention some of the best produce in the world. You'll find the full recipe online just search Coles and Co. There's also lots of other delicious and inspiring recipes for me and some of your other Aussie favourite chefs.
So I'm starting with about 750 grams of Coles chicken thighs, I'm gonna spice things up with some ground cumin, some ground cinnamon, the zest of a lemon, a few good grinds of black pepper, season with some sea salt and a couple of tablespoons extra virgin olive oil. Just give that a mix around and you can set that aside for around 20 to 30 minutes just to marinade.
Our chicken has been marinating and I've got he some wooden sticks and these have been soaking in some water for about 30 minutes, it's just stops and burning on the barbecue. Now there's no better way to because she's good bad then over the coals. Smokey, but it's tasty. While our chicken is cooking, we can make a really simple little, like a shepherd salad or Turkish salad to go with our shish kebabs.
So in the bowl here I've got a mixture of some red onion, some baby cucumbers and some really roughly torn parsley, this is just something really fresh to go with our kebabs. I'm simply gonna dress our Shepard salad with some sumac, some sea salt and some extra virgin olive oil. Just give that a toss though and that can marinate while our chicken is on the barbecue. Now every barbecue needs a sauce to go with the meat.
Really simple to make I've got about a cup each of flat leaf parsley and coriander going into a jug. I'm adding in Tahini paste. Season with some sea salt, then add in the juice of a lemon and then just to balance out the acidity in the lemons some maple syrup. Blend that with a stick blender until it's beautiful and thick and bright green. Just time to plate this up now. I love to serve this with some fresh soft Lebanese bread on the side.
That is a winning combination, a traditional Turkish dish that has become a real favourite in our house. That is my chicken shish kebabs, this is a great value meal will feed your family for under $5 a per serve. For this recipe and loads more inspiring recipe, head on over to Coles.com.au.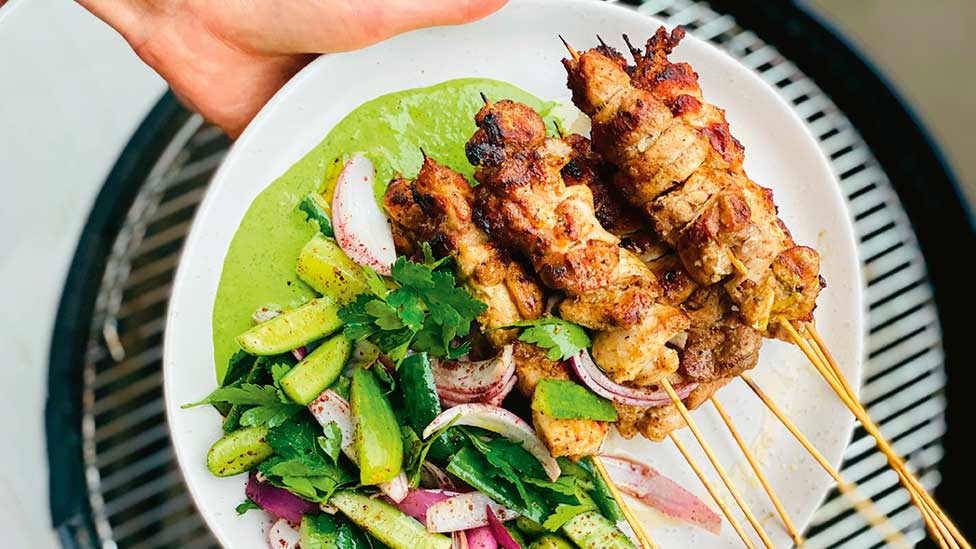 Note: + 30 mins marinating time
Ingredients
750g Coles RSPCA Approved Australian Chicken Thigh Fillets, cut into 2cm cubes
1 tsp ground cumin
1/2 tsp ground cinnamon
1 lemon, zested, juiced
1/4 cup (60ml) extra virgin olive oil
1/2 cups flat-leaf parsley leaves
1/2 cup coriander leaves
1/3 cup (80ml) tahini paste
1 tbs maple syrup
4 large pieces Lebanese or pita bread
Sumac salad
1 red onion, sliced into thin wedges
2 Lebanese cucumbers or qukes (baby cucumbers), coarsely chopped
1 cup flat-leaf parsley, coarsely torn
1 tsp ground sumac or lemon and herb dukkah
Method
STEP 1
Combine the chicken, cumin, cinnamon, lemon zest and 2 tbs of oil in a large bowl. Season with a pinch of sea salt and pepper. Place in the fridge for 30 mins to develop the flavours.  
STEP 2
Heat a barbecue grill or chargrill on medium-high heat. Thread the chicken evenly onto metal or soaked bamboo skewers and cook on the grill, turning occasionally, for 2-3 mins each side or until cooked through. 
STEP 3
To make the sumac salad, combine the onion, cucumber, parsley leaves, sumac or dukkah, a pinch of sea salt and the remaining oil in a bowl. 
STEP 4
Place the parsley, coriander, tahini paste, lemon juice, maple syrup and 1/3 cup (80ml) water in a blender. Season with a pinch of sea salt flakes and blend until smooth. 
STEP 5
Spoon the tahini mixture onto a serving plate. Arrange the chicken skewers and sumac salad over the tahini mixture. Serve with Lebanese or pita bread. 
Check ingredient labels to make sure they meet your specific dietary requirements and always consult a health professional before changing your diet. View dietary information here.