Courtney Roulston's Chinese egg and tomato stir-fry
Craving a fragrant Asian-style dish? Look no further than Courtney Roulston's Chinese stir-fry. It's loaded with fresh ingredients and rich flavour.
Hi all, Courtney Roulston back to share another one of my favourite what's the dinner recipes. I'm making my Chinese egg and tomato stir fry. A very popular homestyle recipe, you'll have plenty of change and the $20, that's under $5 per serve for a family od four and it's the perfect thing when you wanting something quick delicious and comforting.
So in with our ginger into a hot pan with a little bit of oil, get that nice and fragrant. Put the white parts of our spring onions in. Now popping the diced tomatoes. Just give them a little mix around. Ok I'm now going to season up tomatoes and rather than using salt I'm going to some chicken stock powder, this just adds a really nice seasoning into a tomato sauce, some pepper. And because the tomatoes can be quite acidic just a little dollop of honey. Give that a mix through and we're going to simmer this sauce for around 10 minutes, just to break down the tomatoes until this becomes nice and saucy.
I have got here a mixture of corn flour and about half a cup of water and I'm gonna add this in. This is going to become I thick and really glossy and gives a really nice shiny tomatoes sauce. Ok, now I'm going to take the tomato sauce out of our pan, so just pop this into a bowl. Aliright I've got dozen coles free range eggs that I'm just going to break into a bowl. Season the eggs with a pinch of salt and a dash of sesame oil, give the beautiful smoky note. Gives the eggs a whisk up.
Alright, I've got that frying pan on quite low, I'm gonna pour in the eggs and we in a cook these for around 4 or 5 minutes until they just start to set. Going to go back in with our really fragrant, glossy tomato sauce. Now I like a bit of spice finish with some rounds of Chilli and the tops of our green spring onions. Traditionally these days would be serviced with some pipping hot steamed rice, I'm actually serving mine with some cauliflower rice that I've just warmed through. Just spoon over some of that piping hot egg and tomato broth. Fuss free cooking, gorgeous and rich eggs in that fragrant tomato sauce.
That is my Chinese egg and tomatoes stir fry. If you love the look of this recipe you can find many more what's for dinner recipes, cooking tips and meal inspiration at the all new Coles and co. It may not be the prettiest dish around but ugly delicious is just fine with me. So Good.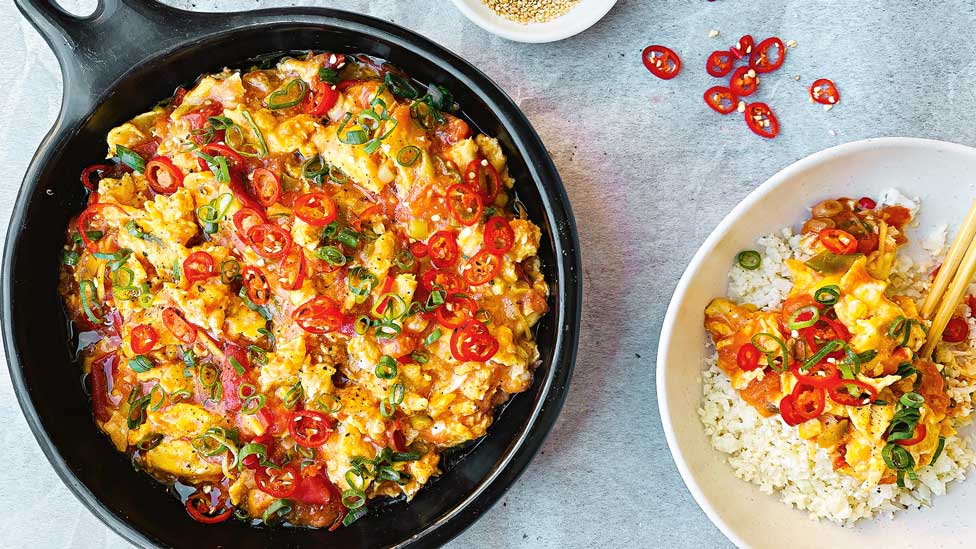 Ingredients
1/4 cup (60ml) olive oil
5cm-piece ginger, peeled, cut into matchsticks
2 spring onions, thinly sliced, white and green parts separated
5 large tomatoes, coarsely chopped
1 tsp chicken stock powder
1 tbs honey
1 tsp cornflour
12 eggs, lightly whisked
2 tsp sesame oil
1 long red chilli, thinly sliced (optional)
4 cups cauliflower rice, warmed
Method
STEP 1
Heat 1 tbs of the olive oil in a wok or large frying pan over high heat. Add the ginger, the white parts of the spring onion and the tomato. Stir-fry for 2-3 mins or until the tomato starts to soften. Add the stock powder, honey and season with black pepper. Cook for a further 10 mins or until the tomato breaks down to make a sauce.
STEP 2
Combine the cornflour and 1/2 cup (125ml) water in a small bowl until the cornflour dissolves. Add to the tomato mixture and stir to combine. Cook for 2-3 mins or until the sauce thickens slightly. Carefully transfer the tomato mixture to a large bowl.
STEP 3
Wipe the wok or frying pan clean with paper towel. Heat the remaining olive oil over low heat. Whisk the egg and sesame oil in a large bowl to combine. Season with salt. Pour the egg mixture into the wok or pan and cook, stirring occasionally, for 4-5 mins or until the egg just starts to set. Add the tomato mixture to the egg mixture and stir until combined and heated through. Sprinkle with the chilli and the green parts of the spring onion.
STEP 4
Divide cauliflower rice and egg mixture among serving bowls to serve.
Check ingredient labels to make sure they meet your specific dietary requirements and always consult a health professional before changing your diet. View dietary information here.