Courtney Roulston's Chinese slow roast pork shoulder with smashed cucumbers
Consider dinner sorted with delicious pork shoulder recipe. It's a show-stopping dish full of fresh flavour.
Hi everybody, Courtney Roulston here, I got a fabulous what's for dinner recipe to share with you guys tonight.
Now we all love a bit of comfort food especially in the cold weather and there's never been a better time for some great value meal ideas to bring the family together.  Chinese slow roast pork shoulder with smashed cucumbers and some steamed rice, all for under $5 per serve. Delicious meals don't need to cost the earth, here's how we do it.
Alright for our Chinese marinade I've got a tablespoon of fresh ginger and in with that couple tablespoons of soy sauce, dash of sesame oil, Some hoisin sauce, little squeeze of honey, some Chinese 5 spice powder and just a little dash of water to thin it out. Just need to spoon this over our pork shoulder, now we need to seal this up to create a nice moist environment while this go in the oven. So some paper goes on to the pork. And then I'm just going over with some foil to seal that up.
My oven's set at a 170 degrees and this is going to take about 2 to 2.5 hours to get that beautiful and melting and tender. The steam rice couldn't be simpler, in my pot here I've got equal parts rice and water. Bring that up to a simmer, when the water has evaporated, pop a lid on and just let it steam for around 12 minutes.
Alright now on to the smashed cucumber salad and we literally are smashing bashing the cucumbers up. Season generously and just let that sit for around 10 or 15 minutes for a lot of that liquid to get drawn out of the cucumbers.
I've got a chopped red chilly, a clove of garlic that's been minced up, I'm going in with some apple cider vinegar, a dash of sesame oil and a squeeze of honey just to balance up that apple cider vinegar and that hot chili. We're going to drain the excess liquid of the cucumbers and then mix it through this dressing, coriander to go in, a few sesame seeds.
Let's have a reveal of our pork shoulder. That is what you want on a cold winter's night. Alright time to plate up, look at that, it's just flaking apart and there we have it. An absolute humdinger of a family friendly, budget recipe, full of exciting flavours.
That is my Chinese style slow cooked pork shoulder with smashed cucumbers and steamed rice. For the full recipe and many more what's the dinner recipes, head on over to coles.com.au This fall of comfort food is exactly what I need.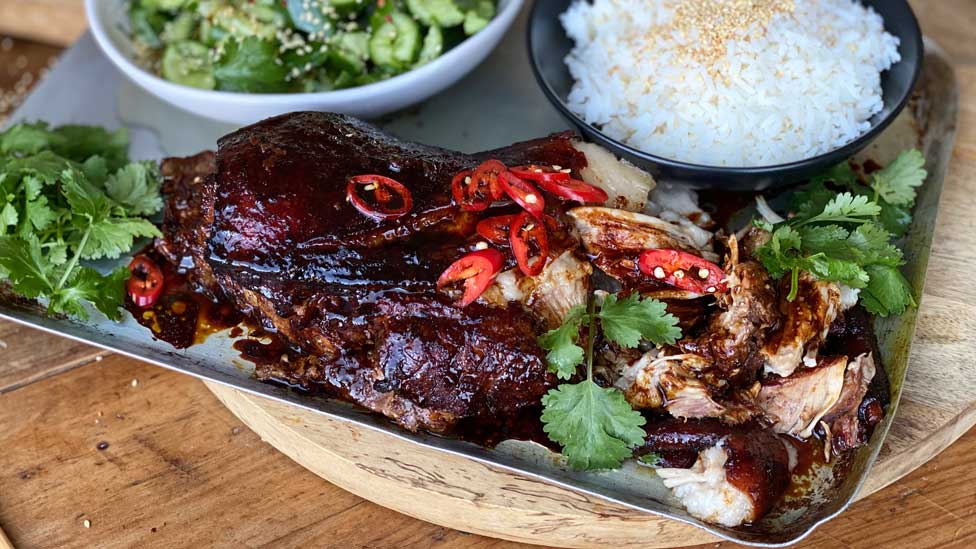 Ingredients
1.2kg boneless pork shoulder
2cm-piece ginger, peeled, finely grated
2 tbs soy sauce
3 tsp sesame oil
2 tbs hoisin sauce
2 1/2 tbs honey
1/2 tsp Chinese five spice
2 cups (360g) white rice
3 Lebanese cucumbers
1 long red chilli, finely chopped
1 garlic clove, finely grated
2 tbs apple cider vinegar
1/2 cup coarsely chopped coriander
2 tsp sesame seeds, toasted
Thinly sliced red chilli, to serve
Toasted sesame seeds, extra, to serve
Method
STEP 1
Preheat oven to 170°C. Remove string from the pork shoulder and place in a large deep roasting pan. 
STEP 2
Combine the ginger, soy sauce, 2 tsp oil, hoisin sauce, 1½ tbs honey and ¼ cup (60ml) water. Pour marinade over the pork and cover with baking paper. Cover the pan tightly with foil. Roast for 2½ hours or until the pork is tender. Uncover the pork and baste with some of the pan juices. Roast for a further 25-30 mins or until the pork is darker in colour and the pan juices thicken. 
STEP 3
Meanwhile, place the rice in a large saucepan with 2 cups (500ml) water. Bring to the boil over high heat and cook until the water has been absorbed. Reduce heat to low. Cover and steam for 12 mins or until the rice is tender. 
STEP 4
Place the cucumbers on a chopping board. Use a cleaver or pestle to gently crush until cucumbers start to split and the edges become jagged. Coarsely chop into 3cm pieces and place in a large bowl. Sprinkle generously with salt and set aside for 15 mins. Drain well. 
STEP 5
Combine the chopped chilli, garlic, vinegar, remaining honey and remaining oil in a bowl. Add the cucumber. Sprinkle with coriander and sesame seeds and toss to combine. 
STEP 6
Use 2 forks to shred the pork. Transfer to a serving platter and drizzle with pan juices. Sprinkle with sliced red chilli and sesame seeds. Serve with the rice and smashed cucumbers.
Check ingredient labels to make sure they meet your specific dietary requirements and always consult a health professional before changing your diet. View dietary information here.