Courtney Roulston's Christmas ham banh mi
Not sure what to do with your leftover Christmas ham? Courtney Roulston brings you her irresistible ham banh mi. It's the perfect way to ensure nothing goes to waste, and tastes pretty good too!
Hi everybody, Courtney Roulston here, I truly hope you have had a wonderful Christmas and got to share some quality time and delicious meals with your loved ones. Now none of us get through Christmas without the Christmas leftovers so if you're looking for something a little bit different to do with that glazed Ham that's looking at you every time you open the fridge, maybe you'll like my Christmas ham Bahn Mi.
Now I'm going to kick off my Bahn Mi by making some really easy pickles. I have got some carrot and daikon radish that I've just cut up. So in here I've got some rice wine vinegar, some sugar and some salt and I'm just going to pour that over the vegetables and we can set them aside for 20 minutes to pickle, while we make the rest our Bahn Mi.
The next step is to get about 300 to 350 grams of your leftover Christmas ham, any bits of little fat or glaze is perfect, because we're gonna make this nice and crispy and hot pan. Just smells like Christmas day all over again. Go big or go home I say, I'm going to make one big long massive Bahn Mi, but of course you could do individual roles as well if you wanted to. I'm simply going to split out French baguette down the middle, don't cut all the way through.
Now a classic Bahn Mi always has some pate. I've got some store bought chicken liver pate and I'm just going to spread that along one side of the baguette and on the other side of the baguette I've got some whole egg mayonnaise. Now that the baguette is layered with pate and mayonnaise, we simply can just start putting in our fillings, so our crispy Christmas ham.
Now with the pickles, just to drain them off and pop those in with the ham and do the same with the carrots. These add a lovely sweet crunch as well. Vietnamese food is all about fresh herbs, so I'm going to add on some coriander sprigs. I've got some really fresh cucumber ribbons. I like to turn up the heat a little bit on my Bahn Mi,  so I'm just going to chop a red chilli and pop this on the top.
All you need to simply do now is to cut into portions, you cut it as big or small as you like. That is my Christmas ham Bahn Mi. For this full recipe and loads more what's for dinner recipes, head on over to coles.com.au. I really hope you've been enjoying the what's for dinner segments that we've been bringing to you throughout this year. Me and some of your favorite Coles chefs will be back in the new year with more delicious recipes. Wishing you all a very very safe and happy new year and we'll see you again in 2021.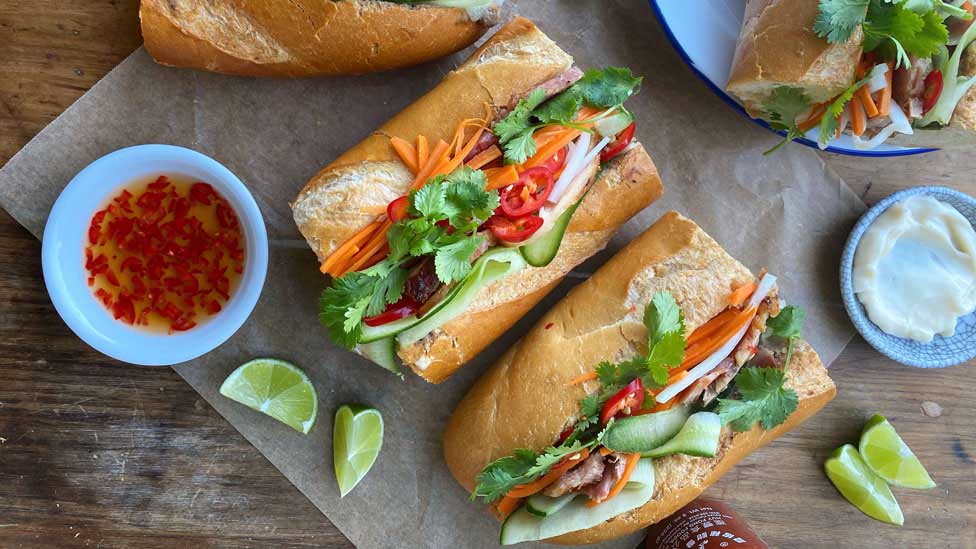 Note: + cooling & 20 mins standing time
Ingredients
300-350g Christmas ham, sliced
1 long white baguette
2 tbs chicken liver pâté
1/4 cup (75g) whole-egg mayonnaise
1 Lebanese cucumber, peeled into ribbons
1/4 bunch coriander
1 long red chilli, thinly sliced (optional)
Quick pickles
1 cup (250ml) rice wine vinegar
1/2 cup (110g) white sugar
1/2 tsp salt
2 large carrots, peeled, cut into long matchsticks
2 daikon or white radish, peeled, cut into long matchsticks
Method
STEP 1
To make the quick pickles, place the vinegar, sugar and salt in a small saucepan over medium heat. Bring to a simmer, stirring until the sugar dissolves. Set aside to cool slightly.
STEP 2
Place the carrot and daikon or radish in separate heatproof bowls and carefully pour the vinegar mixture evenly over the vegetables. Set aside for 20 mins to develop the flavours. Drain. 
STEP 3
Heat a non-stick frying pan over medium-high heat. Cook the ham for 2-3 mins each side or until lightly browned and crispy. Transfer to a plate. 
STEP 4
Use a serrated knife to split the baguette lengthways (don't cut all the way through). Spread 1 cut side of the baguette with pâté and the other with mayonnaise. Fill baguettes evenly with cucumber, carrot, radish, ham, coriander and chilli, if using. Cut into 4 even portions to serve. 
Check ingredient labels to make sure they meet your specific dietary requirements and always consult a health professional before changing your diet. View dietary information here.