Courtney Roulston's easy zucchini lasagne
This easy zucchini lasagne uses a cheat's white sauce to save you time on busy weeknights. It's a guaranteed hit at the dinner table.
Hi all, Courtney Roulston here, to make delicious golden bakes, you need the perfect cheese and Perfect Italiano is perfect for that. Here's a super tasty Zucchini Lasagne that's great for sharing with the whole family using Perfect Italianos Perfect Bakes.
To kick start this recipe I'm gonna heat up a couple of tablespoons of extra virgin olive oil. Pop in a brown onion that I've just diced up. Then pop in four cloves of garlic that have been chopped up and then a pinch of salt and just cook that until the garlic is fragrant. I'm now going in with 800 grams of a Bolognese mince. So this is part beef, part pork mince and using a wooden spoon, just breaking up as you go.
Now add in a couple of cups of carrot that's been grated and add in a tablespoon of tomato paste, tin tomatoes and some fresh thyme, just pulled off the sprigs. Just let this mixture cook out for a couple of minutes. Instead of using pasta, I'm gonna use really thinly sliced zucchini. Just slice the zucchini the same thickness as a lasagne sheet. I'm gonna give the zucchini slices about 5 minutes in the oven just to soften them down.
Here is my cheats version of a delicious white sauce that's done in seconds. You're gonna need 300 grams of ricotta in a bowl, 2 free range eggs, little pinch of salt and whisk until smooth. Now that that's smooth we can go in with our perfect italiano perfect bakes cheese. You need around 200 grams, so this is a mixture of parmesan cheese, tasty cheese and mozzarella. Just stir the cheese through the cheats white sauce.
Now all we have to do is assemble the lasagne, so on with a layer of our gorgeous Bolognese mince, then on with a layer of zucchini and I'm just gonna repeat that, Bolognese, zucchini slices and then out white sauce to go over the top. One thing people never complain about is too much cheese, so just top the lasagne with a sprinkling of our perfect bakes cheese. This will make the top of our lasagne beautiful and golden and bubbly in the oven.
Alright, look at that, loverly layers, it is packed full of flavour, packed full of veges, So tasty and pretty simple to make. That is my perfect bakes, zucchini lasagne. This is the perfect comfort food to enjoy on a chilly night. For loads more reciepe inspiration or what's for dinner ideas, head on over to coles&co.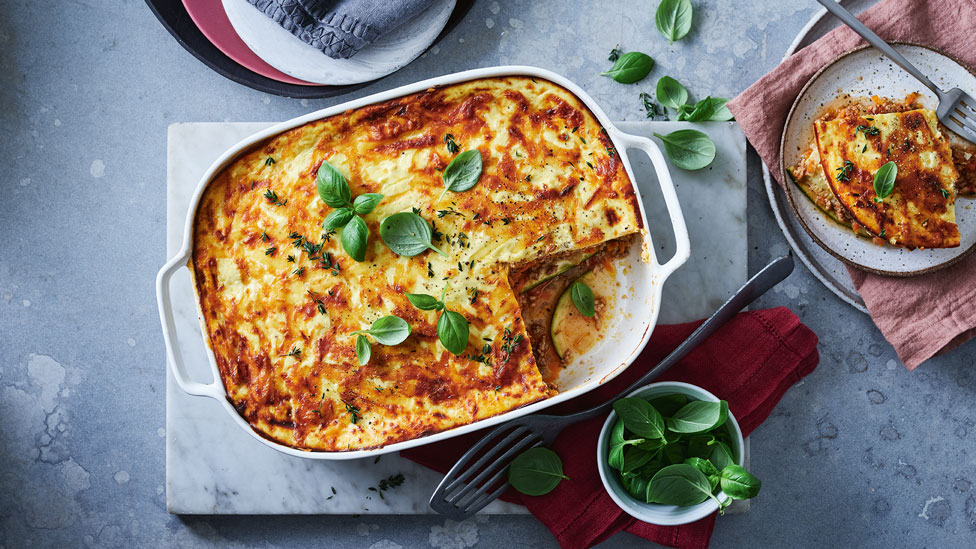 Ingredients
2 tbs extra virgin olive oil
1 large brown onion, finely chopped
4 garlic cloves, crushed
800g Coles Australian Pork & Beef Bolognese Mince
1 tbs tomato paste
2 cups (480g) coarsely grated carrot
400g can crushed tomatoes
6 thyme sprigs, leaves picked
4 large zucchini
Cheat's white sauce
300g firm ricotta (from the deli)
2 Coles Australian Free Range Eggs
200g Perfect Italiano Perfect Bakes cheese
Method
STEP 1
Preheat oven to 200°C. Line 2 baking trays with baking paper. Heat the oil in a large frying pan. Add the onion and cook, stirring, for 2 mins or until the onion softens. Add the garlic and cook for 1 min or until aromatic. Add the mince and cook, stirring with a wooden spoon to break up lumps, for 5 mins or until the mince changes colour. Stir in the tomato paste, carrot, tomato and thyme. Season. Bring to a simmer. Cook, stirring occasionally, for 10 mins or until mixture thickens slightly.
STEP 2
Meanwhile, use a sharp knife to cut the zucchini lengthways into 3mm-thick slices. Arrange half the zucchini in a single layer on the lined trays. Bake for 5-6 mins or until zucchini softens. Repeat with remaining zucchini.
STEP 3
To make the cheat's white sauce, combine the ricotta, eggs and half the cheese in a large bowl.
STEP 4
Spread one-third of the mince mixture over the base of an 8-cup (2L) baking dish and top with one-third of the zucchini. Repeat layering twice with the remaining mince mixture and zucchini. Spread the white sauce over the zucchini layer and sprinkle with the remaining cheese.
STEP 5
Bake for 20-25 mins or until the cheese melts and is golden brown and mixture is bubbling. Set aside for 5 mins to cool slightly before serving.
Check ingredient labels to make sure they meet your specific dietary requirements and always consult a health professional before changing your diet. View dietary information here.