Courtney Roulston's gingerbread cherry galette
Try Courtney Roulston's gingerbread cherry galette for an irresistible rustic Christmas dessert. Featuring gingerbread pastry and loaded with cherries, this recipe will be a summer hit.
Hi everyone, Courtney Roulston here, now there is no one more excited for the festive season than me. There's nothing better than enjoying some delicious food in our gorgeous Aussie weather. I have got the perfect recipe that's going to impress all your friends and family, my gingerbread cherry galette, sounds pretty good doesn't it we are going to kick off read our gingerbread pastry.
Pop 200 grams of flour into a food processor along with a quarter of a teaspoon of baking powder, a good dash of our ground ginger, pinch of sea salt and 100 grams of cold butter. Pop the lid on we're going to blitz this into what looks like bread crumbs. Now that the butter is worked through the flour, I'm going in with 125 grams of cream cheese. Pop the lid on and just blitz this until the dough comes together in a ball. Homemade pastry is as easy as that.
I'm gonna press our gingerbread pastry into a disk, wrap it in plastic and set it aside in the fridge for an hour or 2 to rest. The pastries had its rest in the fridge, lightly dust to board grab a rolling pin and we're gonna roll this out till it's about half a centimeter thick. Now that the pastries all rolled out, in here I've got a mixture of almond meal, flour, some brown sugar and 2 of my favorite Christmas spices orange zest and some cinnamon. I'm just going to give this a mix and put it on the base of the galette. This is going to stop the pastry from getting soggy as it cooks.
The next step, you're going to need about 600 grams of gorgeous aussie summer cherries, on to the cherries I've got a little brown sugar and corn flour. Pop the cherries on to the top of that almond, orange and cinnamon mixture. So all you need to do now is to really roughly fold that up. The final step before this gets into the oven, I've just got a little egg wash and I'm going to brush around the outside of the pastry.
Final final step is a little bit of Demerara sugar over the pastry to give us a gorgeous texture. All you need to do now is to pop this into a hot oven, about 200 degrees for 45 minutes. Here she is out of the oven, a thing of beauty, that is my gingerbread cherry galette, best of all it comes at under $5 per serve, so it's great value as well which we all need this time of year. For this recipe and loads more fantastic food inspiration check out Coles.com.au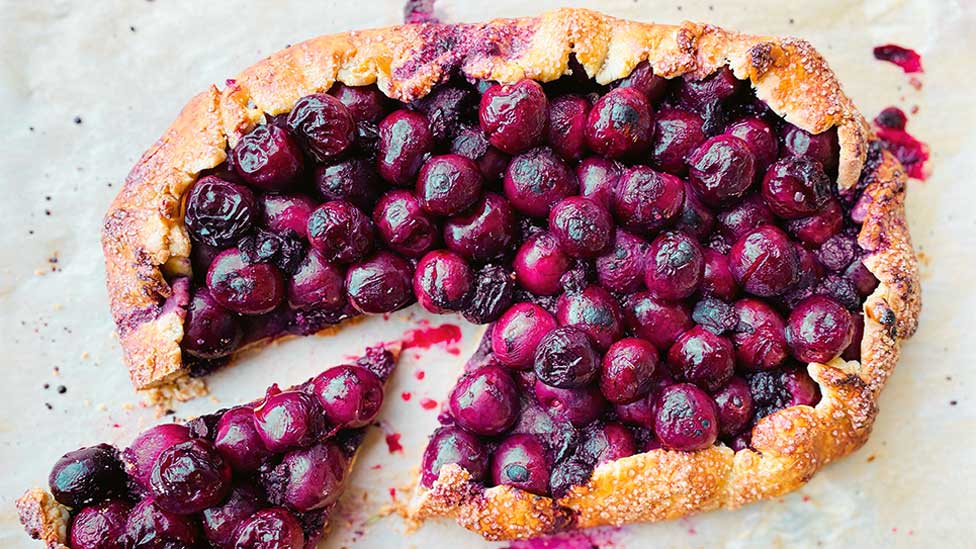 Note: + cooling & 2 hours resting time
Ingredients
1 1/3 cups (200g) plain flour
1/4 tsp baking powder
1 tsp ground ginger
Pinch of salt
100g chilled butter, chopped
125g cream cheese, chopped
1 egg, lightly whisked
1 tbs demerara sugar
Almond filling
50g almond meal
1 tbs plain flour
1/4 cup (50g) brown sugar
1 tbs orange zest
1 tsp cinnamon
Cherry filling
600g cherries
1 tbs (20g) brown sugar
1 tsp cornflour
Method
STEP 1
Place the flour, baking powder, ginger,  salt and butter in a food processor. Process for 30 secs or until the mixture resembles fine breadcrumbs. Add the cream cheese and process until the dough comes together. Transfer to a lightly floured surface and shape into a disc. Wrap the dough in plastic wrap and place in the fridge for 1-2 hours to rest. 
STEP 2
To make the almond filling, combine the almond meal, flour, sugar, orange zest and cinnamon in a small bowl. 
STEP 3
Preheat oven to 200˚C. Line a baking tray with baking paper. Remove dough from the fridge and place on a lightly floured work surface. Roll out to make a 5mm-thick disc. Carefully transfer the pastry to the lined tray and sprinkle with the almond mixture, leaving a 5cm border around the outside.
STEP 4
To make the cherry filling, combine the cherry, sugar and cornflour in a bowl. Arrange the cherry mixture over the almond mixture. Carefully draw the pastry border up and over the cherry filling, leaving the centre uncovered. Brush the pastry border with egg and sprinkle with demerara sugar. Bake for 45 mins or until the pastry is golden. 
STEP 5
Set the galette aside to cool slightly before serving.
Check ingredient labels to make sure they meet your specific dietary requirements and always consult a health professional before changing your diet. View dietary information here.