Courtney Roulston's golden tomato and pomegranate salad
Courtney Roulston brings us her delicious golden tomato and pomegranate salad. This summery side is the perfect addition to any meal.
Hi everyone, Courtney Roulston here to share a really quick, simple and delicious summer salad with you using these Perino tomatoes. Now Perino tomatoes are exclusive to Coles and they are my favourite summer tomatoes. They're great for snacking, they're great in salads and they're also great with cooking. There's also a win-win with using Perino tomatoes in your next recipe. From the 20th of January up until the 16th of February, five cents from every punnet of 200g Perino tomatoes is going to be donated to the Stephanie Alexander Kitchen Garden Foundation.
This is my golden Perino tomato and pomegranate salad. It's so so easy to make. We're going to do things a little bit back to front with this - I'm going to start by making the dressing. So my little dressing bowl here, I've got something nice and flat so our onion can sit in there and pickle. I'm going to start with some apple cider vinegar. Give us a nice acidity to the dressing. Pop in a pinch of sea salt. I've got some ground sumac here. So this is a berry, it's got a similar flavour to lemon and it goes really lovely with tomatoes.
To balance up the acidity of our apple cider vinegar, I'm going in with some maple syrup. Some good Australian extra virgin olive oil. Just to complete those Mediterranean flavours that we're going for, I'm putting in a few drops of garlic oil. A few grinds of black pepper and just give that a really quick mix. The next ingredient for our dressing is a beautiful red onion. I'm just going to really finely dice this up and pop it in with our dressing and we can set that aside and it's going to take that astringent raw flavour from the onion away and give us a beautiful kind of pickled flavour to go through the salad. Give the onion a good mix through.
Now, on to our tomatoes. So I'm using three punnets and you can cut these however you like, in half. I like to cut little wheels of tomatoes. So I've got a sharp little serrated knife here. Probably the hardest part of this recipe is getting the seeds out of a pomegranate. Now there's many ways to do this, I thought I would show you my way of doing it. So grab yourself a knife and just run it around, but don't cut all the way through. Open it up. If you cut all the way through, you're going to cut through lots of the cells of the pomegranate.
Get yourself a bowl with some water and then you can just open up the little petals and then, almost like picking kernels of corn off, you can just kind of flick them into the bowl of water and any bits that you don't want to eat will float up to the top. Pomegranate is all seeded. I'm going to put about three-quarters of them now in with the tomatoes, and we're going to leave some as a garnish. I've now got some fresh herbs to go in with our salad. I'm using fresh parsley. Just scatter our herbs in, and some dill. Pop that in with our tomatoes and pomegranate.
All we need to do now is to grab our dressing and I'm going to pop that in with the herbs, the tomatoes and those gorgeous pomegranate seeds. Make sure you get all of that pickled onion dressing. Scatter over a few more pomegranate jewels. And there we have it. It's got colour, it's got texture, it's got so much flavour, sweet and sour on all of those herbs. There we have it, using the gorgeous golden Perinos, that is my tomato and pomegranate salad.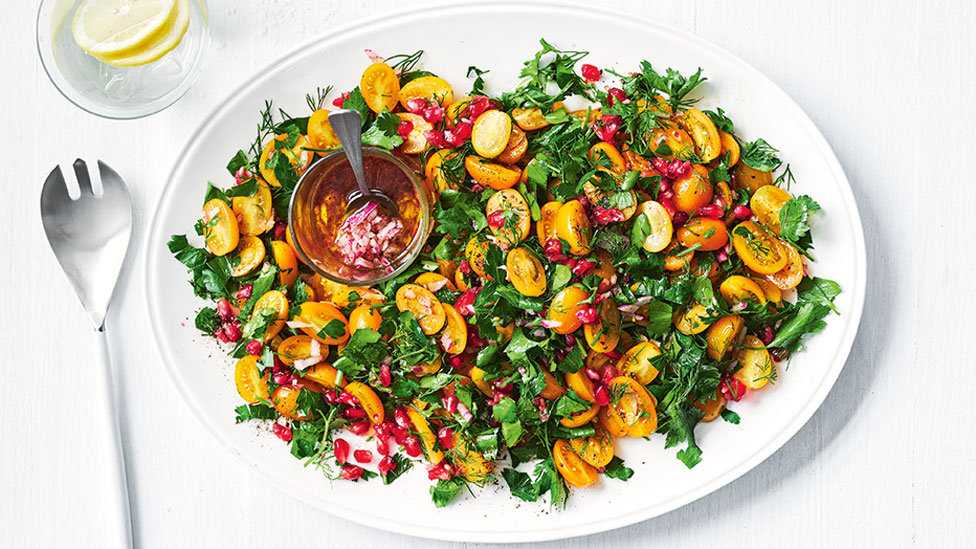 Note: + 10 mins soaking time
Ingredients
1 large red onion, finely chopped
600g gold Perino tomatoes, halved
3/4 cup pomegranate seeds
1 bunch flat-leaf parsley, chopped
1/2 bunch dill, chopped
Dressing
1/4 cup (60ml) apple cider vinegar
1/4 cup (60ml) extra virgin olive oil
2 tsp garlic-infused olive oil
2 tsp ground sumac (optional)
1 tbs maple syrup
Method
STEP 1
To make the dressing, place vinegar, extra virgin olive oil, garlic-infused oil, sumac, if using, and maple syrup in a large bowl. Whisk until well combined.
STEP 2
Add the onion to the dressing in the bowl and stir to combine. Set aside for 10 mins to soften slightly.
STEP 3
Aadd the tomato, pomegranate seeds, parsley and dill to the onion mixture in the bowl. Gently toss to coat. Transfer to a serving dish and season.
Add protein
Serve this salad with lean protein such as chargrilled beef fillet, lamb backstrap or chicken breast fillets.
Check ingredient labels to make sure they meet your specific dietary requirements and always consult a health professional before changing your diet. View dietary information here.