Courtney Roulston's korean cauliflower fried rice
Dive into a bowl of delicious comfort food with Courtney Roulston's Korean Cauliflower Fried Rice. It's loaded with cauliflower and is big on flavour.
Hi all, Courtney Roulston here to share another Aussie favourite, fried rice. But this just isn't any fried rice I'm giving mine a healthy twist up using some cauliflower rice. So this is my Korean cauliflower fried rice. So to find this full recipe and many more recipes from me and some of your favourite Aussie chefs, you can check out Coles and co.
I'm gonna start by doing some really quick pickles or quickles if you like to call them that. I've got some radishes and some baby cucumbers, and in my pot here I've got a mixture of apple cider vinegar, honey, some water and some salt and I'm just gonna pour that mixture over the vegetables and they can quickly pickle while I make the fried rice.
I'm gonna start by popping some extra virgin olive oil in a hot wok. I'm popping in a sliced red onion and a couple of cups of sliced mushrooms. Give this a little around to soften down the mushrooms. I'm now going to add in a really interesting ingredient, this is some gochujang paste, this is available in the international isle at coles and it's a Korean hot pepper paste.
I'm gonna pop a tablespoon in with the mushrooms and onion, give that a mix through. Now you can by cauliflower rice already made in at Coles, but if you want to make your own it's as simple as this. Old school box grater, some cauliflower and you just want to run that through the thickest side of the grater. I'm now adding in a cup of kimchi, plus the juice from a jar.
Now going with the cauliflower rice and just give that a real quick mix through, this doesn't take long to cook. I have some silverbeet leaves that I'm popping in, but you could use anything, kale, cabbage, carrots. I'm going to pop in a dash of sesame oil just for a little bit of smokiness. That's taken all of over 5 minutes so we  take the rice off the heat now. I'm gonna get another pan on the heat to fry up some crispy eggs because there's nothing better than a fried egg on top of some fried rice.
All we need to do now is to plate this up. Just going to finish with some toasted sesame seeds, some seaweed that I've just cut into little match sticks. There we have it guys, super quick too cook, packed with goodness and absolutely loaded with flavour. Best of all you can feed your family for under $5 per serve.
That is my Korean Cauliflower fried rice. For the full recipe and loads more what's for dinner recipes, check out coles.com.au For me, dinner is sorted.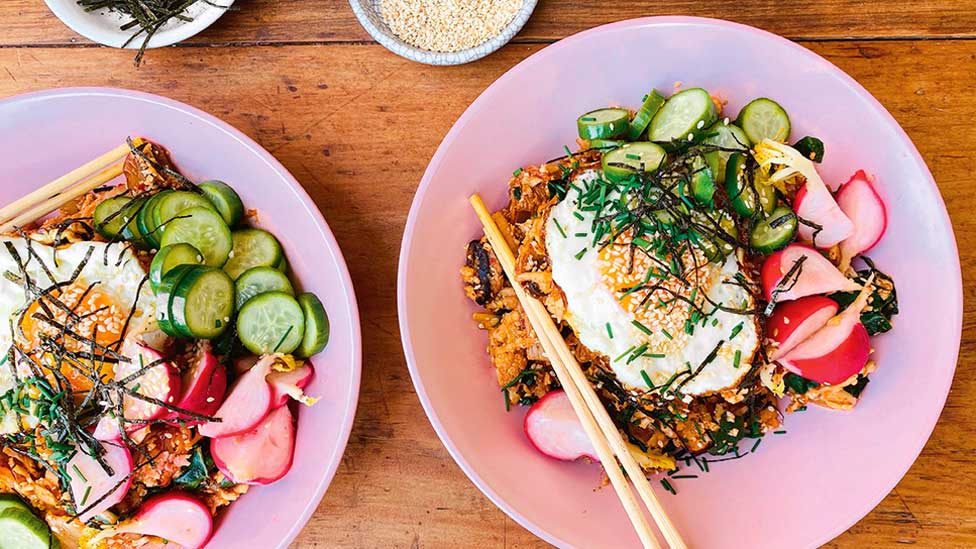 Ingredients
1 tbs olive oil
1/2 red onion, thinly sliced
2 cups mushrooms, sliced
1 tbs gochujang paste or chilli paste
1 cup kimchi
4 cups cauliflower rice
3 cups thinly sliced silverbeet
1 tsp sesame oil
4 Coles Australian Free Range Eggs
2 tsp sesame seeds, toasted
1 sheet nori, finely shredded
1 tbs thinly chopped chives (optional)
Quick pickles
4 red radishes, quartered
4 qukes (baby cucumbers), thinly sliced
1/3 cup (80ml) rice wine vinegar
1 tbs honey
1/2 tsp sea salt flakes
Method
STEP 1
To make the quick pickles, place the radish and cucumber in separate bowls. Combine the vinegar, honey, salt and 1/3 cup (80ml) water in a small saucepan over high heat. Bring to a simmer. Pour the vinegar mixture over the radish and cucumber and set aside to soak.
STEP 2
Meanwhile, heat the olive oil in a wok or large frying pan over high heat. Add the onion and mushroom and cook, stirring, for 2 mins or until tender. Add the gochujang paste or chilli paste, kimchi and cauliflower rice and toss for 2 mins or until heated through. Add the silverbeet and sesame oil and toss to combine.
STEP 3
While the fried rice is cooking, cook the eggs in a separate frying pan for 3 mins or until crispy.
STEP 4
Drain the pickling liquid from the quick pickles. Divide the fried rice mixture among serving bowls. Top with the egg, quick pickles, sesame seeds, nori strips and chives, if using.
Tip: You can buy cauliflower rice from the fresh and frozen sections at Coles. To make your own, coarsely grate whole cauliflower using a box grater, or process cauliflower florets in a food processor until finely chopped.

Check ingredient labels to make sure they meet your specific dietary requirements and always consult a health professional before changing your diet. View dietary information here.