Courtney Roulston's miso eggplant with sesame ginger soba noodles
Try Courtney Roulston's miso glazed eggplant for a tasty meat-free meal. It's drizzled with an irresistible sesame and ginger dressing.
Hi everyone, Courtney Roulston back to share another aussie favourite recipe with you. Miso eggplant that I'm pairing with a delicious sesame and ginger dressed soba noodle salad. As the weather starts to warm up across Australia, we are all wanting to get together and share delicious food with friends and family. Coles is the home of all your entertaining needs this season and we want to help you make the best dish for any event and I reckon you gonna love this one.
Alright let's kick off with our miso eggplant, I'm going to slice the eggplant across patten in the flesh then all you need to do is give it a little drizzle with extra virgin olive oil. Season with a little bit of sea salt and pop the eggplant flesh side down into a hot pan just to get a bit of color on the outside. Now that the eggplants have some colour on them they're gonna go into a really hot oven for about 15 minutes.
For the miso glaze, I've got some miso paste in a bowl, I'm gonna add in some mirin, a dash of sesame oil and a touch of maple syrup. Give that a whisk until it's beautiful smooth. That's the miso glaze done so once the eggplants had its 15 minutes in the oven, I'm gonna drizzle this over the top put it back in the oven for about 5 minutes.
The next step, a little bit of multi tasking here, I've got some boling water 180 grams of soba noodles and they're just going to go into the boiling water, 3 or 4 minutes, while there cooking we're gonna make that beautiful sesame and ginger dressing for the noodles. Tahini paste I'm going to add in some apple cider vinegar, maple syrup, some sesame oil and some raw grated ginger, give that a whisk and that is a beautiful earthy, tangy, acidic dressing for our noodles.
Soba noodles have been washed and drained it into a bowl, I'm going to add in a couple of zucchini's that I've just sliced into noodles and I've got some beautiful disks of radish as well. I can now dress our salad with out sesame and ginger dressing. I've got some sunflower seeds for a bit of crunch, some fresh chives that have just snipped up.
The eggplant has come out of the oven looking and smelling spectacular, that is my miso glazed eggplant with sesame and ginger dressed soba noodles. This simple great value meal will impress any guest, best of all it comes in at under $5 per serve. For this and loads more food and entertainment inspiration head over to Coles.com.au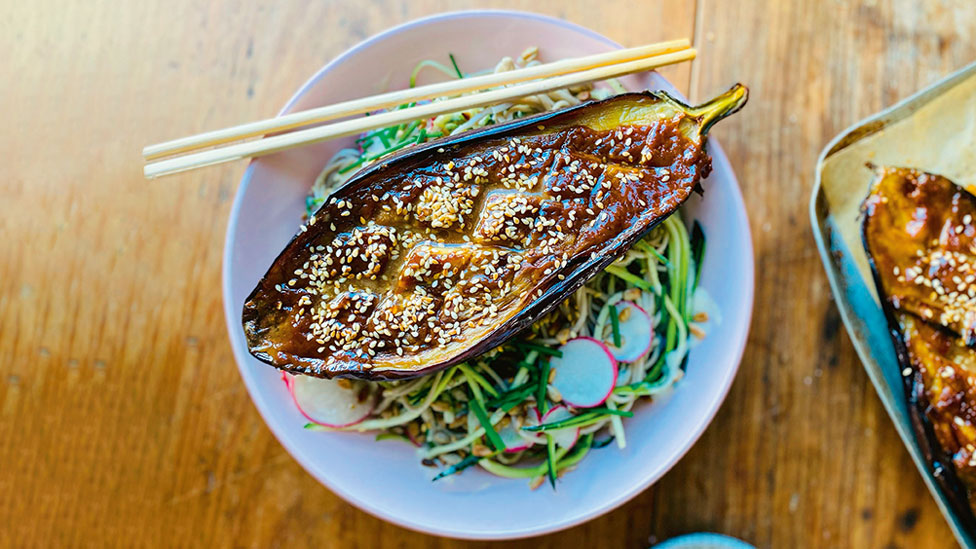 Ingredients
2 large eggplants, halved lengthways
2 tbs extra virgin olive oil
180g soba noodles
2 large zucchini, cut into long matchsticks
4 radishes, thinly sliced
2 tbs sunflower seeds, toasted
1/4 bunch chives, finely chopped
1 tbs sesame seeds, toasted
Miso glaze
2 tbs miso paste
1/3 cup (80ml) mirin seasoning
1 tsp sesame oil
1 tbs maple syrup
Sesame dressing
1 tbs tahini
2 tbs apple cider vinegar
2 tsp maple syrup
1 tsp sesame oil
1 tsp finely grated ginger
Method
STEP 1
Preheat oven to 200˚C. Line a baking tray with baking paper. Use a small sharp knife to score the cut-side of each eggplant half in a diamond pattern (don't cut all the way through). 2. Drizzle with oil and season with salt. 
STEP 2
Heat a large non-stick frying pan over high heat. Cook the eggplant, cut-side down, for 2-3 mins or until golden. 
STEP 3
Place the eggplant, cut-side up, on the lined tray. Roast for 15 mins or until tender.
STEP 4
Meanwhile, to make the miso glaze, whisk the miso, mirin, sesame oil and maple syrup in a bowl until smooth. 
STEP 5
Remove eggplant from the oven and drizzle with the miso glaze. Roast for a further 5 mins or until the glaze is golden and bubbling. 
STEP 6
While the eggplant is cooking, cook the noodles in a large saucepan of boiling water for 3-4 mins or until tender. Refresh under cold water. Drain well. 
STEP 7
To make the sesame dressing, place the tahini, vinegar, maple syrup, oil and ginger in a small bowl. Whisk until smooth. 
STEP 8
Transfer the noodles to a large bowl with the zucchini and radish. Drizzle the sesame dressing over the noodle mixture. Sprinkle with sunflower seeds and chives. 
STEP 9
Sprinkle eggplant with sesame seeds and serve with the noodle mixture.
Check ingredient labels to make sure they meet your specific dietary requirements and always consult a health professional before changing your diet. View dietary information here.