Courtney Roulston's Perino tomato free-form tart
This vibrant tomato tart is full of flavour from Perino tomatoes, ricotta and the secret ingredient - Vegemite! A perfect table centrepiece, this dish will impress everyone.
Hi everyone, Courtney Roulston here. Now I'm going to show you now how to make a really really lovely free-form tomato tart. I'm talking golden, buttery, flaky, pastry with sweet jammy, burst tomatoes. Now I'm going to be using Perino tomatoes in my tart for two reasons. One, well they're the best tasting tomato you can buy. And two, from the 20th of January through to the 16th of February, five cents from every 200 gram punnet sold at Coles is going to be donated to the Stephanie Alexander Kitchen Garden Foundation. And that's right up to $100,000. These are much needed funds to support the foundation. Along with Coles, I am a massive supporter of the Stephanie Alexander Kitchen Garden Foundation. It's all about getting kids in the garden and learning how to grow, harvest, cook and share delicious seasonal produce as part of school learning. Now with the tart, we're going to start off by making the pastry. We're going to start with 200 grams of plain flour going into the food processor. Along with that, I'm going to add in some baking powder, a little pinch of sea salt. Because tomatoes love a bit of cheese, I'm adding in about 25 grams of parmesan cheese that I'm just going to freshly grate in with the flour. Now that the cheese is in, I've got 100 grams of cold butter. This has just been cubed up, pop that in. Pop the lid on the food processor, and you just want to pulse this until it looks like sand. Now that the butter is worked through the flour, I'm going in with 125 grams of cold cream cheese. This is going to help bring our dough together and add a lovely texture into the pastry. Pop the lid back on and I'm going to blitz this until it forms a ball of dough. How easy is that? All you need to do now is to tip this out onto a clean board. Bring the pastry together. You'll get a really lovely smooth disc of pastry. All you need to do is just to wrap up that disc of pastry, pop it in the fridge and let it rest for two hours. While the pastry is resting, I've got a large red onion here that I've just sliced up a couple of tablespoons of extra virgin olive oil in a hot pan. We're just going to cook this down for a couple of minutes until it  becomes beautiful and soft. This is going to go on the base of our tart. Season with a bit of sea salt. Just give them a couple of minutes. That is what you're looking for. And now that the onions are cooled and my pastry is rested, we can roll this out and start filling up our tart. And I'm just going to roll this pastry out to make any shape tart you like. I'm going to make a nice, big round tart. Around half a centimetre thick or five millimetres. Alright, now that the pastry is rolled out, it's in a rough circle. And I guess as the name suggests, free-form is exactly that, it doesn't need to be perfect. So I'm going to really quickly and carefully transfer the pastry onto a lined tray. Now the first thing going on the bottom of the tart, now this might surprise you, but I'm actually putting on some Vegemite. Now the Vegemite adds a really lovely savoury umami flavour. The sweet perino tomatoes are going to go great with the salty Vegemite, so a little smearing on the bottom of the tart is just a little surprise for people when they bite into this. Of course if you really don't like Vegemite, you could use some Dijon mustard instead. Leave yourself a five centimetre border around the outside because we're going to fold all this up once everything's in. Now to prevent the bottom of the pastry getting soggy. I've got here a third of a cup of semolina. This is a fine semolina and I'm just going to scatter this all onto the base of the tart. So when our tomatoes bake and become beautiful, and bursty, any juices are going to be collected by this semolina and not making a pastry or soggy on the bottom. Your gorgeous, softened onions, try and get everything in a nice even layer leaving that border all around the outside. Next piece of the puzzle is some fresh ricotta cheese from the deli and just break this over, this is gonna make a nice bed for a gorgeous Perino tomatoes to sit in. And now for the star of the show, our gorgeous Perino tomato. So I'm using two punnets, 400 grams, and all you need to do now is to arrange these over the top of the ricotta. I'm not going to slice them, these are going to go beautiful and bursty as this tart bakes. Little bit like doing a jigsaw. Final little tomato is going in. Okay, all you need to do now is to fold up the edges, so I like to just grab, fold up over the outside and just give it a little crimp. I'll crimp, fold, crimp, all the way around the outside. Tomatoes love a bit of extra virgin olive oil. This is going to help keep them nice and moist as it cooks. So just scatter a little bit over. Tomatoe's other favourite ingredient is salt, so a little seasoning of sea salt just on the top of the tomatoes and you could use any herb that you like. I've got some gorgeous thyme here and I'm just going to break some thyme over the top. To help make your pastry really golden, I've got some egg wash here and I'm just going to brush this around the outside. My oven is set at 200 degrees, this is going to take around 45 minutes or until the pastry is beautiful and golden and those Perino tomatoes are nice and bursty. Our free-form tart has come out of the oven and I wish you guys could smell this. That little bit of parmesan in the crust, that little layer of hidden secret Vegemite in there. It smells savoury, I can smell sweet tomatoes and it's just the perfect little combination. So there we have it, that is my free-form tomato tart. Make sure you get into Coles supermarkets and put a punnet or two of these gorgeous Perinos in your basket. Remember five cents from every 200 gram punnet sold is going to the Stephanie Alexander Kitchen Garden Foundation to keep kids cooking and eating well. I can't encourage you enough.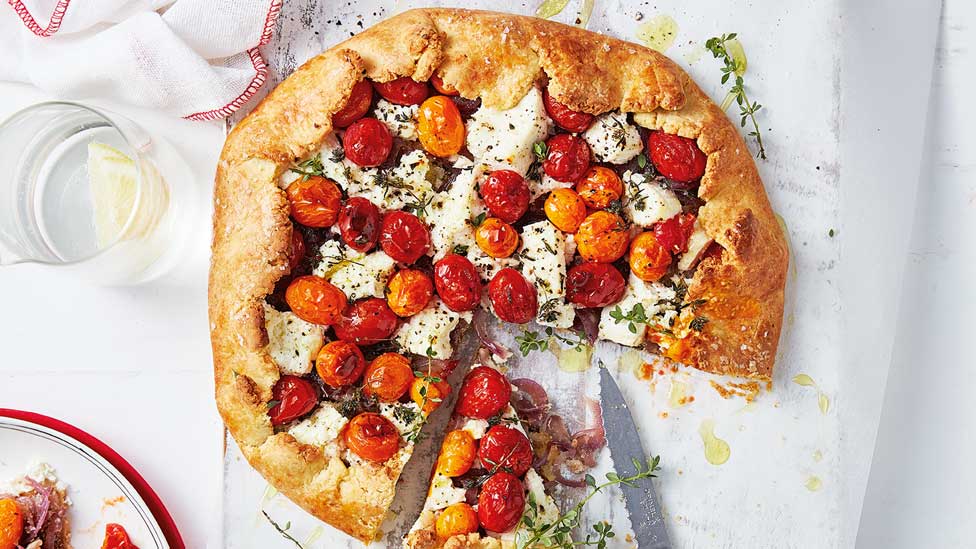 Note: + 2 hours chilling time
Ingredients
2 tbs extra virgin olive oil
1 large red onion, thinly sliced
1 tbs Vegemite
1/3 cup (55g) semolina
300g ricotta, coarsely crumbled
2 x 200g red Perino tomatoes
1 egg, lightly whisked
5 thyme sprigs
Pastry
1 1/3 cups (200g) plain flour
1/4 tsp baking powder
100g chilled butter, chopped
25g finely grated parmesan
125g cream cheese, chilled, chopped
Method
STEP 1
To make the pastry, process the flour, baking powder, butter and a pinch of salt in a food processor for 30 secs or until the mixture resembles breadcrumbs. Add the parmesan and cream cheese. Pulse until the mixture comes together into a ball, adding a dash of water if the mixture looks dry. Turn onto a lightly floured work surface and press into a disc. Wrap the dough in plastic wrap and place in the fridge for 2 hours to rest.
STEP 2
Preheat oven to 200°C (180°C fan-forced). Line a large baking tray with baking paper. Remove the dough from the fridge. Heat half the oil in a large frying pan over medium-high heat. Add the onion and a pinch of sea salt. Cook, stirring occasionally, for 3-4 mins or until the onion softens. 
STEP 3
Roll out the dough on a lightly floured surface until 5-6mm thick. Carefully transfer the pastry to the lined tray. 
STEP 4
Spread the Vegemite over the base of the pastry, leaving a 5cm border around the edge. Sprinkle the semolina over the Vegemite. Top with the ricotta and onion. Arrange the tomatoes on top of the onion and fold over the pastry, pleating as you go. Brush the pastry with a little egg. Season the tart with salt and freshly ground pepper. Drizzle the remaining oil over the tomatoes and sprinkle with the thyme. Bake for 45 mins or until the tomatoes are wrinkled, the pastry is golden and the base is cooked through. Allow to cool before cutting into slices. 
Check ingredient labels to make sure they meet your specific dietary requirements and always consult a health professional before changing your diet. View dietary information here.