Courtney Roulston's satay chicken noodle salad
Looking for a refreshing dinner? Whip up this Asian-style salad packed with chicken, satay sauce and noodles.
Hey everyone, I'm Courtney Roulston and we hope we have inspired your meal creations this week and you've had fun joining in the Coles and Heart Foundation Cook with Heart challenge. For the final recipe tonight I'm cooking a fast and fresh satay chicken noodle salad. This recipe is full of punchy flavours, crispy textures and most importantly, it's good for your heart, so let's get on with the cooking.
The first thing we'll need to do is to prepare our noodles and I'm just going to pop these into some boiling water and I'm going to let them simmer away for around five or six minutes until they become nice and tender. So I've got some skinless chicken breast here and this is going into a non-stick pan so you don't need too much oil and that's going to take about two or three minutes each side, just to cook through. Alright, chicken is cooked, you can take that out and just let it rest. Noodles are cooked and I've just drained them and run some cold water over them to keep them nice and separate. 
The key to maintaining a healthy heart is lots of vegetables, so we can start with some spring onions, I've got a nice handful of snow peas, so we're leaving all these vegetables raw to get a really nice texture. We've got some beautiful fresh radishes, I've got some boy choy just to slice up as well and lastly I've got a carrot. Look at that, so many fresh colours, colours of the rainbow.
Alright, for our satay dressing, I've got two tablespoons of crunchy peanut butter. Now this is one with no salt and no sugar, you've got to watch out for those when you're trying to keep a healthy heart. And into the peanut butter I've got two tablespoons of low salt soy sauce. To add a bit of zing and zip into the dressing I've got a fresh lime. About a tablespoon or two of your favourite hot sauce or chilli jam. Just mix that up until it's nice and smooth, give it a little taste, mmm, it's good.
Alright, all we got to do now is plate this up, it's as simple as that. I've got a little bit of coriander on top, finishing touches, just some beautiful peanuts to add some beautiful crunch and texture. Look at that big gorgeous platter, it's healthy for you heart, it ticks so many boxes, there's so many good reasons to get involved in the cook with heart challenge. So if you haven't joined, or you're wanting more details about the challenge or more delicious recipes check out cookwithheart.com.au.
Happy cooking, I know it's happy eating for me tonight. Dinners ready!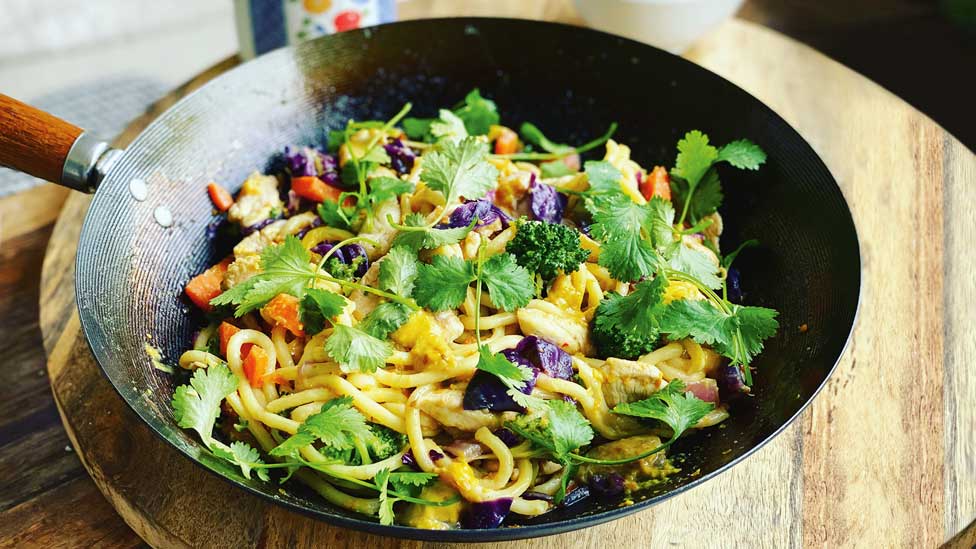 Ingredients
200g dried flat rice noodles
2 chicken breast fillets (about 375g)
3 spring onions, thinly sliced
1 large carrot, peeled, grated
150g snow peas, trimmed, thinly sliced
1/2 bunch baby bok choy, finely shredded
4 radishes, thinly sliced
1 cup coriander leaves
1/3 cup (45g) unsalted roasted peanuts, finely chopped
Dressing
2 tbs no-added-salt, no-added-sugar crunchy peanut butter
2 tbs salt-reduced soy sauce
2 tbs lime juice
1 tbs Thai chilli jam or chilli sauce
Method
STEP 1
Cook the noodles following packet directions. Drain, rinse under cold water, then drain again.
STEP 2
Meanwhile, heat a non-stick frying pan over high heat. Cook the chicken for 2-3 mins each side or until cooked through. Transfer to a plate and set aside to cool slightly. Use 2 forks to shred the chicken.
STEP 3
To make the dressing, combine the peanut butter, soy sauce, lime juice and chilli jam or chilli sauce in a jug. Whisk until well combined.  
STEP 4
Arrange the noodles, chicken, spring onion, carrot, snow peas, bok choy and radish on a serving platter. Drizzle salad with the dressing. Sprinkle with coriander leaves and peanut to serve.
Check ingredient labels to make sure they meet your specific dietary requirements and always consult a health professional before changing your diet. View dietary information here.