Courtney Roulston's slow pork and lemongrass curry
Beat the winter chill with a bowl of warming comfort food. This slow cooked pork curry is wholesome and full of flavour, making it the perfect family dinner.
Hi guys, Courtney Roulston here, I hope you're well. Tonight I'm sharing with you my slow cooked pork and lemongrass curry. 
It's going to fill your home with the most amazing aromas and under $5 per serve it's a great value flavour packed recipe for you guys to whip up at home. Here's how we do it. 
The first thing we need to do is just to blitz up our aromatics for the curry paste. First thing is lemongrass and I'm just going to give the lemongrass a head start because it can be a little bit fibrous if it's not broken down. Alright, next into the blender is just the remaining aromatics for our spice base. Give that a little pinch of salt, we're just going to belnd that until we have a beautiful smooth paste. We now need to fry off this paste, so this is going into the pan with oil. Alright, you just want to cook out the paste for about 2 or 3 minutes. Next ingredients, curry powder. I've got 800 grams of pork shoulder here so this is a recipe for four and I just cut it up into kind of 2 centimetre chunks. 
Alright some seasonings now, I've got some fish sauce going in. To offset that saltiness I've got just a tablesoon of honey. And to slow cook the pork we need to get some moisture into the pan, so I'm just going to put enough water to cover the pork. Pop a lid on, I don't have a lid but I have a bowl which would do the same job. 
OK, so the curry has had an hour, so let's have a little peep in here. Amazing look at that. So the potatoes are going to go in now. These are going to be around 25-30 minutes and then I'm going to pop in the beans. 
Alright, the perfect thing to go with his curry is some beautiful steamed rice. Bring it up to the boil as soon as the water is evaporated, pop a lid on and let it steam for around 15 minutes. 
Alright, we are getting close to the finishing line. I've got some coconut cream. I like it spicy this is optional but I'm putting on some extra green chilies over the top. A little squeeze of lime is going to add a beautiful bit of acidity and brightness to curry and you can top this with whatever herb you like, I love some coriander so I'm going on with some coriander sprigs. 
There we have it guys you wouldn't find a simpler curry to make. Humble ingredients, great value for money that is how you make my slow cooked pork and lemongrass curry. 
For loads more What's for Dinner recipes, head on over to coles.com.au. I tell you what this might not be a curry in a hurry but some things are worth the wait. Yeah. That's a cracking curry.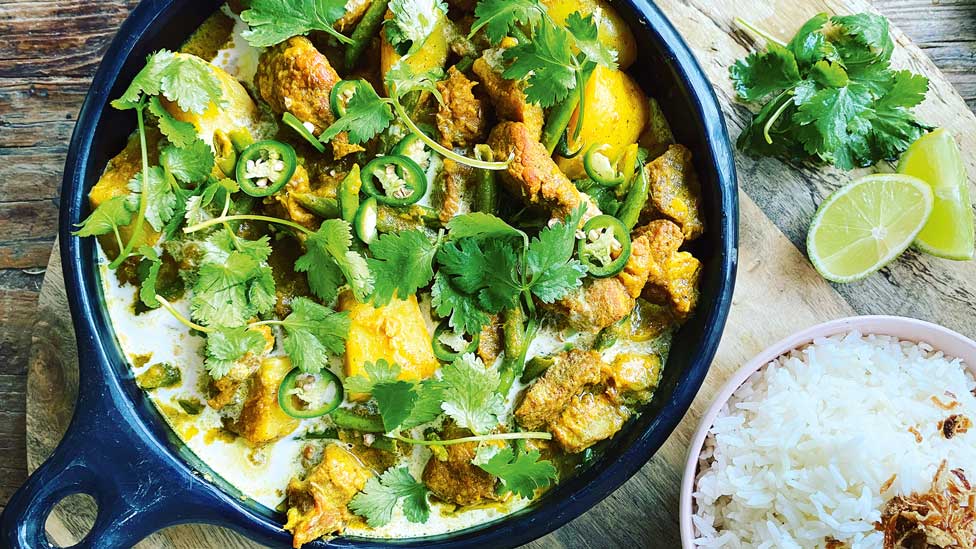 Ingredients
1 large lemongrass stem, trimmed, sliced
1 brown onion, coarsely chopped
1 tbs sliced peeled fresh ginger
4 garlic cloves
2 long green chillies, thinly sliced (optional)
2 tbs olive oil
2 tbs curry powder
800g pork shoulder, cut into 2cm pieces
1 tbs fish sauce
1 tbs honey
4 medium potatoes, washed, quartered
2 cups (400g) long-grain white rice
2 cups (500ml) boiling water
1 cup (110g) green beans, trimmed, halved
200ml coconut cream
1/4 bunch coriander, to serve
Lime wedges, to serve
Method
STEP 1 
Place the lemongrass in a food processor and process until finely chopped. Add the onion, ginger, garlic, half the chilli, if using, and a pinch of salt. Process until smooth.
STEP 2 
Heat the oil in a large frying pan or saucepan over medium heat. Add the lemongrass mixture and cook, stirring, for 2-3 mins or until aromatic. Add the curry powder and cook for 1 min. Add the pork, fish sauce, honey and 1 1/2 cups (375ml) water or enough water to just cover the pork. Stir to combine. Cover and cook for 1 hour or until the pork is tender. Add the potato and cook for a further 25-30 mins or until the potato is just tender. 
STEP 3 
Meanwhile, combine the rice and boiling water in a large saucepan. Bring to the boil over high heat. Cook until the liquid is absorbed. Reduce heat to low. Cover and allow to steam for 15 mins or until the rice is tender. 
STEP 4 
Add the beans and coconut cream to the pork mixture and stir to combine. Cook for 2 mins or until the beans are just tender. Sprinkle with coriander and the remaining chilli, if using. Serve curry with the rice and lime wedges.
Check ingredient labels to make sure they meet your specific dietary requirements and always consult a health professional before changing your diet. View dietary information here.