Courtney Roulston's strawberry and pistachio yoghurt cheesecake
Loaded with fruity flavour and crunchy pistachios, this yoghurt cheesecake is the crowd-pleasing dessert you've been looking for.
Hi all, Courtney Roulston here, It is do great to be back to share another What's for dinner recipe with you. I've got a sweet treat that is super easy to make. My strawberry and pistachio yogurt cheesecake, featuring Tamar Valley vanilla bean yogurt. This is a delicious creamy Greek style yogurt that's produced down in Tasmania and it makes a lovely light alternative to a traditional cheesecake.
We're gonna kick off the recipe with a biscuit base, so I've got 250 grams of digestive biscuits that I've just blitzed up in a food processor. I'm gonna add a teaspoon on cinnamon and I've got 6o grams of melted butter and mix it really well until it looks like wet sand. Now grab yourself a spring form tin and I've just lined the base with some baking paper. Tip in our buscuity, buttery crumb mixture and using the back of the spoon you just want to press the biscuit base down. I'm gonna pop this into the fridge for around 20-30 minutes just to let is set.
Now onto the cheesecake filling. So our Tamar Valley vanilla bean yogurt, you're gonna need 500 grams of this and I'm gonna pop this into a mixing bowl. Beautiful flecks of vanilla bean throughout the yogurt. Pour in 600 mls of cream. You just wanna whisk this until it's nice and smooth. Grate in some lemon zest, give that a mix and we can set that mixture aside.
Now this being a yogurt cheesecake, we need to set it in the fridge, so I'm using gelatine leaves for this. To flavour the cheesecake, I'm gonna use the Lemon juice in a little syrup, so you want about half a cup of lemon juice. Just half a cup of castor sugar can go in and just cook it until that sugar's dissolved. We can go in with out gelatine leaves.
Now grab your yogurt and cream mixture and pour in the lemon, sugar and gelatine mixture and give that a really good mix. Now grab your biscuit base out of the fridge and simply pour in our yogurt filling. All we need to do now is to pop this yogurt cheesecake into the fridge overnight to set. Now from here, you can top the cheesecake with anything you like.
So I've got some delicious fresh strawberries, drizzle with a little honey an then a little shower of some crushed up pistachio nuts. There we have it guys, that is my strawberry and pistachio yogurt cheesecake, featuring Tamar Valley vanilla bean yogurt.
For loads more recipe inspiration or what's for dinner ideas, head on over to coles & co.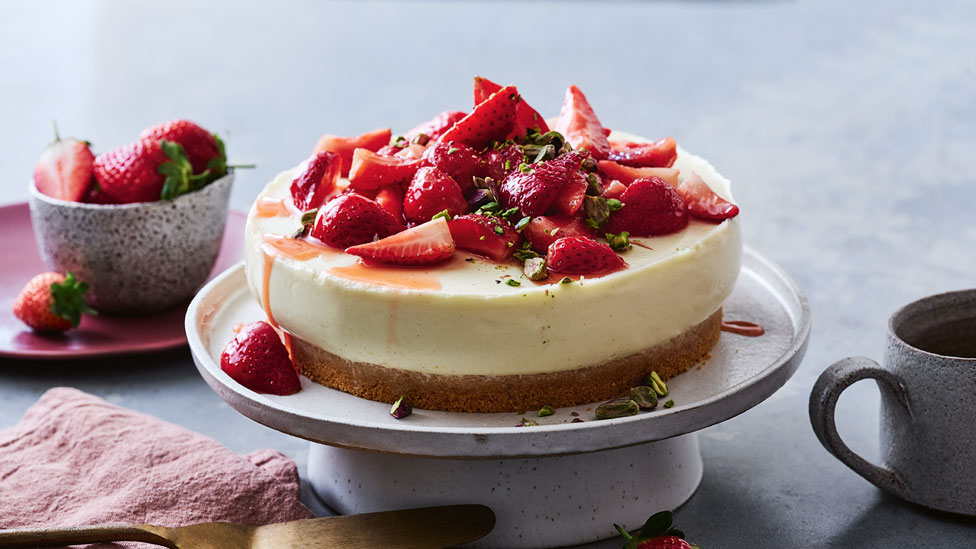 Note: + 5 mins standing & overnight setting time
Ingredients
250g digestive biscuits, broken
60g butter, melted
1/2 tsp ground cinnamon
4 gelatine leaves
2 lemons, rind finely grated, juiced
1/2 cup (110g) caster sugar
600ml thickened cream, at room temperature
500g Tamar Valley Vanilla Bean Greek Style Yoghurt, at room temperature
1 tbs pistachios, crushed
Strawberry topping
350g strawberries, quartered
2 tbs honey
Method
STEP 1
Grease the base and side of a 20cm round springform pan and line with baking paper. Place the biscuit in a food processor and process until finely crushed. Add butter and cinnamon and process until well combined. Press the mixture over the base of the prepared pan. Place in the fridge for 30 mins to chill.
STEP 2
Place the gelatine leaves in a small bowl. Pour over enough cold water to cover. Set aside for 5 mins to soften. Drain and squeeze out excess water.
STEP 3
Place the lemon juice and sugar in a small saucepan over medium heat. Stir until the sugar dissolves. Remove from heat. Add the gelatine leaves and stir until gelatine dissolves and mixture is smooth.
STEP 4
Use an electric mixer to whisk the cream and yoghurt in a large bowl until smooth. Stir in the lemon rind and gelatin mixture until well combined. Pour over the biscuit base in the pan. Place in the fridge overnight to set.
STEP 5
To make the strawberry topping, place the strawberry and honey in a small saucepan over medium heat. Cook, stirring, for 3-4 mins or until strawberry softens. Set aside to cool completely.
STEP 6
Use a slotted spoon to spoon the strawberry over the cheesecake. Drizzle with a little of the pan juices. Sprinkle with pistachio to serve.
Check ingredient labels to make sure they meet your specific dietary requirements and always consult a health professional before changing your diet. View dietary information here.