Courtney Roulston's strawberry galette with cream cheese pastry
For a crowd-pleasing dessert, try this strawberry galette with cream cheese pastry. It looks so impressive but is simple to make.
Hey Everyone, I'm Courtney Roulston and I'm super excited to be sharing with you one of my favourite sweet treats, a strawberry galette, bursting with rustic charm and sweet jammy strawberries. 
And this pastry is a dead-set winner. You can use it for sweet or for savory. And we're going to start with  185g of plain flour into the food processor. I've got 120g of butter. I'm also going in with a pinch of sea salt with about half a teaspoon of baking powder. 

And we're just going to give this a blitz until it resembles bread crumbs. I've got 90g of cream cheese. And we're going to blitz again. So I'm going in with a tablespoon of cream 

And we're just going to bltiz this one last time until it forms a nice ball in our mixing bowl. Just tip this out, wrap it up nice and tight so no air can get in there. 

Ok pastry has had two hours in the fridge oyu can see it's gone nice and firm so we can roll this out now. And... I don't have a rolling pin let me go and find one. No rolling pin no worries, I found something that will do the job. Alright we just need to get this pastry on to a tray.

So in here I've got a mixture of 50g of almond meal, a teaspoon of cinnamon, 50g of caster sugar and a tablespoon of plain flour. And this is going to help keep a nice golden bottom on our pastry.

I've got 500g of strawberries here and we just need to chop them. I've also got here a mixture of caster sugar and there's a little bit of corn flour in here and this is going to help make a really nice thick sauce with the strawberries. And about a tablespoon of orange zest. 

These are ready to go into our tart. All we need to do is fold up the outside edge that we left here. I just want to brush some egg around the outside. 

(Laughter) That's your last one!

Final steps, I've got some demerara sugar that we're just going to sprinkle on to the outside. Alright. She's ready for the oven. I've got my oven set at 200 degrees. This is going to take around 40 minutes. 

Have a look at it. So let's slide it off. Lets cut a nice generous wedge out. I'm going on with a nice generous dollop of vanilla bean yoghurt. 

Time to dig in! Still hot and that's how you make my delicious strawberry galette. There's never been a better time to cook food that makes you happy than right now

And this this strawberry galette is one big slice of joy!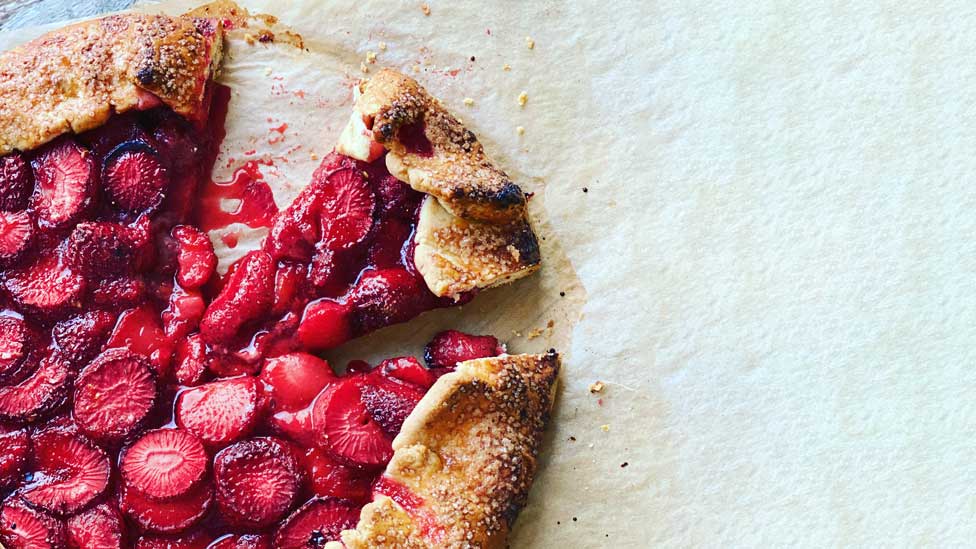 Note: + cooling and 2 hours resting time
Ingredients
Cream cheese pastry
185g plain flour, plus extra for dusting
1/4 tsp baking powder
120g butter, chilled, cut into cubes
90g cream cheese, chilled, cut into cubes
1 tbs cream, chilled
1 egg, lightly whisked
1 tbs demerara sugar
Yoghurt, double cream or vanilla ice cream, to serve
Almond base filling
50g almond meal
50g caster sugar
1 tbs plain flour
1 tsp cinnamon
Strawberry filling
500g strawberries, hulled and sliced
80g caster sugar
1 tbs orange zest
1 tbs corn flour
Method
STEP 1 
Place the flour, baking powder, butter and salt in a food processor. Blitz for 30 secs or until the mixture resembles fine breadcrumbs. Add the cream cheese and pulse again to form crumbs. Add the cream and pulse until the dough comes together. Transfer to a lightly floured work surface and shape into a disc. Wrap the dough in plastic wrap and place in the fridge for 2 hours to rest.
STEP 2 
To make the almond filling, combine the almond meal, sugar, flour and cinnamon in a small bowl. 
STEP 3 
Preheat oven to 200˚C. Line a baking tray with baking paper. Remove dough from the fridge and place on a lightly floured work surface. Roll out to make a 40cm disc, about 3-4mm thick. Carefully transfer the pastry to the lined tray and sprinkle with the almond mixture, leaving a 5cm border around the outside. 
STEP 4 
To make the strawberry filling, combine the strawberry, sugar, orange zest and cornflour in a bowl. Arrange the strawberry mixture over the almond mixture. Carefully draw the pastry border up and over the strawberry filling, leaving the centre uncovered. Brush the pastry border with egg and sprinkle with sugar. Bake for 40 mins or until the pastry is golden. 
STEP 5 
Set the galette aside to cool slightly before serving with yoghurt, cream or ice cream.
Check ingredient labels to make sure they meet your specific dietary requirements and always consult a health professional before changing your diet. View dietary information here.