Courtney's cinnamon apple chips
Have a go at baking your own cinnamon apple chips. They're easy to do and a great snack for when you're on the go.
Hi everyone, Courtney Roulston here. Now if you thought you needed loads of fancy equipment to create delicious crispy apple chips at home, I'm going to show you now just how easy it is using a regular oven. Now I'm using these gorgeous Smitten apples in my recipe today. They have a beautiful, sweet and slight acidic taste to them.
They have a gorgeous crunch, so they're the perfect apple for a tasty crispy apple chip at home. The bonus to using Smitten apples right now is from the 17th of March through to the 13th of April, 30 cents from every kilo of Smitten apples sold at Coles will be donated to the Stephanie Alexander Kitchen Garden Foundation, and that is up to a whopping $75,000. Now to start this recipe, I'm going to use three Smitten apples.
That's enough to cover two large trays - I'm going to set these ones aside. And you'll need two large oven trays that are just covered with some paper because we need to give the apples a bit of room on the tray while they dehydrate in the in the oven. Now there's two options for cutting the apple chips. You can use a mandolin if you have one and you want really precise slices of apple, or you can just use a steady hand and a sharp knife.
So I like to just leave the Smitten apples whole. I've washed these and dried them off. And then all you need to do is just really hold the apples, slice off the bottom, and then you want about one to two millimetre thick slices. And just a really steady hand. That's what you're looking for. All you need to do is to spread them onto these two large trays.
Make sure they don't overlap because these are going to become nice and sticky as they cook in the oven. And I'm just going to lightly dust all of the apples with some cinnamon. Two ingredients. Smitten apples and some cinnamon. This creates the most gorgeous combination. Okay, these are ready to go into the oven. So I've got the oven set quite low at 90 degrees. So we're basically using the oven as a dehydrator to get these apples niice and fragrant and crispy. I can tell you what, they take a long time. Three to three and a half hours, but your home will be filled with the most gorgeous scent of sweet apples and cinnamon while they cook. So a little bit of patience.
These are going into my oven and we'll come back in around three and a half hours with the most delicious crispy apple chips. And just like magic our apple chips are ready. As you can see they've gone beautiful and wrinkly and crispy and the house smells out of this world. It is as simple as that. I would love for you to get into Coles and to pick up some Smitten apples and help support the Stephanie Alexander Kitchen Garden Foundation.
Maybe give this recipe a go, or the apples are just delicious eaten as they are. These cinnamon apple chips will keep in an airtight container at home and they're the perfect little snack if you're wanting kids to eat a little bit healthier, or even the big kids for something for that three o'clock slump.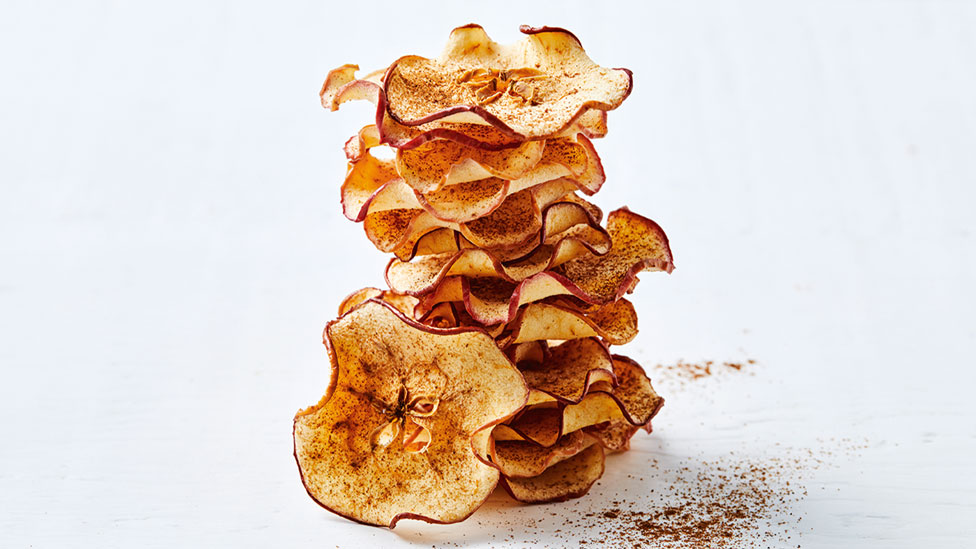 Ingredients
3 Smitten apples, thinly sliced
1/2 tsp ground cinnamon
Method
STEP 1
Preheat oven to 100°C. Line 2 baking trays with baking paper. Arrange the apple in a single layer over the prepared trays. Sprinkle with cinnamon. Bake for 3-3 1/2 hours or until crisp. Cool on the trays. 
STEP 2
Store in an airtight container at room temperature for up to 1 week.
Check ingredient labels to make sure they meet your specific dietary requirements and always consult a health professional before changing your diet. View dietary information here.