Courtney's greens and cheese pie
Loaded with greens, this cheesy pie recipe is a must-try. It's just the thing for a relaxed lunch or dinner with friends.
Hello, Courtney Roulston here. We are going to make a delicious greens and cheese pie. This is packed with gorgeous, vibrant, wilted greens - thewhole family will love this one and it is so so simple to make. We're going to kick off with the pie filling.
So into some extra virgin olive oil, I've got one leek that's just been chopped up along with a couple of cloves of garlic that have been crushed up. A pinch of sea salt and just cook that offuntil it's soft - three to four minutes.
Next up I've got 300 grams of baby spinach and kale. These Coles big value packed leaf products are 100 per cent Aussie grown. They're a great convenience, and an added bonusto picking these up between the 28th of July and the 7th of September in store at Coles, 10 cents from every bag sold will be donated to the Stephanie Alexander Kitchen Garden Foundation.
All right, with our kale and spinach mixture, it looks like a lot, you just want to pop a couple of handfuls at a time into the pan, then let it wilt down and we're going to keep on adding this in until it's all wilted and looking gorgeous and vibrant. And just keep adding in until you've used all 300 grams.
Now just place that into a bowl and let the mixture cool down. Now in with the remaining pie ingredients. I've got 250 grams of fresh ricotta - this is from in at the deli at Coles, 100 grams of fetta, and I've just crumbled that up, I've got two green spring onions and some dill that have just been chopped up, gives a lovely perfume to our pie.
And you'll need some parmesan cheese, I'm going to pop half in now and we'll use half on the top of the pie before it goes in the oven. Now to hold all of the pie filling together you'll need some eggs. I've got five free range eggs and I'm just going to crack these into a bowl. Just break up the eggs with a fork, now just pour the eggs in with our pie filling, leave yourself about a tablespoon that we can use as an egg wash for the outside of the pastry. Put in a few good grinds of black pepper and mix this together really well.
Now onto the pastry, of course you can make your own pastry, but we are making this asuper-quick, easy no-fuss recipe, so I've got two sheets of store-bought shortcrust pastry. I'm just going to pop them on top of each other and all you want to do with the two sheets of pastry is roll them out into a nice bigrectangle.
Then just transfer it onto a lined oven tray. I find this is easy to do - just roll onto your pin and then just roll it back onto the tray. Now place your pie filling into the middle of the pastry and push that out leaving about a six centimetre border. Now all you need to do is just fold in the sides of the pastry on that border. You don't need to be too neat with this, we're making a big rustic family pie so I find the best way is to just pull it in and pinch, pull in and pinch, pull in and pinch, and then just do that all the way around the outside of the pie.
Then just get your reserved egg wash and brush this all around the outside of the pastry. Then a little bit of extra parmesan just over the top and she's ready for theoven.
I've got my oven preheated to 190 degrees. This is only going to take around 30 or 35 minutes to cook. This smells incredible. There she is: big, beautiful and golden. That is my greens and cheese pie. All right guys, get on into Coles and make sure you pick up one of the Coles big value leafy packs and help support the foundation. Whip up this pie. I promise you, you will love it. It is an absolute winner.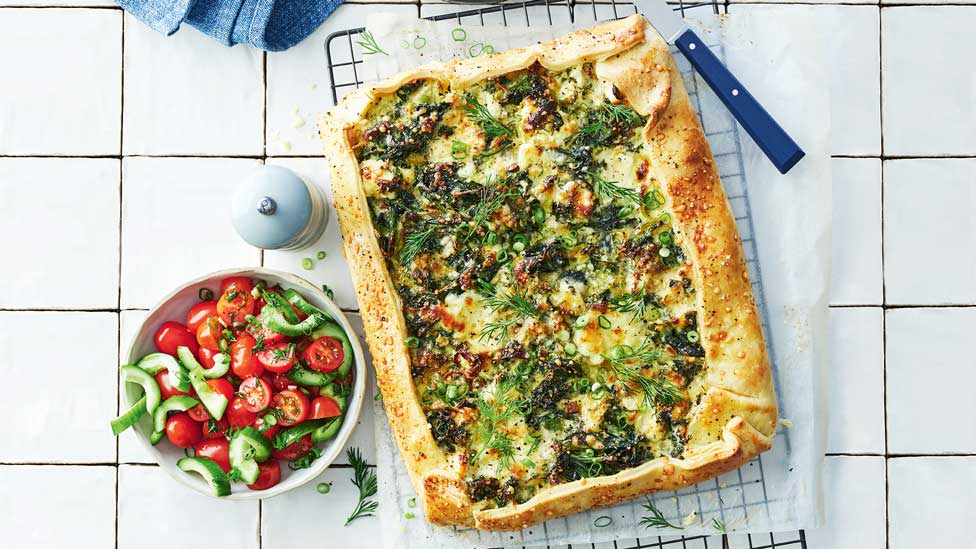 Note: + cooling & setting time
Ingredients
2 tbs extra virgin olive oil
1 leek, pale section only, thinly sliced
3 garlic cloves, finely chopped
300g pkt Coles Australian Kale & Baby Spinach
2 sheets Coles Shortcrust Pastry, thawed
5 Coles Australian Free Range Eggs, whisked
2 spring onions, thinly sliced
1/4 cup chopped dill
250g ricotta, crumbled
100g fetta, crumbled
1/2 cup (40g) finely grated parmesan
Garden salads, to serve
Method
STEP 1
Preheat oven to 190°C. Line a baking tray with baking paper. Heat the oil in a large non-stick frying pan over medium heat. Add the leek and cook, stirring, for 3 mins or until softened. Add the garlic and cook, stirring, for 1 min or until aromatic.
STEP 2
Add the kale and spinach mix, in batches, stirring until the greens wilt after each addition. Season and set aside to cool.
STEP 3
Meanwhile, place the 1 sheet of pastry on a clean work surface. Top with the remaining sheet. Use a rolling pin to gently roll the pastry stack to a 30cm x 40cm rectangle. Place on the lined tray.
STEP 4
Reserve 1 tbs of the egg. Add the dill, spring onion, ricotta, fetta, half the parmesan and remaining egg to the spinach mixture and stir until well combined. Spoon the mixture into the centre of the pastry and spread over the pastry, leaving a 6cm border. Fold the pastry border up over the egg mixture. Brush the pastry with reserved egg and sprinkle with remaining parmesan.
STEP 5
Bake for 30 mins or until the pastry is golden and filling is set. Set aside for 5 mins to cool slightly before cutting into slices. Serve with the salad.
Check ingredient labels to make sure they meet your specific dietary requirements and always consult a health professional before changing your diet. View dietary information here.