Creamy carbonara and sausage pasta
Classic carbonara gets an easy makeover, featuring a few tasty extras. It's made using beef sausages and brussels sprouts for a guaranteed family winner in less than 30 minutes.
Hi everyone, Courtney Roulston here, it's Wednesday which means I'm back to share one of the Coles feature What's for dinner recipes.
Coles have created over 80 stress free recipes to inspire you guys to get quick and delicious meals on the table for the family. Tonight I'm cooking the creamy carbonara sausage pasta, under 5 ingredients and on the table in under 30 minutes couldn't be easier.
Let's get cooking, step one is we add 375 grams of our pasta into some salted boiling water. Alright the next job is to slice our brussels sprouts, these add a beautiful nutty. sweet vegetable into a pasta bake and then something just a little bit different. OK, I have popped the pasta inside another hob, because the beauty of this recipe by the time the pasta is cooked, your sauce is going to be ready to go.
Just going to cut the sausages, and we're going to remove the meat from the casings and pop these into a hot pan. Alright with the sausages I'm just going to break them up in the back of a spoon so we get some nice kind of cragily pieces of our beef sausages for this pasta. The beauty of using sausages is these have already been flavoured with pepper and nutmeg and oregano, so killing 2 birds with one stone ,we get lots of flavour in there from just one product.
Alright I'm not going to go in with our Brussels sprouts. We want to cook these down, get a little bit of colour on them an get some of the natural sugars caramelising. We are good to go now with our sauce to go in, so we just need to warm this through. Our Pasta is cooked so I'm just gonna pop in our pasta straight in to the pan.
Now the pasta is al dente, it's just gonna finish off in that carbonara sauce. I'm just going to add in half a cup of our pasta cooking water, just give that a mix through, cause our pasta gonna keep soaking that up. If you're looking for even more dinner inspiration, next time you're in a coles grab a copy of the coles august magazine, it is jam packed with great dinner ideas and best of all, it's free.
Just like that dinner is ready. I'm just gonna pop a few chili flakes on mine. There we have a guys, that is the creamy carbonara sauage pasta. If you're someone that loves the idea of these quick and simple recipes you can find this recipe and many more, Head on over to  coles.com.au Now that is what I call a faster pasta.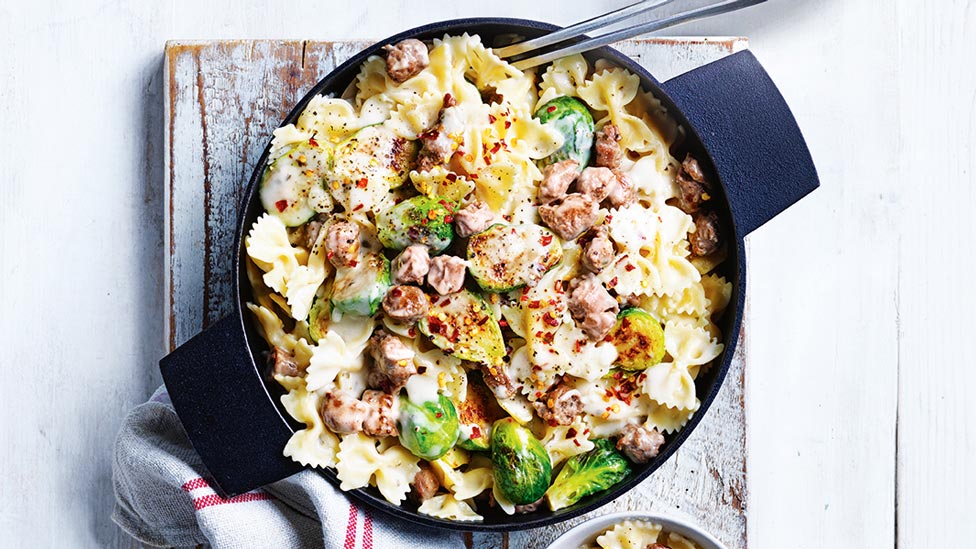 Ingredients
375g farfalle
8 beef sausages, casings removed
400g brussels sprouts, halved lengthways
1/2 tsp dried chilli flakes, plus extra to serve (optional)
490g jar carbonara pasta sauce
Method
STEP 1
Cook the pasta in a large saucepan of boiling water following packet directions or until al dente. Drain, reserving ½ cup (125ml) of the cooking liquid.
STEP 2
Meanwhile, heat a large non-stick frying pan over high heat. Add the sausage and cook, stirring with a wooden spoon to break into lumps, for 5 mins or until browned and cooked through.
STEP 3
Add brussel sprouts to the pan and cook, stirring occasionally, for 5 mins or until browned. Add the chilli flakes, if using, and cook, stirring, for 30 sec or until aromatic. Add the pasta, pasta sauce and the reserved cooking liquid. Bring to a simmer. Season. Cook until well combined and heated through.
STEP 4
Divide the pasta mixture among serving bowls. Sprinkle with extra chilli flakes, if using, to serve.
Check ingredient labels to make sure they meet your specific dietary requirements and always consult a health professional before changing your diet. View dietary information here.