Curtis Stone's peach and mascarpone smashed pavlova
Finish off your festive feast with this irresistible twist on the classic dessert. Make the pavlova the day before, so all you need to do is whip up the toppings and serve!
When you're entertaining, you want to put a showstopping dessert on the table. I'm going to show you one that's really easy to make. This is a fun twist on pavlova. Instead of the usual round shape, it's spread all over the tray and then broken into pieces to serve. So no need to worry about it cracking. Now, there are a lot of different ways that you can serve up your smashed pav. You can turn it into a trifle. You can even serve it Eton mess style. Today, I'm going to show you how to serve it on a tray with some beautiful peaches and mascarpone. To get the oven ready, make sure the rack is sitting in the centre and then preheat the oven to 150 Celsius or, if you're using fan-forced, 130. Grab a large baking tray with a rim just like this one and then line it with baking paper. I've fitted my stand mixer with the whisk attachment and I'm going to beat the egg whites until they're nice and foamy. At this point, you start gradually adding your sugar. So just a little bit to start. And then you just slowly keep adding them. Once you've got them all incorporated, you're going to need to mix it for about 10 minutes on a high speed. Now, you do have to make sure all the sugar's dissolved. If you've ever seen the droplets on the outside of a pavlova, that's known as weeping, and that happens because all the sugar hasn't been dissolved properly. So make sure you beat it really well. Now you can see that the peaks have formed in the egg whites and they're looking really firm and glossy. Time to beat in the vinegar, the vanilla and the salt. Now for the cornflour. Now, I'm not going to beat this straight in, otherwise it'll knock all the air out of the meringue, so be gentle. Make sure that you sift it over first and then you gently fold it through. You've done such a good job of incorporating all that air into your egg whites, make sure you don't knock it back out. So be gentle with your cornflour. Sift it first. And then just using a spatula, go from the bottom to the top and just fold it all through. This is called the underhand folding technique. Gorgeous. Now, to keep as much air as possible, I'm just going to gently spoon this beautiful meringue onto the tray. Then using an offset spatula or a palette knife, what I'm going to do is evenly spread the meringue to cover the tray. So you want a nice, even layer. It doesn't have to be perfect, though. Mmm, delicious! That's it. It's ready to bake. As soon as it goes into the oven, you need to turn the oven down to 105 Celsius or if you're using fan-forced, 85. Now, it is important that you don't take the meringue straight out of the oven while it's warm. The sudden change in temperature is what causes it to crack. Turn off your oven completely and then grab a wooden spoon and use that to prop open the door. That way the heat will release ever so slightly. And then leave the meringue in the oven for 30 minutes so it cools down slowly.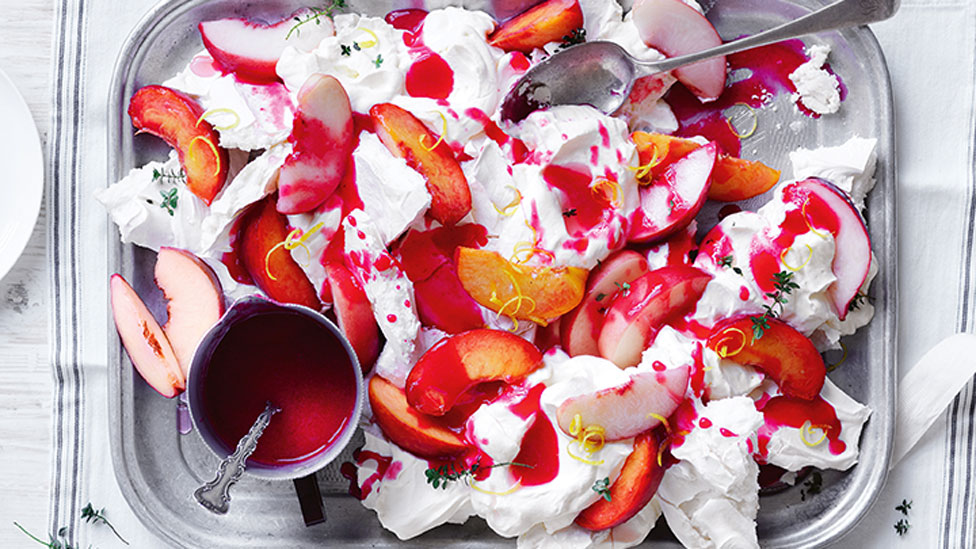 Note: + 30 mins standing time
Ingredients
4 white or yellow peaches, rm but ripe, pitted, each cut into 8 wedges
1 cup (220g) caster sugar, divided
1 lemon, rind nely grated, juiced
250g raspberries
250g mascarpone
1 1/2 cups (375ml) thickened cream
3 sprigs thyme, leaves picked
1 lemon, extra, zested
Smashed Pavlova
6 extra-large Coles Australian Free Range Egg whites, room temperature
1 1/2 cups (330g) caster sugar
1 tsp white vinegar
1/2 tsp vanilla extract
1/4 tsp sea salt flakes
Method
STEP 1
To make the smashed pavlova, position a rack in centre of oven and preheat oven to 150°C (130°C fan-forced). Line a 33cm x 45cm rimmed baking tray with baking paper.
STEP 2
In the bowl of a stand mixer fitted with the whisk attachment, beat egg whites until foamy. Gradually add the sugar, beating on medium-high speed for 10 mins or until firm glossy peaks form. Beat in vinegar, vanilla and salt. Sift cornflour over the meringue and gently fold in.
STEP 3
Using a large metal spoon, spoon 8 large dollops of meringue onto the prepared tray. Using an offset spatula or palette knife, gently spread meringue into an even layer.
STEP 4
Place the meringue in oven. Immediately reduce temperature to 105°C (85°C fan-forced). Bake for 1 1/2 hours or until meringue is crisp on the outside but has a marshmallow-like centre and puffs ever so slightly. Turn oven off. Prop oven door open with a wooden spoon and leave meringue in oven for 30 mins to cool, then remove from oven and cool completely.
STEP 5
Gently run a palette knife along the edges of the pavlova to loosen from the baking paper. Place another baking tray over the pavlova and invert. Carefully remove paper. Invert the pavlova back into the first tray. Gently lift the corner and break the pavlova into large pieces.
STEP 6
In a large bowl, gently toss peaches with 1/4 cup (55g) sugar, lemon rind and lemon juice. Stand, tossing occasionally, for 30 mins or until juices form.
STEP 7
Meanwhile, in a blender, puree the raspberries with remaining 3/4 cup (165g) sugar until smooth. Push the puree through a fine sieve into a bowl, discarding seeds. Chill raspberry sauce.
STEP 8
In a medium bowl, use a hand-held electric mixer to beat the mascarpone and cream until stiff peaks form.
STEP 9
Arrange pavlova pieces on a platter. Spoon over the mascarpone mixture, raspberry sauce and peach mixture. Top with thyme leaves and lemon zest.
Check ingredient labels to make sure they meet your specific dietary requirements and always consult a health professional before changing your diet. View dietary information here.